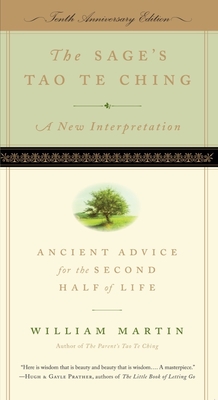 The Sage's Tao Te Ching, Tenth Anniversary Edition (Paperback)
Ancient Advice for the Second Half of Life
The Experiment, 9781615190249, 144pp.
Publication Date: August 17, 2010
* Individual store prices may vary.
Description
The tenth anniversary edition of William Martin's free-verse interpretation of the Tao Te Ching, written expressly for those coming into the fullness of their wisdom
Lao Tzu's Tao Te Ching, one of the world's most widely read books of wisdom, reminds its readers that the sage has been venerated in China for thousands of years. In this free-verse interpretation of the Tao, William Martin subtly and powerfully captures the complex emotions connected with growing older. He encourages today's sages to recognize their inestimable worth in a youth-centric world that often goes astray: "Will I be able to harvest my life in compassion and love for the world? Will I find in my own heart the wisdom for which I long? This question trumps all others for me. I suspect it is the same for you."
About the Author
A graduate of the University of California, Berkeley and Western Theological Seminary, William Martin has studied the Tao for more than forty years. Having retired in 2019 from teaching tai chi, Zen, and meditation at The Still Point center in Chico, California, William Martin and his wife Nancy have embarked on living the remainder of their lives on the road.
Praise For The Sage's Tao Te Ching, Tenth Anniversary Edition: Ancient Advice for the Second Half of Life…
"Here is wisdom that is beauty and beauty that is wisdom. William Martin's final book of his Tao Te Ching trilogy is a masterpiece. It illuminates all the unexplored potentials inherent in the second half of life and eases the mind into each one. Powerful, lyrical, insightful, The Sage's Tao Te Ching is a guide that will lead your heart gently and surely to 'life itself.'"
—Hugh and Gayle Prather, authors of The Little Book of Letting Go

"Let this gem of a book and the wisdom it imparts enfold every aspect of your being. Whatever time you have remaining on this planet will be immensely enriched."
—David McNally, author of Even Eagles Need a Push

"Like its predecessors, The Sage's Tao Te Ching opens our minds to the wisdom of our natural state and encourages us to accept and honor the inevitability of the wonder-filled grace of aging. Bill Martin deserves our humble gratitude for reacquainting us with our true selves."
—from the foreword by Chungliang Al Huang