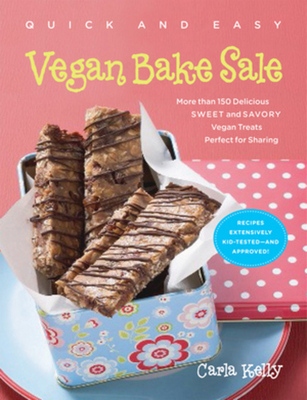 Quick & Easy Vegan Bake Sale (Paperback)
More than 150 Delicious Sweet and Savory Vegan Treats Perfect for Sharing
The Experiment, 9781615190263, 296pp.
Publication Date: April 12, 2011
* Individual store prices may vary.
Description
Over 150 Delicious, Easy-to-Make Vegan Treats Perfect for Bake Sales, Afterschool Snacking, and Sharing with Kids and Adults Alike
Quick and Easy Vegan Bake Sale is your guide to crafting irresistible treats in a snap. With over 150 recipes to choose from, plus dozens of variations, you're sure to find the perfect solution for your birthday, block party, bake sale (including the annual Worldwide Vegan Bake Sale)—or just your sudden craving for:
Espresso Chocolate-Chip Coffee Cake • Spelt Jam Thumbprint Cookies Vanilla Bean Cupcakes • Creamy Dreamy Lemon Mousse Pie • White Balsamic Fruit Tarts with Jam Glaze • Chai Chocolate Mini Loaves • Poppy Seed and Raspberry Muffins • Rocky Road Brownies, and more!

Carla Kelly, the talented mom behind the popular blog The Year of the Vegan, spills all her secrets on how to hold a great bake sale—with crowd-pleasing treats that are easy to store, transport, and share. Beginning bakers will love her tips on key techniques, must-have utensils, and how to "troubleshoot" baking gone wrong. And a helpful glossary of wheat-free, nut-free, and soy-free options ensures that everyone can join the party.
Chocolate ganache . . . blueberry cream . . . homemade marzipan . . . after one bite, vegans and nonvegans alike will be too busy enjoying fantastic flavor to even think of missing milk, eggs, or butter. And since it's all quick and easy to make, you definitely won't be too busy to bake your cake—and eat it too!
About the Author
CARLA KELLY is an experienced cook and baker, having started well before the age of ten. As the eldest of five children, she often made baked treats and dinner for her family. She has been a vegan for over sevenyears and a vegetarian for fifteen more before that, and has developed recipes to suit herself and her family on this journey. She writes the popular blog The Year of the Vegan (VeganYear.blogspot.com) and lives in British Columbia with her family.
Praise For Quick & Easy Vegan Bake Sale: More than 150 Delicious Sweet and Savory Vegan Treats Perfect for Sharing…
"Whether you're holding the bake sale to end all bake sales or just looking for a tasty treat to tuck into a lunch box, Quick and Easy Vegan Bake Sale has got you covered. Accessible ingredients, tons of well-organized info, and scrumptious recipes make this cookbook one to keep out on your counter."
—Isa Chandra Moskowitz, bestselling author of Veganomicon

"Grab this book and have a bake sale! From can't-miss standards like Lemon Bars and Peanut Butter Cookies to imaginative creations like Rhubarb Squares, Chai Chocolate Mini Loaves, and Parsnip and Orange Muffins, the recipes in Quick and Easy Vegan Bake Sale are sure to be a hit at your bake sale, with your friends and coworkers, and with you! Carla Kelly fills this fantastic cookbook with super-useful, simple-to-read sections on how to follow recipes flawlessly, match baked goods to the seasons, plan a vegan bake sale, and more. Quick and Easy Vegan Bake Sale is a valuable ingredient in creating delicious, memorable baked desserts and savory dishes for all occasions."
—Gary Loewenthal, founder of Worldwide Vegan Bake Sale

"Quick and Easy Vegan Bake Sale is full of creative, quick, fun recipes that will delight vegans and meat eaters alike. Carla takes all the guesswork out of baking with simple how-tos that will turn even the most novice baker into a pro in no time. I love the way Carla infuses both sweet and savory treats with fruits and vegetables—my taste buds have never been so happy and my kitchen has never smelled so good!"
—Alicia C. Simpson, author of Quick and Easy Vegan Comfort Food

"Quick and Easy Vegan Bake Sale gives everyone a very good reason to bake—because they can! Carla draws on years of baking experience, crafting goodies to satisfy both sweet and savory inclinations. Offering extensive tips, advice, and recipe variations throughout, Carla steps in as your very own baking tutor. Strap on that apron, it's time to release your inner baker!"
—Dreena Burton, author of Eat, Drink and Be Vegan

"Whether you are raising money for your sixth grader to go to camp, looking to help out a local animal sanctuary, or simply trying to spread the vegan word with delicious cookies and cupcakes, you'll find that Quick and Easy Vegan Bake Sale is not only chock-full of delicious recipes (specifically designed for bake sales) but also contains a whole chapter of helpful information on holding the perfect vegan bake sale."
—Joni Marie Newman, coauthor of 500 Vegan Recipes and The Complete Guide to Vegan Food Substitutions

"As soon as I bit into one of Carla's Green Tea Latte Cookies and after that, her Ginger Crunch, I was officially hooked. This is a must-have cookbook for anyone who loves baking, and for everyone else who doesn't even know they love baking yet."
—Celine Steen, coauthor of 500 Vegan Recipes

"Everybody wants their creations to steal the show at a bake sale. Especially vegans. That just got easier, thanks to Carla Kelly. Stuffed with recipes for both savory and sweet goodies, Quick and Easy Vegan Bake Sale includes tips and techniques to ensure that your bake sale is a success and your contribution steals the spotlight."
—Tamasin Noyes, VeganAppetite.com and author of American Vegan Kitchen