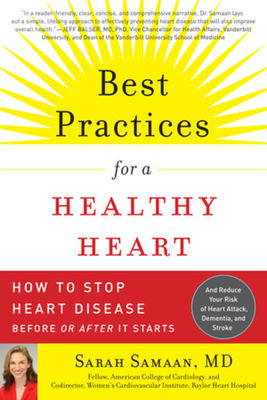 Best Practices for a Healthy Heart (Paperback)
How to Stop Heart Disease Before or After It Starts
The Experiment, 9781615190478, 384pp.
Publication Date: June 5, 2012
* Individual store prices may vary.
Description
The heart beats more than 2,500,000,000 times over the average life—and, despite great strides in medicine, prevention is still the best way to keep your heart running strong. If you want to help your heart—and especially if you already have a cardiac diagnosis, high cholesterol, high blood pressure, or a family history of heart disease—Best Practices for a Healthy Heart is your complete guide to cardio care. For more than twenty years, award-winning, board-certified cardiologist Dr. Sarah Samaan has treated thousands of patients and tirelessly kept pace with the latest research—and now, she condenses her best advice into 7 easy steps on how to:

• Take charge of your "numbers"—your weight, cholesterol, heart rate, and blood pressure
• Make heart-smart choices about food, exercise, and stress
• Work with your doctor to design the right treatment for you
• Tell which supplements and alternative therapies really help
• Avoid vices that will harm your heart—and much more!

Put these best practices in action today, and you will decrease your risk of disease and dependence on medication, experience a wealth of positive "side effects" (from a smaller waistline to a happier outlook!), and soon be seven steps nearer to optimal heart health.
About the Author
Sarah Samaan, MD, FACC, a Vanderbilt University Medical School graduate, is a board-certified cardiologist with additional board certifications in echocardiography and nuclear cardiology. Dr. Samaan practices cardiology full-time, caring for patients with a wide range of cardiovascular conditions. For the past six years, Texas Monthly magazine has named Dr. Samaan a "Texas Super Doctor." She is a Fellow of the American College of Cardiology and was listed as one of "America's Top Physicians" by Consumers' Research Council of America. In 2005, she was profiled in Medicine Men, a book celebrating notable Texas physicians.
Dr. Samaan practices cardiology at Legacy Heart Center in Plano, Texas, and at the Baylor Heart Hospital, where she is codirector of the Women's Cardiovascular Institute.
Praise For Best Practices for a Healthy Heart: How to Stop Heart Disease Before or After It Starts…
"She efficiently tackles complex subjects (e.g., stress, alternative therapies, and childhood risks) as well as myths contributing to the epidemic of deaths each year from heart attacks. . . . [H]er passion is evident in the real-life stories she relates, and readers will be drawn by her personal commitment, fueled by the loss of many family members, to conquer a largely preventable disease."
—
Publishers Weekly
"An inspiring, well-informed call to make 'heart-loving' lifestyle changes. As Samaan notes, a whopping 85 percent of cardiovascular disease is preventable."
—
Booklist Online
"Written in the same personable, conversational style that undoubtedly contributed to [Dr. Samaan's] being named a 'Texas Super Doctor' by peers six years in a row . . .
Best Practices for a Healthy Heart
is a valuable, comprehensive guide for anyone looking to better understand or prevent heart disease and live a longer, healthier life."
—ForeWord Reviews
"Wonderfully comprehensive . . . Dr. Samaan's achievement in terms of the detail and scope of her book is very impressive. While this book touches on all aspects of cardiovascular disease it does so in an easily readable and understandable style for the lay person and yet it has value for the professional."
—
Gerald C. Timmis, MD
, Professor of Internal Medicine, Oakland University William Beaumont School of Medicine
"Dr. Samaan attacks the myths and hype around cardiovascular health and lays out the fundamentals in an easy-to-digest format. Her seven steps are clear, straightforward, and supported by scientific data, as well as her own personal experiences as a cardiologist. This book provides the best up-to-date information on cardiovascular disease prevention."
—
Michael Crawford, MD, FACC
, Chief of Clinical Cardiology, University of California, San Francisco
"As a fellow physician, I see too often that many people neither heed subtle warning signs of pending heart disease nor realize they can take a proactive role toward improving heart health. In a reader-friendly, clear, concise and comprehensive narrative, Dr. Samaan lays out a simple, lifelong approach to effectively preventing heart disease that will also improve overall health."
—
Jeff Balser, MD, PHD
, Vice Chancellor for Health Affairs for Vanderbilt University and Dean of the Vanderbilt University School of Medicine
"Dr. Samaan teaches a whole-life approach that is bound to help you. Start today, and begin taking care of the one heart you have."
—
Leisa Hart
, star of
Buns of Steel
exercise videos
"[Dr. Sarah] provides easy solutions that if properly followed will and can make a difference."
—
Jennie Garth
, actress, activist
"Her message is positive: Prevention can not only make you healthier physically, it will also help you be happier, more optimistic, more hopeful."
—Dallas Morning News
or
Not Currently Available for Direct Purchase