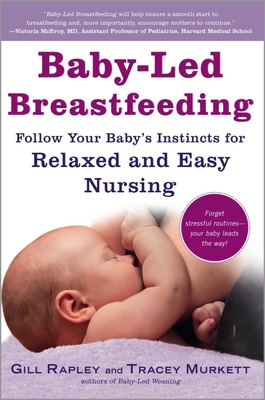 Baby-Led Breastfeeding (Paperback)
Follow Your Baby's Instincts for Relaxed and Easy Nursing
The Experiment, 9781615190669, 328pp.
Publication Date: September 25, 2012
* Individual store prices may vary.
Description
Say goodbye to stressful schedules, painful latching, and worries over milk supply. In the same sensible and sensitive voice that has made baby-led weaning a growing sensation, authors Gill Rapley and Tracey Murkett show how easy nursing can be when you let your baby lead the way. This comprehensive, easy-to-follow guide will help you understand your baby's unique, natural pattern and develop a trusting and healthy breastfeeding relationship. With the help of personal anecdotes and color photos from real moms, Rapley and Murkett explain how to:
• Get breastfeeding up and running in the first few weeks
• Hold your baby so that he can feed effectively
• Express and store milk efficiently
• Avoid or remedy sore nipples, mastitis, and other problems
• Wean at a natural pace
Breastfeeding shouldn't be a struggle, and, if you stay in tune with your baby, it can be effortless. Baby-Led Breastfeeding will give you the tools to create a happy and fulfilling breastfeeding experience for you and your baby.
About the Author
Gill Rapley, PhD, the pioneering champion of baby-led weaning, has studied infant feeding and child development for many years. She worked as a public health nurse for more than 20 years, and has also been a midwife, lactation consultant, and breastfeeding counselor. She lives in Kent, England, with her husband and has three grown-up children, all of whom tried their best to show her that they didn't need any help with solid foods.
Tracey Murkett is a freelance writer and journalist and a volunteer mother-to-mother breastfeeding helper. After following baby-led weaning with her own daughter, she wanted to help to spread the word about how enjoyable and stress-free mealtimes with babies and young children can be. She lives in London with her partner and their daughter.
Praise For Baby-Led Breastfeeding: Follow Your Baby's Instincts for Relaxed and Easy Nursing…
"Gill Rapley and Tracey Murkett have done it again. They have produced another excellent book that puts babies in charge of how much they eat. Babies are competent! Mothers don't have to be totally in charge of feeding. What an empowering message for new moms! Rapley and Murkett provide a great overview of breastfeeding, incorporating the latest research. This organized, easy-to-use guide will get you started. And if you encounter problems, the book offers many possible solutions. But Rapley and Murkett's most important message is that babies know how to do this."
—Kathleen Kendall-Tackett, PhD, IBCLC, FAPA, Editor-in-Chief of Clinical Lactation and coauthor of Breastfeeding Made Simple, 2nd Edition

"Baby-Led Breastfeeding will help ensure a smooth start to breastfeeding and, more importantly, encourage mothers to continue."
—Victoria McEvoy, MD, Assistant Professor of Pediatrics, Harvard Medical School

"Replete with practical insights, ingenious explanations, and oodles of good sense, this gem of a book will be indispensable to new parents."
—Cindy Turner-Maffei, Former National Coordinator of Baby-Friendly USA Initiative

"Baby-Led Breastfeeding is the much-needed, thorough precursor to Baby-Led Weaning. Baby-Led Breastfeeding is a complete, stand-alone resource, offering mothers research-based, accessible information on a wide range of breastfeeding-related topics. Rapley and Murkett respectfully educate, affirm, and encourage mothers to trust their own instincts, and their baby's instincts as well. This is truly the only breastfeeding book you need!"
—Megan Massaro, coauthor of The Other Baby Book: A Natural Approach to Baby's First Year