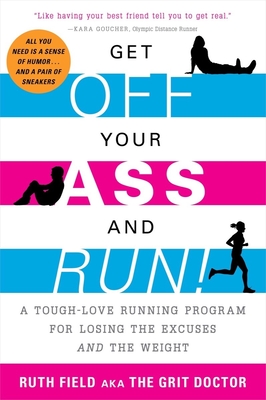 Get Off Your Ass and Run! (Paperback)
A Tough-Love Running Program for Losing the Excuses and the Weight
The Experiment, 9781615190775, 224pp.
Publication Date: April 2, 2013
* Individual store prices may vary.
Description
Is there a large ass-shaped dent in your sofa? A gym membership burning a hole in your bank account? Does the sight of your wobbly thighs leave you cowering under a blanket?

Straight-talking, funny, and brutally honest, Get Off Your Ass and Run! will give you—yes, you—the push you need to get out of the door, up and running, and shedding pounds in no time.

Hate running? No worries. Get Off Your Ass and Run! provides all the tools you need to transform that passion into real motivation. In just six easy steps, you will:

• Locate your long-lost energy and get moving
• Follow a simple and completely foolproof beginner's program
• Learn to fuel your new running habit with the right foods
• Take control of your life!

If you want to lose weight, get fit, and embrace a completely new way of being, there's only one thing left to do...RUN!
About the Author
Ruth Field is a trial attorney and passionate runner who, while pregnant and under doctor's orders not to run, decided to write Get Off Your Ass and Run! as an outlet for her frustration. The Grit Doctor is what you've been missing in your life. You just didn't know it until now.
Praise For Get Off Your Ass and Run!: A Tough-Love Running Program for Losing the Excuses and the Weight…
"This book has all the answers for the running newbie . . . The tough-love approach of a real coach can be encouraging. Laugh with her, lace up your shoes and head out the door. It's hard to stay seated while reading this book."
—Canadian Running

"If you have a healthy body image and sense of humor, and need to give your motivation a kick in the pants, the Grit Doctor is for you!  Ruth's combination of lashing and laughs will make you lace up and hit the ground running—no excuses."
—Kristin Armstrong, Contributing Editor for Runner's World magazine and author of Mile Markers: The 26.2 Most Important Reasons Why Women Run

"If you need a fresh dose of incentive to get out (or back out) on the road, The Grit Doctor offers up a program of no-nonsense common sense laced with brutal honesty."
—Mina Samuels, author of Run Like a Girl

"Get Off Your Ass and Run! is like having your best friend tell you to get real." 
—Kara Goucher, Olympic Distance Runner and author of Kara Goucher's Running for Women

"As a runner who spends a good deal of time encouraging others to give it a whirl, I'm glad to have Get Off Your Ass and Run! as a resource to share. The balance between solid content, an intimate knowledge of the kinds of things that hand newbie runners up, and a tough-love sense of humor makes this a fun and motivating read."
—Deborah Reber, author of Run for Your Life: A Book for Beginning Women Runners

"...Offers plenty of insightful tips and loads of excuse-breaking motivation...[T]he kick-in-the-pants motivation for a friend, co-worker or family member who's badly in need of a life-changing fitness makeover."
—Competitor