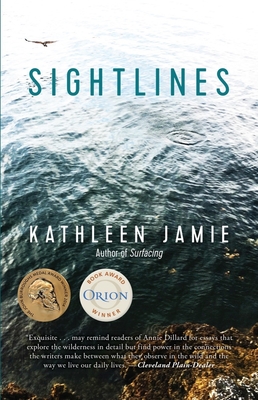 Sightlines (Paperback)
The Experiment, 9781615190836, 256pp.
Publication Date: September 10, 2013
Other Editions of This Title:
Paperback (4/1/2012)
* Individual store prices may vary.
Description
Winner of the 2014 Orion Book Award for Nonfiction
Winner of the John Burroughs Association 2014 Medal for Distinguished Natural History Book

In Sightlines, Kathleen Jamie reports from the field—from her native Scottish "byways and hills" to the frigid Arctic in fourteen enthralling essays. She dissects whatever her gaze falls upon—vistas of cells beneath a hospital microscope, orcas rounding a headland, the aurora borealis lighting up the frozen sea. In so doing, she questions what, exactly, constitutes "nature," and upends the idea that it is always picturesque. Written with precision, subtlety, and wry humor, Sightlines urges the reader: "Keep looking, even when there's nothing much to see."
About the Author
Kathleen Jamie, one of the UK's foremost poets, is the author of four books of poetry and three nonfiction titles, including Sightlines. Her many awards and honors include the 2017 Royal Geographic Society Ness Award, conferred upon Jamie "for outstanding creative writing at the confluence of travel, nature and culture"; the 2013 Costa Book Award; as well as numerous prestigious poetry awards, including the Somerset Maugham Award, Forward Poetry Prize of the Year, and Geoffrey Faber Memorial Award (twice). A professor of creative writing at the University of Stirling, she lives with her family in Fife, Scotland.
Praise For Sightlines…
Winner of the 2014 Orion Book Award for Nonfiction
Winner of the John Burroughs Association 2014 Medal for Distinguished Natural History Book
Winner of the Dolman Travel Book of the Year 2013

"Kathleen Jamie has built a writing life around paying attention. The 14 personal essays in Sightlines include explorations—methodically reported and lyrically written—of secluded places like a cave in Spain whose walls are covered with prehistoric art, and the remote island of Rona in northern Scotland."—The New York Times

"[Kathleen] Jamie may remind American readers of Annie Dillard for essays that explore the wilderness in detail but find power in the connections the writers make between what they observe in the wild and the way we live our daily lives. . . . The writing is exquisite."—Cleveland Plain-Dealer

"A lyrical work of profound insight."—Kirkus Reviews

"Award-winning Scottish poet and essayist Jamie writes of her immersions in nature and history in 14 finely tooled, scrubbed, rinsed, and polished essays. . . . So fully does she give herself over to all that she witnesses, so unexpected are her perceptions, that Jamie's lustrous essays recharge our appreciation not only for the world's beauty and mystery but also for the gift poetic writers such as Jamie possess for translating sensory input into gloriously calibrated, revelatory language."—Booklist

"This intelligent collection of 14 essays, informed by science and myth, heightened attention, and cultural dreams, is written with Scots brogue, language, and attitude that will give American readers a fresh view of nature."—Publishers Weekly

"Kathleen Jamie's Sightlines dissects the natural world with precision, humor, and love. The essays in this book not only inspire us to look more closely, but also have the power to open us up to a new kind of emotional experience of the planet."—Orion Magazine editors from the awards citation for the 2014 Orion Book Award for Nonfiction

"Kathleen Jamie's Sightlines, a collection of brilliant and enticing essays about natural phenomena, tingles with life. John Berger called her a "sorceress," and so she is."—Diana Athill, author of Somewhere Towards the End

"The dance of Jamie's words enacts the mind in motion as it moves between the shifting, shimmering processes of nature and art."—The Guardian

"Jamie's prose is exquisite, yet never indulgent. . . . This is a book that will stay with you, as its sights and sounds have stayed with its writer. [A] work of intense purity and quiet genius, and we're lucky to have it."—The Sunday Telegraph

"A haunting new collection from one of our finest nature writers . . . . Immensely beguiling. There are piquant descriptions that stop you in your tracks . . . . but the real power of the writing derives from the steady increment of detail and the honesty of her responses to the natural world."—The Sunday Times (London)

"Her written words make readers see with a clarity bestowed by only a few most gifted writers. . . . It is not often that the prose of a poet is as powerful as her verse, but Jamie's is. There are people uninterested in books about remote places and wild creatures; but to the rest of us [this book] will be a treasure."—Literary Review

"There is such a precision, of both thinking and seeing, displayed in these works that you would have to be a very obtuse kind of reader not to realize that Jamie is a poet."—The Scotsman

"At which point I put the book down again and thought: 'I wonder if I would actually kill to be able to write, or think, like that.' It's like this pretty much all the way through."—Nicholas Lezard, The Guardian

"This is a lovely book, full of gentle joy and anger and an almost spiritual wonder for and affinity with the natural world. It is written in crystalline language that enhances perception, and explores the essence, ultimately, of our human existence in relation to the rest of the natural world."—Words with Jam

Praise for Kathleen Jamie

"[Kathleen Jamie's] essays guide you softly along coastlines of varying continents, exploring caves, and pondering ice ages until the narrator stumbles over — not a rock on the trail, but mortality, maybe the earth's, maybe our own, pointing to new paths forward through the forest."—Delia Owens, author of Where the Crawdads Sing, "By the Book" in The New York Times Book Review

"It is not often that the prose of a poet is as powerful as her verse, but Jamie's is."—Diana Athill

"Jamie's writing has a deceptive simplicity: its powers are cumulative. Her way is to build impressionistic detail by recounting conversations, travels, observations of the natural world, and then carefully layer it in. It is its own kind of archaeology. Every now and then, however, she cuts through the assemblage of beautiful prose with a stinging comment: a reminder that the natural balance is out of whack, or that violence and menace can surface just as easily as venerable artefacts from the past."—Marina Benjamin, author of Insomnia, in the New Statesman, on Surfacing

"[T]he quality of the noticing eye, the poet's ability to look deeply at a landscape, a person, a situation, and then to summon it on the page with what Robert Lowell called 'the grace of accuracy'. . . . Nature in Jamie's writing is immediate, domestic and, well, natural."—Alex Preston, The Guardian, on Surfacing

"Kathleen Jamie [is] one of Scotland's leading poets and an exquisite prose writer."—Alison Hawthorne Deming, Science

"Whether she is addressing birds or rivers, or the need to accept loss or, sometimes, the desire to escape our own lives, her work is earthy and rigorous, her language at once elemental and tender."—2012 Costa Poetry Prize citation

"A book of unparalleled beauty, sharpness of observation, wit, delicacy, strength of vision and rare exactness of language."—The Daily Telegraph, on Findings

"[A] remarkable collection of essays about sites where nature and non-nature intersect. American readers can now meet a sensibility who attends to the living world, and the world as made in language, with wily intelligence."—Boston Review, on Findings

"Whether writing about darkness and light playing in the Neolithic ruins in the Orkneys, human body parts displayed in glass jars at Edinburgh's Royal College of Surgeons, or gardens that grace that city's rooftops, Kathleen Jamie is a clear-eyed and lyrical witness."—Orion magazine, on Findings

"Jamie is observant, reflective, and poignant in her prose. . . . [Her] writing is complex yet modest, reflecting on generations past and future, the nature of time, and what to hang on to as well as what to let go."—Kirkus Reviews, on Surfacing

"In a lyrical, beautifully rendered collection of essays, poet Jamie meditates on the natural world, lost cultures, and the passage of time. . . . Jamie's observations about time and the interconnectedness of human lives, past and present, are insightful, and her language elegant."—Publishers Weekly, on Surfacing

"Kathleen Jamie's stories of what the earth revels as our coastlines erode pose a profoundly important question: what is it that our civilization has lost sight of and might the artifacts uncovered there help us to heal our relationships with each other and the more-than-human world? To read Surfacing is to travel in the company of a curious and dear friend, equally attuned to the hawk on the horizon as she is to the ground beneath her feet."—Elizabeth Rush, author of Rising: Dispatches from the New American Shore, on Surfacing

"Kathleen Jamie is a supreme listener … in the quietness of her listening, you hear her own voice: clear, subtle, respectful, and so unquenchably curious that it makes the world anew. This is as close as writing gets to a conversation with the natural world."—Richard Mabey, on Findings

"Jamie's ability to conjure a sense of place is astonishing. . . . As always, Jamie's deft and subtle handling of her themes is aided by the remarkable quality of the writing itself. She is an acclaimed poet, as well as an author of prose, and her writing here certainly has the meticulous precision of poetry. But its fineness has an elusive, quicksilver quality. . . . Put together, the whole thing shimmers."—Tim Hannigan, Asian Review of Books, on Surfacing

"Utterly luminous."—The Independent, on Among Muslims

"The leading Scottish poet of her generation."—The Sunday Times (London)