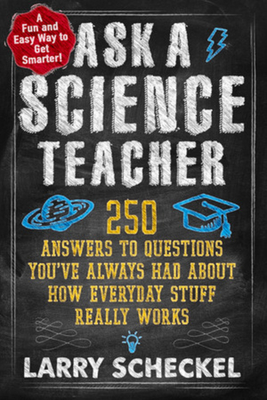 Ask a Science Teacher
250 Answers to Questions You've Always Had About How Everyday Stuff Really Works
Paperback

* Individual store prices may vary.
Description
Fun and fascinating science is everywhere, and it's a cinch to learn—just ask a science teacher!

We've all grown so used to living in a world filled with wonders that we sometimes forget to wonder about them: What creates the wind? Do fish sleep? Why do we blink? These are common phenomena, but it's a rare person who really knows the answers—do you?

All too often, the explanations remain shrouded in mystery—or behind a haze of technical language. For those of us who should have raised our hands in science class but didn't, Larry Scheckel comes to the rescue. An award-winning science teacher and longtime columnist for his local newspaper, Scheckel is a master explainer with a trove of knowledge. Just ask the students and devoted readers who have spent years trying to stump him!

In Ask a Science Teacher, Scheckel collects 250 of his favorite Q&As. Like the best teachers, he writes so that kids can understand, but he doesn't water things down— he'll satisfy even the most inquisitive minds. Topics include:
•The Human Body
•Earth Science
•Astronomy
•Chemistry Physics
•Technology
•Zoology
•Music and conundrums that don't fit into any category
With refreshingly uncomplicated explanations,
Ask a Science Teacher
is sure to resolve the everyday mysteries you've always wondered about. You'll learn how planes really fly, why the Earth is round, how microwaves heat food, and much more—before you know it, all your friends will be asking you!
Praise For Ask a Science Teacher: 250 Answers to Questions You've Always Had About How Everyday Stuff Really Works…
"Providing exactly what the title promises, this is a treasure . . . it's great for reading to kids of all ages. . . . [T]his is a steal at any price. Engaging, informative, and brightly written, the book will find a grateful, interested readership."
—Library Journal

"A great gift for any curious minded reader—young or old."
—Publishers Weekly
The Experiment, 9781615190874, 368pp.
Publication Date: December 17, 2013
About the Author
Larry Scheckel taught high school-level physics and aerospace science for over 38 years. He was named Tomah (Wisconsin) Teacher of the Year three times, and Presidential Awardee at the state level for six years. Scheckel has authored articles for The Science Teacher magazine and The Physics Teacher magazine, and for a number of years has answered science-related questions in the twice-weekly Tomah Times, out of which this book grew.

Scheckel has been a Science Olympiad coach, robotics mentor, organized star gazing sessions, and given orientation flights to students, and he has given presentations to thousands of adults and students in such venues as Children's Museums, Boys and Girls Clubs, Rotary, and conventions.He lives with his wife in Tomah, Wisconsin.