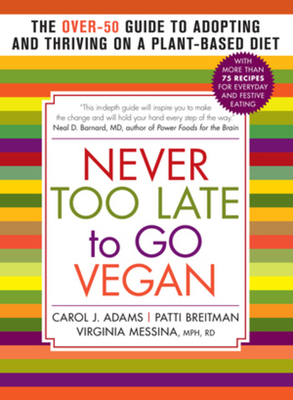 Never Too Late to Go Vegan
The Over-50 Guide to Adopting and Thriving on a Plant-Based Diet
Paperback

* Individual store prices may vary.
Description
If you're 50 or over and thinking (or already committed to!) a vegan diet and lifestyle that will benefit your health, animals, and the planet, look no further than this essential all-in-one resource. Authors Carol J. Adams, Patti Breitman, and Virginia Messina bring 75 years of vegan experience to this book to address the unique concerns of those coming to veganism later in life, with guidance on:

• The nutritional needs that change with aging
• How your diet choices can reduce your odds of developing heart disease, diabetes, cancer, and other conditions
• Easy steps for going vegan, including how to veganize your favorite recipes and navigate restaurant menus, travel, and more
• How to discuss your decision to go vegan with friends and family
• The challenges of caring for aging or ailing relatives who are not vegan
• And many other topics of particular interest to those over 50.

Warmly written, down-to-earth, and filled with practical advice, plus insights from dozens of seasoned over-50 vegans, Never Too Late to Go Vegan makes it easier than ever to reap the full rewards of a whole-foods, plant-rich diet.
Praise For Never Too Late to Go Vegan: The Over-50 Guide to Adopting and Thriving on a Plant-Based Diet…
"[The] authors cheer readers forward, encouraging dietary change at a comfortable pace... a good primer for those dipping their toes into a vegan diet...Readers seeking practical, well-researched information will benefit from the authors' combined experience and expertise."—Library Journal

"I highly recommend this book for those considering adopting a vegan diet, new vegans, and for experienced vegans who may be facing new issues."—Vegetarian Journal

"These writers make food formulas practical and fun, with entertaining as well as helpful comments."—The Peaceable Table

"Never Too Late to Go Vegan is the one book to own for anyone over 50 trying to veganize or just vegan-curious."—Marin Independent Journal

"Never Too Late to Go Vegan shows the wonderful ways you can benefit from a new, healthier way of eating. This in-depth guide will inspire you to make the change and will hold your hand every step of the way, with all the helpful tips you need to make the transition smooth as can be."
—Neal D. Barnard, MD, author of Power Foods for the Brain and director of Physicians Committee for Responsible Medicine

"What a wonderful book! If you want to be healthy, and to make choices that bring your compassion to life, this is your guide. Highly, highly recommended."
—John Robbins, author of Diet for a New America and The Food Revolution and cofounder of The Food Revolution Network

"Never Too Late to Go Vegan is a masterpiece created by an inspiring trio: Carol Adams, Patti Breitman, and Virginia Messina. If you are 50-plus and want to explore a vegan lifestyle, this book is an absolute must. It is incredibly informative and absolutely delightful from beginning to end."
—Brenda Davis, RD, and Vesanto Melina, MS, RD, coauthors of Becoming Vegan, Becoming Vegetarian, and Becoming Raw

"What a terrific guide! Three wise women tell us everything we need to know to be happy, healthy vegans. This book is reason to celebrate and be well!"
—Michael Greger, MD, physician, author, speaker, and director of Public Health and Animal Agriculture at the Humane Society of the United States

"This is my new favorite book. Its nutritional know-how comes from science, not opinion. The recipes are tasty and healthy and unintimidating. Its ethical underpinnings arise from the real-life commitment of three wise women who were vegan before it was cool—and whose wit and savvy give me the feeling they've been cool all along."
—Victoria Moran, author of Main Street Vegan and director of the Main St. Vegan Academy

"Never Too Late to Go Vegan offers a warm, welcoming message to adults who have decided to adopt a vegan diet. Carol, Patti, and Ginny have combined their scientific knowledge and practical expertise to produce a book with a wealth of ideas for everything from eating well to social situations to caregiving. Simply put, this is an indispensable resource. Oh, and there are recipes too!"
—Reed Mangels, PhD, RD, coauthor of Simply Vegan

"An absolutely wonderful book, fascinating from beginning to end. Vegetarian for 20 years, vegan for 10, I still learned much from this terrific book! I intend to buy a dozen and give them away to inspire my friends who are over 50 to become vegan."
—Jeffrey Moussaieff Masson, author of Dogs Never Lie About Love and other best-selling books on the emotional life of animals

"If you thought you were 'too old to change your diet,' that it was 'too late' or 'too hard to do,' or that you are 'too set in your ways,' you've got another 'think' coming! It is never too late and it's never been easier! This very comprehensive guide has gems of wisdom on every page—from demolishing prevalent myths about veganism, to how to make decadent, but healthy, desserts. Follow the plan in this book and you'll start seeing results tomorrow morning—and the rest of your longer, healthier, happier life!"
—Ruth Heidrich, PhD, author of A Race For Life, Senior Fitness, and Lifelong Running
 
The Experiment, 9781615190980, 368pp.
Publication Date: January 28, 2014
About the Author
Carol J. Adams is the author of the pioneering The Sexual Politics of Meat, called a "vegan bible" by The New York Times and now in a twentieth-anniversary edition, plus more than twenty other books and over one hundred articles. She frequently speaks on college campuses. She is working on a memoir about her decade as a caregiver. She lives near Dallas, Texas, with her partner and their two rescued dog companions, Holly and Inky. Find out more about Carol at caroljadams.com.
Patti Breitman is the director of the Marin Vegetarian Education Group and a cofounder of Dharma Voices for Animals. She is the coauthor, with Connie Hatch, of How to Say No Without Feeling Guilty and, with Carol J. Adams, of How to Eat Like a Vegetarian Even If You Never Want to Be One. Patti is on the advisory council of the Animals and Society Institute and grows vegetables in her community garden. She teaches seasonal vegan cooking classes in Marin County, California, where she lives.
Virginia Messina, MPH, RD, is coauthor of Vegan for Life and Vegan for Her and of the first textbook on vegetarian nutrition for medical professionals. She writes and speaks on vegan nutrition for both consumers and health professionals. Ginny serves on the advisory board of the Vegetarian Resource Group and on the board of directors of VegFund. She lives in Port Townsend, Washington, with her husband and an ever-changing population of rescued cats. Find out more about Ginny at theveganrd.com.
or
Not Currently Available for Direct Purchase