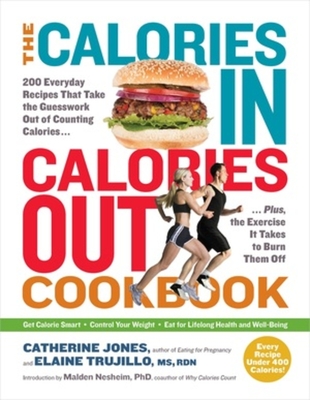 The Calories In, Calories Out Cookbook (Paperback)
200 Everyday Recipes That Take the Guesswork Out of Counting Calories—Plus, the Exercise It Takes to Burn Them Off
The Experiment, 9781615191048, 432pp.
Publication Date: July 8, 2014
* Individual store prices may vary.
Description
More Than a Cookbook—A One-of-a-Kind Toolkit to Help You Make Smart Calorie Decisions Every Time You Eat

You know that balancing the calories you take in and burn off is the foundation of weight control. But actually achieving that balance between eating and exercise is a daily challenge for most of us. Now, The Calories In, Calories Out Cookbook provides a fresh, sane approach for everyone seeking good health—and great food.

Here is an essential repertoire of 200 smart recipes—nutrient-rich, delicious, foolproof, and ideal for busy individuals and families. Every recipe tells you its calorie count—and also tells you how many minutes of walking or jogging it takes for a woman or man to burn those calories off, so you'll be able to visualize what calories mean as never before. All the recipes are below 400 calories per serving—and most are below 200!

The Calories In, Calories Out Cookbook also delivers:
An introduction to the world of calories—what they are, how our bodies use them, and why we don't have to exercise off every last calorie we eat—by distinguished Cornell nutrition professor and author Malden Nesheim, PhD
A guide to determining your daily calorie and exercise needs
Helpful nutrition stats (including diabetic exchanges) for every recipe
"Calorie combo"and "calorie cut" suggestions that help you formulate daily and weekly menus that fit your calorie needs
Plenty of vegetarian and gluten-free options
Dozens of tips on ingredients, equipment, prep, and cooking
An extensive appendix of nearly 1,000 popular foods and drinks with their calorie values and nutritional info—and much, much more!
About the Author
Catherine Jones is an award-winning cookbook author, app developer, and blogger on the Calories In, Calories Out website. She has written numerous cookbooks, including Eating for Pregnancy with Rose Ann Hudson, RD, LD, and Eating for Lower Cholesterol with Elaine Trujillo, MS, RDN. She is the founder of the nonprofit Share Your Calories, created to build the first-ever weight-loss app with a social-giving component. She promotes calorie awareness, energy balance, and wellness at every opportunity. Catherine lives with her family in Bethesda, MD. She is a graduate of Connecticut College and La Varenne Culinary School in France.
Elaine Trujillo, MS, RDN, is a Registered Dietitian Nutritionist and works at the National Cancer Institute, National Institutes of Health. She is passionate about nutrition and its role in health promotion. She uses a variety of approaches to share her views and findings about nutrition, including co-authoring, with Catherine Jones, The Calories In, Calories Out Cookbook and Eating for Lower Cholesterol. In addition to authoring the textbook, Nutritional Support in the Care of the Critically Ill, she has written various nutritional science-related journal articles and book chapters. She received a BS degree from the University of Delaware, and a MS at Texas Woman's University. She is Past Chair of the Oncology Nutrition Dietetic Practice Group of the Academy of Nutrition and Dietetics, and in 2013 co-edited the book, Oncology Nutrition for Clinical Practice. She formerly served as Chair of Education and Research for the Maryland Academy of Nutrition and Dietetics. She and her husband live in Maryland. She has two children in college.
Malden Nesheim, PhD, coauthor of Why Calories Count, is Cornell University Professor of Nutrition Emeritus and Provost Emeritus. He joined the Cornell faculty in 1959 and in 1974 he was named Director of the Division of Nutritional Sciences, a post which he held until the summer of 1987. He has received the Conrad A. Elvehjem Award for public service from the American Institute of Nutrition and in 1995 was elected to the American Academy of Arts and Sciences. He was elected a fellow of the American Society of Nutritional Sciences in 1997.  He earned a B.S. in agricultural science and an M.S. in animal nutrition from the University of Illinois followed by a Ph.D. in nutrition from Cornell. His research interests have been aspects of nutritional biochemistry and more recently, the relationship of parasitic infections to nutritional status.
Praise For The Calories In, Calories Out Cookbook: 200 Everyday Recipes That Take the Guesswork Out of Counting Calories—Plus, the Exercise It Takes to Burn Them Off…
*Winner of The Amsterdam Book Award, The Hoffer Book Award, and 1st place winner of The Feathered Quill Book Award in Self-Help*

"An essential repertoire of nutrient-rich, foolproof recipes tailored for busy families and individuals."—Foreign Service Journal

"This is one of the most 'user friendly' combinations of healthy recipes and fitness exercise instruction manuals available today . . . informative, practical, [and] exceptionally well written."—Midwest Book Review

"A phenomenal cookbook . . . . Sheer brilliance . . . . The Calories In, Calories Out Cookbook is the perfect balance of making smart food choices, cooking them and liking what you see in the mirror down the road!"—The Feathered Quill

"This book is ideal for anyone who wants to learn about healthy diets and what calories we are actually eating. Lots of information and healthy recipes—not a quick fix diet, but a great reference and reminder that it is far easier to consume calories than to burn them off."
—Dr. Michelle Harvie, coauthor of The 2-Day Diet

"The book is beautifully designed and illustrated, exceptionally easy to read, and scientifically sound. Even better, the recipes are easy to follow and look delicious."
—Marion Nestle, PhD, MPH, author of What to Eat

"I like The Calories In, Calories Out Cookbook because it's not a fad diet book and no food groups are eliminated. It encourages us to really look at what we're eating—and in so doing to take the first step to making healthy lifestyle changes."
—George L. Blackburn, MD, PhD, S. Daniel Abraham Professor of Nutrition, Harvard Medical School/Beth Israel Deaconess Medical Center

"The Calories In, Calories Out Cookbook provides a unique, innovative way to a healthier lifestyle. It helps people understand what calories are all about, how to determine daily calorie needs, and how to balance caloric intake with calorie expenditure through exercise. And it provides terrific recipes to satisfy even the heartiest appetite. All told, a first-rate guide!"
—Malcolm K. Robinson, MD, Metabolic Support Service, Brigham and Women's Hospital, Division of Nutrition, Harvard Medical School

"A real winner! The Calories In, Calories Out Cookbook is an excellent way to eat wonderful, real food and manage your weight. It does not contain long lists of 'do's' and 'don'ts'; instead, it helps guide you in making smart decisions to optimize your health. Its clear user-friendly guidelines and tips will help anyone interested in adopting a healthier lifestyle."
—Kathy McManus, MS, RD, LD/N, Director of the Department of Nutrition, Brigham and Women's Hospital, Boston, Massachusetts

"Losing weight is all about calories and The Calories In, Calories Out Cookbook gives you all the information you need to keep it off FOREVER. Don't miss this one!"
—Caroline Apovian, MD, author of The Overnight Diet, Director of the Center for Nutrition and Weight Management at Boston Medical Center, and Professor of Medicine at Boston University School of Medicine

"Do you want to understand what calories are, where they are found, how to burn them, and how to prepare delicious healthy recipes that will help you stay within your calorie needs? Then USE and ENJOY The Calories In, Calories Out Cookbook. This is a must-have in every household and for all adults and children seeking to live healthier lives!"
—Rafael Perez-Escamilla, PhD, Professor, Yale School of Public Health

"Finally, an up-to-date and scientifically rigorous approach to sustainable weight management coupled with exceptional recipes! Forget the fads and instead enjoy a diverse and healthy diet while feeling more vibrant and reducing your risk of many chronic diseases impacting our population."
—Steven K. Clinton, MD, PhD, Professor, College of Medicine, The Ohio State University

"For anyone who is trying to balance energy intake and output, The Calories In, Calories Out Cookbook really fills a gap. In addition to providing calculations of calories and nutrients per serving, it also gives readers a count of how much physical activity it will take to balance what's taken in. It offers tasty pairings to make delicious meals plus lots of helpful cooking tips, and an appendix filled with useful nutritional facts and figures. All in all, this is an outstanding book—one that many of us who are dietitians and nutritionists can recommend to our patients and clients without reservation."
—Johanna Dwyer, DSc., RD, Professor of Medicine, Tufts Medical School, and Director of Frances Stern Nutritional Center at New England Medical Center

"This is the most mouthwatering selection of recipes I have ever seen in a low-cal cookbook—they are elegant, practical, and make liberal use of herbs and spices that promote good health and weight control. Since I recommend an allergy-free diet, I have made some simple substitutions to avoid gluten, dairy, sugar, and GMOs without sacrificing flavor."
—Ann Louise Gittleman, PhD, CNS, award-winning, New York Times–bestselling author of The Fat Flush Plan

"The Calories In, Calories Out Cookbook is my new go-to guide for clients, colleagues, and friends. Long overdue, it embraces what dietitians and researchers have been touting for decades: for optimal health, eat smarter and move further. This wonderful resource has it all—solid evidence, healthy tips, caloric and physical activity recommendations, shopping lists, and of course, fabulous recipes. Readers are sure to enjoy, eat well, and prosper!"
—Colleen Spees, PhD, MEd, RD, LD, Assistant Professor, The Ohio State University Medical Center

"The Calories In, Calories Out Cookbook is the go-to book for healthy living. Catherine Jones and Elaine Trujillo not only deliver tasty and easy recipes but also provide readers with expert knowledge and guidance on what calories are and how the body uses them. They weave a delicate balance of calories in and calories out without depending on dieting. I can't wait to share this book with my friends, colleagues, and clients."
—Julie Schwartz, MS, RDN, CSSD, LD, Certified Wellness Coach, Chair of the Weight Management Dietetic Practice Group, Academy of Nutrition and Dietetics

"This book presents an incredibly practical tool that will help everyone understand what really matters when it comes to attaining and maintaining a healthy body weight. Thinking in calories can be a challenge, but everyone can understand what 30 minutes of jogging entails!"
—Suzanne Dixon, MPH, MS, RD, Health & Nutrition Consultant, The Health Geek, LLC, www.NoNutritionFear.com

"This intelligent book explains the elusive calorie—both friend and foe of women around the globe. It teaches us how to keep our bodies energized with healthy—and not empty—calories. The recipes are delicious crowd-pleasers, and the many tips peppered throughout are a boon for busy moms. Finally, an intelligent and indispensable guide for healthy living and not fad dieting."
—Carolina Buia, coauthor of Latin Chic, and mother of two sets of twins