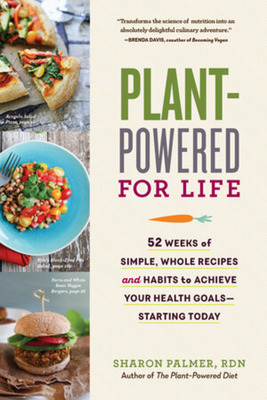 Plant-Powered for Life (Paperback)
52 Weeks of Simple, Whole Recipes and Habits to Achieve Your Health Goals—Starting Today
The Experiment, 9781615191871, 384pp.
Publication Date: July 8, 2014
* Individual store prices may vary.
Description
Fall in love with whole plant foods, and they will love you back!
52 simple steps and 125 globally inspired recipes show the way"Will help eaters of all persuasions, from carnivores to vegans, make plant-based meals fun and exciting."—Peggy Neu, President, The Monday Campaigns
Fruits, veggies, whole grains, legumes, nuts, and other plant-based foods can work wonders for your health and vitality—and they're delicious when done right! Still, many of us don't get enough.
Whether you're a meat-loving omnivore or junk-food vegan, if you've been meaning to eat more whole plant foods, Plant-Powered for Life is for you. Sharon Palmer, RDN, helps you set a personal goal (anything from "I will eat a plant-based meal every day" to "I will go 100 percent vegan"), then approach it at your own pace by taking 52 simple steps and cooking 125 mouthwatering recipes, in any order you like.
Whatever your starting point, this handy guide (complete with gorgeous full-page photos) will inspire you to forge new habits, cook great food, and enjoy a health, plant-powered life—one tasty step at a time.
Soon enough, you'll:
Love your legumes for protein and beyond
French Lentil Salad with Cherry Tomatoes
Eat well on the run
Curried Tofu Papaya Wraps
Embrace whole grains for health and flavor
Persian Couscous with Apricots and Pistachios
Eat your way to the end of the rainbow
Blueberry Oatmeal Waffles
Share the plant-powered love!
Carrot Spice Cupcakes with Chocolate "Cream Cheese" Frosting
About the Author
Sharon Palmer, RDN, is a registered dietitian, editor of the award-winning health newsletter Environmental Nutrition, and a nationally recognized nutrition expert who has personally impacted thousands of people's lives through her writing and clinical work. She lives outside of Los Angeles with her husband and two sons.
Praise For Plant-Powered for Life: 52 Weeks of Simple, Whole Recipes and Habits to Achieve Your Health Goals—Starting Today…
Books For A Better Life Award—Wellness category finalist

"A wonderful cookbook and nutrition resource. I highly recommend it to foodies, beginner and experienced cooks, and individuals simply interested in learning more about a healthier approach to eating. It's a great read and makes balanced, plant-based eating enjoyable and delicious."—Today's Dietitian

"Plant-Powered for Life will have you eating more plants and loving it."—Marin Independent Journal

"If going meatless and/or making produce plentiful in your life is on the list of 2015 goals, give Plant Powered for Life a read."—Dallas Morning News

"[A book] for vegans and those simply wanting to add healthy plant-based dishes to their menus."—Vegetarian Journal

"In Plant-Powered for Life, Sharon Palmer transforms the science of nutrition into an absolutely delightful culinary adventure. The fabulous recipes are inspired by traditions from around the world, and a clear understanding of food and health. This book is truly exceptional—from beginning to end, it is beautifully and brilliantly crafted."
—Brenda Davis, RD, coauthor of Becoming Vegan

"Nutrition science and sustainability are complex issues. Sharon has done a masterful job of simplifying the science with 52 recommendations that give the reader clear guidance on making choices that are good for personal health as well as the health of our planet. Her culinary talent shines through with 125 recipes inspired by plant-based cuisines and cultures from around the world. Reading this book will enhance your understanding of the science; cooking from this book will make shopping for, preparing, and cooking amazing meals satisfying and fun!"
—Amy Myrdal Miller, MS, RDN, Senior Director of Programs and Culinary Nutrition, The Culinary Institute of America

"Making healthy eating practical, realistic, and delicious—that's what Sharon Palmer is known for. Her tips for improving dietary choices are simple but powerful, and her recipes—inspired by the world's most appealing cuisines—will show you how to eat for good health while enjoying some of the best meals you've ever tasted."
—Virginia Messina, MPH, RD, coauthor of Vegan for Life, Vegan for Her, and Never Too Late to Go Vegan

"As you heed Sharon Palmer's advice to fall in love with plants, you will no doubt fall in love with Sharon's newest book. The pages of Plant-Powered for Life are filled with great tips and easy-to-follow, delicious-looking recipes that also happen to be incredibly healthy."
—Sara Baer-Sinnott, President, Oldways

"Plant-Powered for Lifewill give people a new appreciation for the dazzling and delicious variety plant foods offer. Sharon's 52 simple steps and 125 recipes will help eaters of all persuasions, from carnivores to vegans, make plant-based meals fun and exciting."
—Peggy Neu, President, The Monday Campaigns

"Sharon has done it again! Enjoy this brilliantly written book filled with easy-to-prepare recipes that are sure to delight the palate of those new to plant-based cuisine."
—John Pierre, author of The Pillars of Health: Your Foundations for Lifelong Wellness, www.johnpierre.com