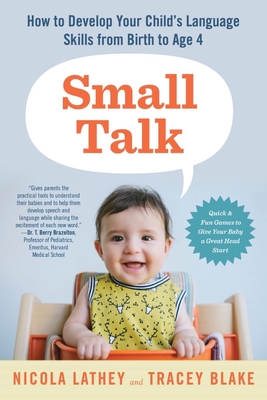 Small Talk
How to Develop Your Child's Language Skills from Birth to Age Four
Paperback

* Individual store prices may vary.
Description
Give your child the gift of conversation with Small Talk!

You are your child's most valuable resource when it comes to learning to talk. In Small Talk, speech and language therapist Nicola Lathey and parenting journalist Tracey Blake demystify the six stages of language learning, from "Pre-Babble" to "Complete Sentences," so you can tune in to what your child is saying—or trying to say! You'll also learn:

• Why the babbling stage is so important
• How to encourage your baby's first words
• Communication techniques to calm your toddler's tantrums
• The truth about pacifiers, baby signing,and the impact of TV on language development
• Causes for concern and where to turn for help.

Written by experts who are also parents of young children, Small Talk helps you to give your child the best head start by encouraging language and vocabulary development early on. Simply set aside as few as 10 minutes for Small Talk Time every day. With 50 games and activities to choose from, it's time to start Small Talking!
Praise For Small Talk: How to Develop Your Child's Language Skills from Birth to Age Four…
"In a fun, down-to-earth style, Small Talk gives parents the practical tools to understand their babies and to help them develop speech and language while sharing the excitement of each new word."
—Dr. T. Berry Brazelton, Professor of Pediatrics, Emeritus, Harvard Medical School

"Small Talk is a must-read for parents keen to help their child express themselves from the get go. I can't recommend it enough."
—Gurgle magazine

"For many parents, the idea of talking to their newborn seems foreign, and even a waste of time. But Lathey, a children's speech and language therapist, said that mindset couldn't be further from the truth."
—New York Daily News
The Experiment, 9781615192038, 336pp.
Publication Date: April 22, 2014
About the Author
Nicola Lathey is a children's speech and language therapist specializing in children under five. She is the founder of the Owl Centre, a private speech and language therapy clinic for children in Oxfordshire, England. She has one daughter.

Tracey Blake is a journalist and editor at the Daily Mail where she writes the popular parenting blog Small Talk. She is a mother of two.