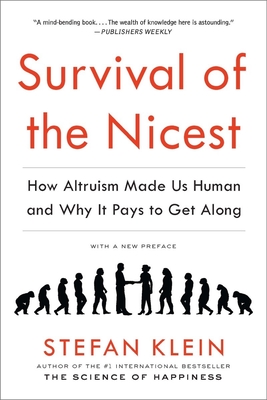 Survival of the Nicest
How Altruism Made Us Human and Why It Pays to Get Along
Paperback

* Individual store prices may vary.
Other Editions of This Title:
Hardcover (1/21/2014)
Description
A Publishers Weekly Best Book of 2014

This revelatory tour de force by an acclaimed and internationally bestselling science writer upends our understanding of "survival of the fittest"—and invites us all to think and act more altruistically

The phrase "survival of the fittest" conjures an image of the most cutthroat individuals rising to the top. But Stefan Klein, author of the #1 international bestseller The Science of Happiness, makes the startling assertion that altruism is the key to lasting personal and societal success. In fact, altruism defines us: Natural selection favored those early humans who cooperated in groups, and with survival more assured, our altruistic ancestors were free to devote brainpower to developing intelligence, language, and culture—our very humanity.

Klein's groundbreaking findings lead him to a vexing question: If we're really hard-wired to act for one another's benefit, why aren't we all getting along? He believes we've learned to mistrust our instincts because success is so often attributed to selfish ambition, and with an extraordinary array of material—current research on genetics and the brain, economics, social psychology, behavioral and anthropological experiments, history, and modern culture—he makes the case that generosity for its own sake remains the best way to thrive.
Praise For Survival of the Nicest: How Altruism Made Us Human and Why It Pays to Get Along…
A Publishers Weekly Best Book of 2014

"[A] mind-bending book . . . if there is a science to winning over readers, Klein has surely mastered it. . . . The wealth of knowledge here is astounding."
—Publishers Weekly, starred review

"Klein offers a slew of evidence. . . [and] documents his claims thoroughly."—Science News

"[O]ne of the book's key strengths [is] its breadth. From psychological experiments to anthropological studies and historical events like the Holocaust or 9/11, Klein seamlessly weaves his way through all to present compelling evidence for why humans have evolved to be selfless. Survival of the Nicest entertainingly informs its readers of how they are born to be altruistic . . ."
—UC Berkeley's Greater Good Science Center

"This wonderful book could be read as a scientific explanation for a moral imperative to be kind to others. But it is so much more! Stefan Klein, an enticing storyteller, marshals the evidence for the value of altruism—not only to one's family but, much more interestingly, to one's self and one's tribe. Altruism is truly contagious!"
—Roald Hoffman, Nobel Laureate, poet, and Frank H. T. Rhodes Professor of Humane Letters Emeritus, Cornell University

"A scholarly tour de force about why generosity makes good sense, Survival of the Nicest is also compulsively readable. Klein argues convincingly that helping others is one of the best things we can do for ourselves."
—Elizabeth Svoboda, author of What Makes a Hero?: The Surprising Science of Selflessness

"A thought-provoking and comprehensive review of the research on altruism, Survival of the Nicest validates humanistic principles and has far-reaching implications for today's world—especially for US politics and culture. An inspiration!"
—Rebecca Hale, president, American Humanist Association, and co-owner of EvolveFISH.com

"An important contribution to the field of altruism and altruistic behavior and to a better and nicer world. I highly recommend this book."
—Samuel P. Oliner, PhD, Emeritus Professor of Sociology, Humboldt State University, and founder and director, The Altruistic Personality and Prosocial Behavior Institute

"In Survival of the Nicest, Stefan Klein poses three questions central to social science and ethics: (1) How is unselfishness possible? (2) What moves us to help others? And (3) why are some people more helpful than others? His wide-ranging answers to these questions suggest that altruism is born into us and that selflessness actually both makes us happy and will transform the world."
—Kristen Renwick Monroe, Chancellor's Professor, University of California, Irvine, and author of The Heart of Altruism

"This eloquent and persuasive book shows why in life, like in the movies, the nice guy always wins."
—Stephen Cave, author of Immortality

"Thoroughly readable...fabulously informative...Survival of the Nicest makes you want to be good and to feel good about it."—Sunday Times

"A glowing argument for post-Darwinian co-operation."—Evening Standard

"Well written"—Independent
The Experiment, 9781615192205, 272pp.
Publication Date: October 21, 2014
About the Author
Stefan Klein, PhD, a trained physicist, is a longtime and internationally acclaimed science writer and journalist. His many books include the #1 international bestseller The Science of Happiness and have been translated into twenty-five languages.
or
Not Currently Available for Direct Purchase