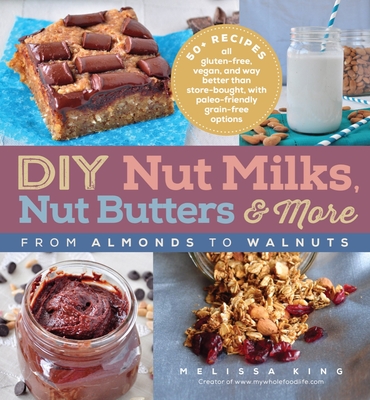 DIY Nut Milks, Nut Butters, and More
From Almonds to Walnuts
Paperback

* Individual store prices may vary.
Description
"An essential resource."—Alana Chernila, author of The Homemade PantryYour all-in-one guide to making creamy milks, velvety butters, and satisfying treats from almonds, cashews, hazelnuts, and more!
DIY Nut Milks, Nut Butters & More
brings nut power to the people with more than 50 recipes for homemade nut milks and butters—along with delicious, whole-food snacks and desserts that put them to use. Inside you'll even find tasty ideas for using the leftover nut pulp! You'll discover all sorts of goodies inside, including:
Strawberry Brazil Nut Milk
Rich and Creamy Pistachio Butter
Chocolate Hazelnut Spread
Almond Butter and Jelly Muffins
Peanut Butter Cup Granola
Salted Honey Cashew Truffles
Tropical Protein Smoothie
Chocolate Peanut Butter Chunk Ice Cream
These decadent yet straightforward recipes use simple ingredients that are most likely already in your pantry. Even better—every dish is gluten-free and vegan, and most are grain-free, too. Filled with smart advice, helpful tips, and fabulous recipes, this is your ultimate guide to homemade nut milks, nut butters, and beyond.
Praise For DIY Nut Milks, Nut Butters, and More: From Almonds to Walnuts…
Praise for DIY NUT MILKS, NUT BUTTERS & MORE

"If you're ready to move beyond store-bought boxes of almond milk and jars of natural peanut butter, King's small book is the perfect guide to homemade nutty goodness."—Portland Press Herald

"DIY Nut Milks, Nut Butters & More is an essential resource for anyone who wants to eat well, go homemade, and make the most of an amazing ingredient. Strawberry brazil nut milk, cinnamon pecan butter, almond joy cookies (!)—I could go on and on. Whether you're just beginning to make more homemade staples or you've been making nut milk for years and want to take it to the next level, Melissa King has you covered."
—Alana Chernila, author of The Homemade Pantry and creator of EatingFromTheGroundUp.com

"Melissa's delicious staples and treats make healthy living so accessible. You'll never buy commercial products again, when you see how easy it is to create pure, natural food with just a few ingredients. I will be giving this book to every mother I know."
—Tess Masters, author of The Blender Girl

"DIY Nut Milks, Nut Butters, and More should be called an encyclopedia. I cannot think of a nut that was left out. The recipes are clean, varied, and inviting. This is a cookbook I will use again and again."
—Ginny McMeans, creator of Vegan in the Freezer

"Finally, a down-to-earth, delicious and innovative approach to incorporate more nuts into our diet. I love the simplicity of the recipes!"
—Olena Osipov, creator of iFOODreal

"Like her blog, My Whole Food Life, Melissa King's first book is filled with original recipes that are far from intimidating and contain only the purest ingredients. Melissa has taken a familiar ingredient, nuts, and transformed these plants into unique, exciting, flavorful possibilities. These recipes allow home cooks to embrace nutrition and create delicious food—it's a win-win! This is more than a cookbook. It is a kitchen manual for anyone who wants to incorporate, and indulge in, plant-based food."
—Ashley Cox, raw vegan chef and creator of TheNakedFoodLife.com

"This book is truly fantastic! As a busy mom, Melissa's approach to healthy eating works—she creates easy, delicious, do-able recipes that are healthy and made with whole food ingredients. Every time I make one of her recipes I am wowed, they are all so good. Everyone should grab a copy of this book!"
—Rama Pfeiffer, founder and blogger of Freshly Grown

"When I tested [the Chocolate Almond Banana Cups] in the Bauer house this past weekend everyone FLIPPED OUT! Best part? There's only 5 ingredients and the recipe's super-simple to whip together."
—Joy Bauer,Today show host and founder of Joy Bauer Nutrition

"The book is chock-full of easy, healthy recipes . . . . I love this book!"
—This Rawsome Vegan Life blog

Praise for MELISSA KING and MyWholeFoodLife.com

"My Whole Food Life is the perfect place to find healthy, easy, and delicious recipes of all kinds—from savory to sweet, and soups to ice cream! Melissa is a magician in the kitchen when it comes to creating wholesome, vibrant, and simple food for everyone to enjoy. If you're interested in exploring the exciting flavors and colors of healthy food then this book is an essential in your home."
—Emily von Euw, author of Rawsome Vegan Baking

"Melissa King is a healthful treat genius. I stumbled upon her website one day looking up a wholesome dessert recipe to make with my son. That first recipe, and every other one I've tried since, have not only been over-the-top delicious, but also nutritious. Melissa does a delightful job of combining the two."
—Ivy Larson, author of Clean Cuisine and founder of CleanCuisine.com
The Experiment, 9781615192304, 224pp.
Publication Date: January 13, 2015
About the Author
Melissa King is the writer and photographer of her popular blog, My Whole Food Life, and her first book, DIY Nut Milks, Nut Butters & More. A vegetarian for 16 years, she went vegan and quit processed foods in 2012. She lives with her family in Dallas, Texas.
or
Not Currently Available for Direct Purchase