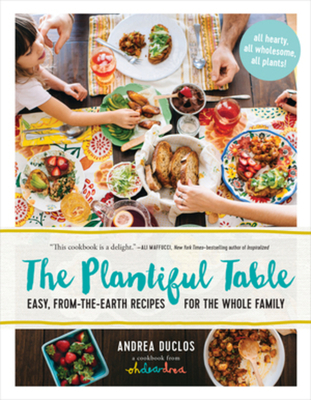 The Plantiful Table (Hardcover)
Easy, From-the-Earth Recipes for the Whole Family
The Experiment, 9781615192472, 320pp.
Publication Date: December 15, 2015
* Individual store prices may vary.
Description
Over 125 full-flavored, plant-based dishes sure to please even the pickiest kids and the hungriest adults

For food and lifestyle blogger Andrea Duclos (known as Drea to her friends and followers), "the good life" is a natural, plant-based one. But when she sits down with her husband and their young daughter, what's on the menu? The quick-to-make, tasty creations in The Plantiful Table! Here are:
Comfort classics made vegan, such as Mac & Cheese and Shepherd's Pie
A world tour of flavors, from Garam Masala Pancakes to Bánh Mì Chay
Pea Pesto, Mushrooms with Crispy Sage, and other amazing "things on toast"
Hearty one-pot dishes, festive Latin American fare, chocolaty treats, smoothies, and more!
This sunny, down-to-earth cookbook is proof that eating vegan doesn't mean taking options off the table. Throughout, Drea gives kid-friendly tips so that one meal can feed everyone. Plus, she takes the guesswork out of reviving leftovers. So, from Drea's family to yours—large or small, all-vegan or not—here are hearty meals straight from the earth, perfect for your happy home, every day!
About the Author
Andrea Duclos is the creator of the popular lifestyle and cooking blog OhDearDrea. Named a top family blogger by both Apartment Therapy and Babble, she has been featured on Design Sponge, Disney Baby, and the documentary American Blogger, among numerous other media. She resides in West Palm Beach, Florida, with her husband and daughter, where they live as simply, naturally, and happily as possible.
Praise For The Plantiful Table: Easy, From-the-Earth Recipes for the Whole Family…
One of Amazon's Best Books of the Month in Cookbooks, Food & Wine

"Not too fussy or overly complicated, the recipes are inspired by the plant-based way Duclos eats and feeds her 5-year-old daughter, Marlowe."—Palm Beach Post

"Drea's dedication to a natural home and healthy living is passionate and contagious. Her story is real and her voice honest."—Uncommon Goods

"The dishes . . . are ideal for both children and omnivores yet sophisticated enough for an adults-table-only soiree."—Veg News Magazine

"Whether you're a dedicated omnivore or can't live without a burger, this book has recipes that can be enjoyed by every palate."—Red Tricycle

"Andrea Duclos dishes up family-friendly meals that are wholesome and comforting"—Oregonian Live

"Not only are Andrea Duclos's introductory words kind, patient, and engaging, her helpful, sweet presence is intertwined throughout the entire cookbook. Duclos's approach to healthy eating is attainable and inviting. She transforms traditionally heavy dishes into light, refreshing options—while preserving the tasty integrity of their original versions. My favorite part about The Plantiful Table is its variety in cuisines. With inspiring flavors from Japan to Latin America, these recipes will definitely entertain the palate. Whether you're looking for vegan meal ideas or simply looking to cook more wholesomely for the family, this cookbook is a delight."
—Ali Maffucci, food blogger and New York Times-bestselling author of Inspiralized

"The Plantiful Table is a beautifully crafted book filled with approachable meal ideas for vegan and vegetable-loving families. Andrea is a modern-day earth mama and her voice is warm and welcoming. Picking up this book makes you feel as though you're at her family table."
—Jessica Nadel, author of Greens 24/7 and Superfoods 24/7 and creator of the blog Cupcakes and Kale

"With fun and inventive recipes like Hearts of Palm Patties and Indian Mango Pizza, Andrea Duclos shows us that plant-based eating can be something the whole family can get on board with (including the dog!). The Plantiful Table is a must for those looking to bring their family together to share healthy, hearty plant-based meals!"
—Kristy Turner, author of But I Could Never Go Vegan!

"The Plantiful Table is a fantastic book to get the entire family excited about healthy eating and dipping your toe into more whole-food recipes. Drea's love for being a mother and mother earth shines through each recipe!"
—McKel Hill, MS, RD, LDN, dietitian nutritionist and creator of the blog Nutrition Stripped