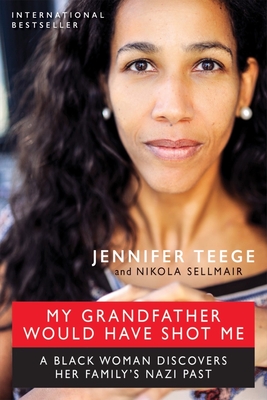 My Grandfather Would Have Shot Me
A Black Woman Discovers Her Family's Nazi Past
Hardcover

* Individual store prices may vary.
Other Editions of This Title:
Digital Audiobook (5/25/2015)
Paperback (4/5/2016)
Compact Disc (5/26/2015)
MP3 CD (5/26/2015)
Compact Disc (5/26/2015)
Description
The New York Times bestselling memoir hailed as "haunting and unflinching" (Washington Post), "unforgettable" (Publishers Weekly), and "stunning" (Booklist).

When Jennifer Teege, a German-Nigerian woman, happened to pluck a library book from the shelf, she had no idea that her life would be irrevocably altered. Recognizing photos of her mother and grandmother in the book, she discovers a horrifying fact: Her grandfather was Amon Goeth, the vicious Nazi commandant chillingly depicted by Ralph Fiennes in Schindler's List—a man known and reviled the world over.

Although raised in an orphanage and eventually adopted, Teege had some contact with her biological mother and grandmother as a child. Yet neither revealed that Teege's grandfather was the Nazi "butcher of Plaszów," executed for crimes against humanity in 1946. The more Teege reads about Amon Goeth, the more certain she becomes: If her grandfather had met her—a black woman—he would have killed her.

Teege's discovery sends her, at age 38, into a severe depression—and on a quest to unearth and fully comprehend her family's haunted history. Her research takes her to Krakow—to the sites of the Jewish ghetto her grandfather "cleared" in 1943 and the Plaszów concentration camp he then commanded—and back to Israel, where she herself once attended college, learned fluent Hebrew, and formed lasting friendships. Teege struggles to reconnect with her estranged mother Monika, and to accept that her beloved grandmother once lived in luxury as Amon Goeth's mistress at Plaszów.

Teege's story is cowritten by award-winning journalist Nikola Sellmair, who also contributes a second, interwoven narrative that draws on original interviews with Teege's family and friends and adds historical context. Ultimately, Teege's resolute search for the truth leads her, step by step, to the possibility of her own liberation.
Praise For My Grandfather Would Have Shot Me: A Black Woman Discovers Her Family's Nazi Past…
New York Times Bestseller

"Jennifer Teege's new memoir traces the pain of discovering her grandfather was the real-life 'Nazi butcher' from Schindler's List."—People magazine

"Haunting and unflinching . . . . A memoir, an adoption story and a geopolitical history lesson, all blended seamlessly into an account of Teege's exploration of her roots."—Washington Post

"A stunning memoir of cultural trauma and personal identity."—Booklist, starred review

"Unforgettable. . . . Teege's quest to discover her personal history is empowering."—Publishers Weekly

"An important addition to narratives written by descendants of war criminals. A gripping read, highly recommended for anyone interested in history, memoirs, and biography."—Library Journal, starred review

"[A] journey of self-discovery."—Metro US

"[An] amazing story of horror and reconciliation and love."—John Mutter, Shelf Awareness

"The high quality of the writing helps to convey this incredible but amazingly true story."—Association of Jewish Libraries

"This book is not for the faint of heart, but it is fascinating and fair. There are no easy answers to the issues raised in this book, but they exist for both groups of descendants. Readers will be challenged to think about a major event in world history from a perspective that is rare but surely significant."—Gerhard L. Weinberg, History Book Club

"A powerful account of Teege's struggle for resolution and redemption, the book [is] itself a therapeutic working-through of her history, as well as a meditation on family."—The Independent (UK)

"Courageous. . . . the memoir invites rereading to fully absorb Teege's painful search for answers, for a sense of identity and belonging and for inner peace. Readers won't help but feel for her. Teege discovers, however, that history's shattering truths have the potential to make us more whole."—Seattle Times

"[Teege's] message is an important one—that we have the power to decide who we are."—Seattle Weekly

"In honest, direct, and absorbing prose, Teege and coauthor Nikola Sellmair confront highly personal repercussions of the Holocaust. . . . The book's real triumph is in its nuanced, universally appealing portrait of an individual searching for her place in the world. Just as Teege's chance encounter with a library book led her to question the fundamental assumptions of her life, so too the reader. . . will be forced to reconsider the wide-ranging impact of past injustices on present-day relationships."—The Jewish Book Council

"A discomfiting but clear-eyed journey of self-discovery and identity reconciliation that first-time author Teege relates with admirable straightforwardness and equanimity."—In These Times

"The alternating narrative between Teege and co-author Sellmair offers a refreshing and ultimately impartial analysis. Teege's heartfelt commentary and Sellmair's objective narrative produce a layer of balanced interpretation and insight."—New York Journal of Books

"Teege's story is at times heart wrenching, and yet, full of her own stark honesty and surprising wisdom as she ponders the impacts of one's family history."—Manhattan Book Review

"Jennifer Teege has a fascinating story."—Washington Independent Review of Books

"Teege's story is one of questions as much as answers. Her honest self-examination makes for a provocative, unpredictable story of an understanding still in progress."—Columbus Dispatch

"As spellbinding as any horror fiction, but it's true, and grippingly filled with personal details that ensnare the reader. . . . Fascinating."—Jacksonville Clarion-Ledger
The Experiment, 9781615192533, 240pp.
Publication Date: April 15, 2015
About the Author
Jennifer Teege worked in advertising for 16 years before becoming an author. For four years in her twenties she lived in Israel, where she became fluent in Hebrew. She graduated from Tel Aviv University with a degree in Middle Eastern and African studies. Teege lives in Germany with her husband and two sons. A New York Times and international bestseller, My Grandfather Would Have Shot Me is her first book.
 
Nikola Sellmair graduated from Ludwig-Maximilians-University Munich and has worked in Hong Kong, Washington, DC, Israel, and Palestine. She has been a reporter in Hamburg at Germany's Stern magazine since 2000. Her work has received many awards, including the German-Polish Journalist Award, for the first-ever article about Jennifer Teege's singular story.
Washington Post describes this book as equal parts "memoir, adoption story, and geopolitical history lesson." As Jennifer Teege researches and reflects on the Goeth family, Nazism, and her own adoption and childhood, which do you think affects her the most? Which was most interesting to you?generic viagra price canada
The book is presented from intertwined perspectives: Jennifer's first-person and Nikola Sellmair's third-person. Discuss how the two authors complement and complicate one another's views.generic viagra price canada
On crossing the boundary between fiction and history, Jennifer writes, "Slowly I begin to grasp that the Amon Goeth in the film Schindler's List is not a fictional character, but a person who actually existed in flesh and blood" (7). How has your view of the Holocaust been shaped by popular culture? Has this book changed your perspective?generic viagra price canada
Jennifer has trouble reconciling her memory of a beloved grandmother with the truth of a woman who lived with Goeth and ignored his atrocities. What does Jennifer's attitude towards Ruth, and Ruth's towards Goeth, suggest about love? Is it possible to love one part of a person while rejecting another?generic viagra price canada
Monika Goeth, named for a father she never met, belongs to the first generation of descendants of Nazi perpetrators. She believes it was "Goeth's story that shaped her identity" (99). How was her experience with the family history different from Jennifer's? How will that experience change for Jennifer's children? Can family trauma be passed down through generations?generic viagra price canada
In an interview Jennifer says, "Today I see [Monika] not only as my birth mother, but also as a woman with her own story and history. She suffers from the weight of the past." What do you think motivated Monika to put Jennifer up for adoption and to conceal the family secret from her?generic viagra price canada
After living in Israel, Jennifer has strong ties to its culture and people. She feels guilty about her family history and is reluctant to share it with her Israeli friends. Discuss her fears and their reactions. How would you have acted in Jennifer's place, or reacted as her friend?generic viagra price canada
Jennifer describes her skin color as a "barrier" between her and Goeth (41) and as "good camouflage" (175) in Israel. Describing the African quarter of Paris, she says, "I had a sense of homecoming" (184). What role does race play in Jennifer's quest for identity?generic viagra price canada