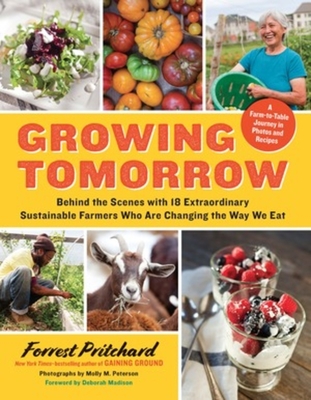 Growing Tomorrow
A Farm-to-Table Journey in Photos and Recipes: Behind the Scenes with 18 Extraordinary Sustainable Farmers Who Are Changing the Way We Eat
Hardcover

* Individual store prices may vary.
Description
Meet the local farmers who feed America—in stories, photos, and 50 recipes!

When Forrest Pritchard went looking for the unsung heroes of local, sustainable food, he found them at 18 exceptional farms all over the country.

In Detroit, Aba Ifeoma of D-Town Farm dreams of replenishing the local "food desert" with organic produce. On Cape Cod, Nick Muto stays afloat and eco-friendly by fishing with the seasons. And in Washington State, fourth-generation farmer Robert Hayton confides, "This farm has been rescued by big harvests. . . . For every one great season, though, you've got ten years of tough."

With more than 50 mouthwatering recipes and over 250 photographs, this unique cookbook captures the struggles and triumphs of the visionary farmers who are Growing Tomorrow.
Praise For Growing Tomorrow: A Farm-to-Table Journey in Photos and Recipes: Behind the Scenes with 18 Extraordinary Sustainable Farmers Who Are Changing the Way We Eat…
"An honest book about simple food, grown well and prepared without pretense. Mr. Pritchard is a warm-hearted guide through the varied landscapes."—The Wall Street Journal

"Pritchard inspires his audience to support local farmers and to consume and/or grow provisions using sustainable practices. This book will appeal to foodies, environmentalists, and gardeners in general."—Library Journal, starred review

"Highly recommended."—Washington Post

"This book is fabulous and worth a read if you love small-scale, sustainable farming."—Edible New Orleans

"One of the most joyous and thought provoking things a culinarian can do is go out into the field and meet the farmers providing our resources. It's inspirational to see that as a farmer, Forrest Pritchard draws the same energy from telling the tales of his colleagues at work."
—Mario Batali, chef and co-host of The Chew, and Jim Webster, of The Washington Post, co-authors of America Farm to Table: Simple, Delicious Recipes Celebrating Local Farmers

"Gorgeous, delectable, and fascinating, Growing Tomorrow provides food for the body, mind, and soul. Engaging to read, easy to cook from, delicious to eat, this is more than a cookbook; it is a meditation on the things that give us life."
—Garth Stein, author of New York Times bestseller The Art Of Racing In The Rain

"It's so important—and so interesting!—to meet the people who grow the very best food in our country.
—Deborah Madison, author of Local Flavors: Cooking and Eating from America's Farmers Markets and Vegetable Literacy

"A beautiful, bountiful tribute to the local heroes who are sustaining America's proud farming heritage and putting fresh, organic food on our tables. Between the captivating farm profiles and the fresh-from-the-field recipes, Growing Tomorrow is sure to inspire future generations of farmers and home cooks everywhere."
—Brent Ridge and Josh Kilmer-Purcell from "The Fabulous Beekman Boys" and Beekman1802.com

"Any aspiring farmer or consumer of freshly farmed products will get great pleasure from reading this book and admiring its photos."
—Marion Nestle, Professor of Nutrition, Food Studies, and Public Health at New York University, and author of What to Eat
The Experiment, 9781615192847, 320pp.
Publication Date: October 20, 2015
About the Author
Forrest Pritchard is a full-time organic farmer who holds degrees from the College of William & Mary. His farm, Smith Meadows, was one of the first "grass-finished," free-range endeavors in the country, and has sold at leading farmers' markets in Washington, D.C. for more than fifteen years. Pritchard is the author of the New York Times-bestselling book Gaining Ground: A Story of Farmers' Markets, Local Food and Saving the Family Farm, picked as a top read by The Washington Post, Publishers Weekly, and NPR's The Splendid Table. The primary blogger for the Facebook page "I Support Farmers' Markets," the largest online farmers' market fan page, he is also a popular public speaker, having given addresses at RAND, Texas Organic Farmers Association, and Weston A. Price International, among others. Pritchard lives with his family on Smith Meadows in Berryville, Virginia.

Molly McDonald Peterson has been a professional photographer for more than ten years, from the mountains of Aspen to the Virginia Piedmont. As the former director of photography for two regional food publications that celebrate local and sustainable food and farmers, she was a two-time finalist for the American Society of Magazine Editors' annual "Best Cover" award. Molly is known for her food and farm shoots, and has contributed to multiple cookbooks, which she finds amusing since she used to think pancakes came from a box. She lives with her husband Mike, a chef-turned-farmer, in Sperryville, Virginia, where they raise pasture-based livestock on nearly 600 acres of leased land at Heritage Hollow Farms.
or
Not Currently Available for Direct Purchase