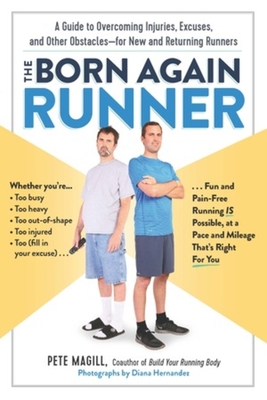 The Born Again Runner
A Guide to Overcoming Excuses, Injuries, and Other Obstacles—for New and Returning Runners
Paperback

* Individual store prices may vary.
Description
From the lead author of Build Your Running Body ("the best running book ever"—Runner's World founder Bob Anderson), a one-of-a-kind guide for everyone who wants to run but feels they can't

As a drug-addled young man, Pete Magill once found himself in the ER, with his body telling him to give up. Taking up running seemed impossible—but he willed himself to do it anyway.

Magill went on to become one of the fastest masters runners ever, and a sought-after coach. Over a glowing (albeit hard-won) career, he has heard every excuse people use to stop running or never start—from achy knees and sore ankles, to advanced age and arthritis, to too many cigarettes or years on the couch.

In every case, Magill's best advice is to do what he did: Run anyway—at a pace and mileage that work. Through inspiration, science, and anecdote, Magill gets runners out the door; through personal action plans, he sets them on the right path; and through the best exercises to protect and rehabilitate the body, he keeps them going—showing a way forward for new and sidelined runners who haven't before realized how close they are to fun and pain-free
running!
Praise For The Born Again Runner: A Guide to Overcoming Excuses, Injuries, and Other Obstacles—for New and Returning Runners…
"With practical advice and sound knowledge, Magill expertly and humorously inspires all fitness levels to step up their running game."—Library Journal

"This road map to enjoying a healthy life is highly recommended for anyone serious about beginning and sticking to a running program."—Publishers Weekly

"Myths are busted and excuses are denied. . . . This book is just loaded with information. . . . It will be pretty difficult to deny Magill, so just get out there, start, and stay with your running regime."—Portland Book Review

"As a running author myself it pains me to say this, but if you're a new runner or returning to the sport, The Born Again Runner is the only book you need. If it doesn't get you up and running, nothing will. Pete Magill smashes myths, bats down excuses, and demystifies everything from training to diet to injury prevention. It's the smartest, easiest-to-follow blueprint I've ever seen for anyone who wants to become—and remain—a happy, healthy runner."
—Mark Remy, Runner's World columnist and author of Runners of North America and The Runner's Rule Book

"Whether you're just starting out as a runner or starting afresh, you can do no better than heed the guidance of running's ultimate comeback kid, Pete Magill, as presented in The Born Again Runner."—Matt Fitzgerald, author of How Bad Do You Want It? and coach for Team Iron Cowboy
 
The Experiment, 9781615193110, 304pp.
Publication Date: August 23, 2016
About the Author
Pete Magill has coached his running clubs to 19 masters national championships. He's a five-time USA Masters Cross Country Runner of the Year and the fastest-ever American distance runner over age 50 in the 5K and 10K. He is also the lead author of Build Your Running Body. He lives in South Pasadena, California.