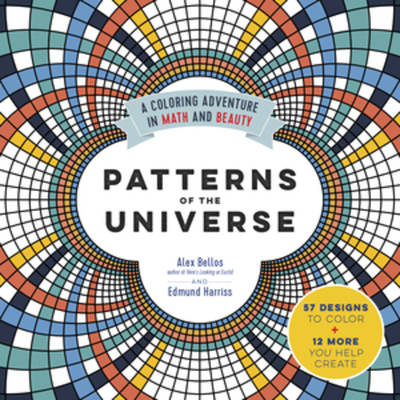 Patterns of the Universe (Paperback)
A Coloring Adventure in Math and Beauty
The Experiment, 9781615193233, 144pp.
Publication Date: December 1, 2015
* Individual store prices may vary.
Description
An ingenious coloring book that reveals math's hidden beauty—and contemplative power—as never before

Publisher's note: Find even more mathemagical coloring in Visions of the Universe, new in December 2016!

Contemplate the Patterns of the Universe as you color! Math is at the heart of many natural wonders and has an abstract beauty all its own—in the silhouette of a snowflake, the spiral seeds of a sunflower, and the symmetry of the Sri Yantra mandala.

From the 4-D hypercube that casts a starlike shadow, to the infinite pattern of Penrose tiles that never perfectly repeats, these 57 exquisite designs reveal their secrets as you fill them with color. Art becomes an act of discovery—no math knowledge is required!

In the bonus Creating section, as you join dots, flip coins, and follow other simple steps, 12 surprising images will emerge before your eyes.

This is an adventure for all ages—and a treasure for artists in Numberland!
About the Author
Alex Bellos holds a degree in mathematics and philosophy from Oxford University. His bestselling books include Here's Looking at Euclid and Can You Solve My Problems? He is the coauthor of two coloring books, Patterns of the Universe and Visions of the Universe. He writes a popular math blog and a puzzle blog for the Guardian.
Illustrator Edmund Harriss is a well-known mathematical artist and a clinical assistant professor of mathematics at the University of Arkansas. He is the discoverer of the "Harriss spiral." His research has appeared in Nature and in publications of the National Academy of Science and the American Mathematical Society. He has led many math workshops, including at the Museum of Mathematics in New York, and is the academic director of a summer camp for mathematically gifted students.
Praise For Patterns of the Universe: A Coloring Adventure in Math and Beauty…
2016 Academics' Choice Smart Book Award Winner

One of Amazon's Best Books of the Month in Crafts, Hobbies & Home

"Illustrations designed to introduce doodlers to a range of challenging mathematical principles."—Science

"Flipping through this new coloring book is a mesmerizing journey. From perfect hexagonal tilings to luscious sine waves to nautilus shell spirals, every line illustration by mathematical artist Edmund Harriss (and a handful of others) brings a hypnotic sense of harmony."—Science Friday

"Enough coloring inside the lines—it's time to start coloring inside the cosines."—WIRED

"Think coloring books are just for little kids? Think again."—Boys' Life

"An intricate, geeky coloring book for adults."—Independent on Sunday

"A beautiful math coloring book offering young and old alike the joy of patterns that are pleasing and rigorous, regular and creative, all at the same time."—Cédric Villani, Fields medalist and author of Birth of a Theorem

"A math coloring book for kids and adults . . . Irresistible!"—Steven Strogatz, author of The Joy of x

"I wouldn't have expected anything less from math adventurer Bellos and mathematical artist and tiling fan Harriss, whose personalities both come through in the book—from the beautiful illustrations to the playful style. . . . The range of types of math on display is super. . . . A beautiful object."—Aperiodical blog

"This is big fun. . . . Just looking at these pages is a treat—they have a life all their own, even before color is applied. . . . A coloring book with a sharp new angle."—The Papercraft Post blog

"Adds a bit of braininess to the relatively simple act of coloring while keeping the stress-relieving benefits."—Adult Coloring 101