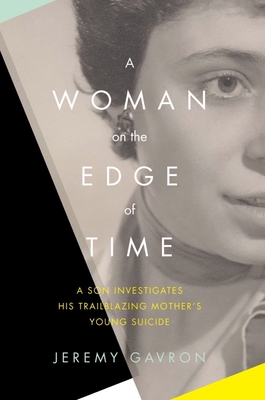 A Woman on the Edge of Time
A Son Investigates His Trailblazing Mother's Young Suicide
Hardcover

* Individual store prices may vary.
Description
London, 1965: A brilliant young woman—a prescient advocate for women's rights at the dawn of modern feminism—has just gassed herself to death, leaving behind a suicide note, two young sons, and a soon-to-be-published sociological study, The Captive Wife: Conflicts of Housebound Mothers.

Hannah Gavron had seemingly led a charmed life since childhood: She had been a champion equestrian, had studied acting alongside Peter O'Toole. As a bright, sophisticated adult, swept up in the progressive politics of the '60s, she was a promising academic and the wife of a rising entrepreneur. No one who knew Hannah ever imagined that she might take her own life.

Jeremy Gavron was just four when his mother died. Afterward, a silence descended so completely on her family and friends that it was as if she had never lived. In this searching portrait of Hannah, Jeremy embarks on a quest to break forty years of silence, to try to understand who his mother was and what drove her to suicide.

He's left to piece her life together from what remains: letters, diaries, and the faded memories of old acquaintances. As he digs into her past, he uncovers a darker side to Hannah's life—societal pressure, marital strife, and inescapable sexism that discounted her desire for more as a sign of mental illness. Ultimately, Jeremy not only comes as close as he can to knowing his mother—he also vividly captures the suffocating constrictions placed on every ambitious woman in the mid-twentieth century.
Praise For A Woman on the Edge of Time: A Son Investigates His Trailblazing Mother's Young Suicide…
Shortlisted for the 2016 Gordon Burn Prize

An Observer book of the year

"Beautifully written—wholly unique—A Woman on the Edge of Time is an elegy/memoir that is also a kind of detective story—in which the author investigates, with as much dread as hope, the circumstances leading to the suicide of his charismatic and accomplished mother many years before. It is difficult not to rush through Jeremy Gavron's compelling story which would translate brilliantly into cinematic form."—Joyce Carol Oates

"A thoughtful meditation on a ruthless, mysterious final act."—Kirkus Reviews

"[Gavron's] careful work conjures not only one remarkable woman but also a snapshot of the fractured lives of women in general during the rapidly warping 1960s, with moving and revelatory conclusions. In a book with suicide in its subtitle, Gavron reminds readers of art's work in raising the dead."—Booklist

"Jeremy Gavron's quest to find his mother has produced a groundbreaking book and moving portrait of a spirited young woman—a 'captive wife'—who refused to accept the social constraints of her time. Unforgettable."—Tina Brown

"This volume succeeds as both a poignant memoir and a well-researched and -constructed investigation of a life ended too soon. An engrossing and highly recommended portrait of a woman who burned too brightly for her time and the long-term effects of suicide by a child left behind."—Library Journal

"[Gavron's] writing poignantly touches the enigmatic interior life of a mother 'forever out of reach.'"—Publishers Weekly

"The legacy of a mother and her suicide reveals the story of both a woman and a social movement."—Shelf Awareness

"This is a memoir and a non-memoir, one on many levels, of Hannah Gavron's absence, of her charismatic presence, and a vivid vision too of the decades which framed her. . . . This pioneering, intense and visceral work . . . is both an act of mourning and a revelation of life. The genius of A Woman on the Edge of Time is that the impossible, very real Hannah Gavron—cheeky, warm, clever, determined, brilliant, shining, paradoxical—comes so fully back to life."
—Ali Smith, Times Literary Supplement

"Gavron explores the complex ups and downs of [his mother's] story with startling intensity."—The Dartmouth

"Mesmerising . . . Meticulous, even-handed and quietly revelatory, [A Woman on the Edge of Time] may be read both as a kind of detective story, the reader's stomach fluttering wildly each time he tracks down another witness, and as a work of social history, a sly skewering of the limitations, whether spoken or unspoken, which were then placed on women."
—Rachel Cooke, Observer

"Gavron is too subtle and intelligent to make the mistake of believing that suicide is ever about only one thing. And here, in beautiful, mesmeric prose, he delves deep into the shadow side of his mother's life. . . . The result is a memoir that is surely going to be regarded as a classic of the genre."—Independent

"Jeremy Gavron's quest [in writing A Woman on the Edge of Time] is a double quest: to find out what his mother was like in life and to find out why she killed herself. . . . The tenacity with which he pursues this goal is extraordinary. . . . The taboo of silence that shrouded Jeremy's childhood is broken. Those complicit with it aren't arraigned; the tone is patient and compassionate. But Hannah [Gavron] steps out of the shadow, 50 years on, and the great unsaids are finally spoken."
—Blake Morrison, Guardian

"Gavron's attempt to understand, and thus forgive . . . the mother who abandoned him, is admirable."—Financial Times

"Gavron has written a book as brave and honest as it is heart-stopping and gripping. With the meticulousness of a detective and the heart and soul of an abandoned son, he sets out to examine a family tragedy so raw and agonising that it is rarely talked, let alone written, about. I felt for him—and every man, woman and child in this book —whilst at the same time finding myself unable to put it down. Yes, you sense him stepping, with touching sensitivity, through some desperately painful (and potentially dangerous) territory. But if authors can't write about the mysteries closest to their hearts, then what point is there, really, in memoir?"
—Julie Myerson, author of Home: The Story of Everyone Who Ever Lived in Our House

"A Woman on the Edge of Time possesses all the signature verve, imagination and elegance of Gavron's writing but he brings to this, the story of his mother's suicide when he was four years old, a particular burning, restless intelligence. The result is a memoir of devastating, heartbreaking power: I had to put my life on hold to finish it."
—Maggie O'Farrell, author of Instructions for a Heat Wave

"I've just finished reading Jeremy Gavron's new book, and I'm quite overwhelmed by the artistry of this memoir/detective story/sociological study. It is in essence a reconstruction of his mother's life—but it's not only about his mother, and what drove her to kill herself at twenty-nine. It is about so much more. About women—vibrant, ambitious, intelligent women, who came of age in the '50s in that precarious post-war decade before feminism took hold. It is a beautifully written and remarkably honest book that many women will identify with—what it means to try to have it all, while society does nothing to support you. I found it deeply moving, insightful, and gripping."
—Esther Freud, author of Lucky Break

"Occasionally one comes across a book that needs to be read as much as it clearly needed to be written. Jeremy Gavron's impressive, tough yet affecting investigation into his mother's suicide at the age of twenty-nine in 1965 is such a story. Hannah Gavron was one of the brightest and most vivid young women of her generation—I know because it was my generation too. She killed herself inexplicably only months before the publication of her study of young mother's lives in the early 1960s, the very first book of its kind in this country. She called her book The Captive Wife. Her son's book, A Woman on the Edge of Time, is both his story—the story of the aftermath of a suicide—and his mother's story. Growing up knowing little about her, with no memories of her himself (he was four years old when she died), he has pieced together her life with meticulous attention: digging up documents, tracking down scores of people who knew her, both bringing her alive and coming, at the end, to a heartbreaking understanding of her death. In one sense, what he has uncovered is a tragic personal story, one woman's story, but it is more than that: Jeremy Gavron evokes the lives of all women in those pre-feminist years and so constructs a masterly portrait of an era. This is such a fine and beautiful book. A testament to a lost mother, and times past."
—Carmen Callil, author of Bad Faith: A Forgotten History of Family and Fatherland [and the renowned founder of Virago Press and former head of Chatto & Windus and the Hogarth Press]

"In a beautifully written memoir, Jeremy Gavron pieces together the mystery of his mother's life with a journalist's skill and a son's passion to know more. This is a compelling portrait of a complicated woman whose loss is still felt, and I finished it with tears in my eyes."
—Alix Ohlin, author of Signs and Wonders
 
"Gavron is a skilled storyteller. "Like an archaeologist conjuring a jar out of a few shard," he talks to extended family, colleagues and friends, piecing together who his mother might have been. The result is a tremendous personal narrative that is guiltily compelling. . . . The only clear and tragic conclusion is that any suicide is a terrifying puzzle, and those that live in its wake are forever haunted."
—Helen Davies, Sunday Times

"Profoundly moving . . . taking an almost impossibly tragic quest and turning it, as only seriously good writers can, into an understanding of the comedy of human errors. . . . This remarkable book will appeal to anybody interested in mid-20th century feminism. It's also a fascinating document about the devastating legacy of suicide. . . . I cannot recommend this book highly enough."
—Henrietta Garnett, Literary Review

"It's a feat of both skill and compassion that Gavron is able to make me feel like I intimately knew someone he never had the chance to know properly himself. . . . You must read this, both as an act of bearing witness to an important life, and as a way of understanding the internal struggles of women."
—Jessie Thompson, Huffington Post

"An investigative journey into the identity of a young woman who wanted more from life than her era allowed her, and for the reader an introduction to a person who, by the memoir's close, feels like a friend."
—Mariella Frostrup, BBC Radio 4's Open Book

"[Hannah Gavron] was ahead of her time. She was before Betty Friedman and long before Germaine Greer and all those others. It was a painful and lonely business trying to work out how to even talk about the problems of men and women back in the '50s and '60s."
—Kate Grenville, BBC Radio 4's Open Book

"A moving enquiry, a compelling search for a lost mother, and a revealing account of what life was like for adventurous and intelligent women in the 1960s."—Stylist

"In A Woman on the Edge of Time, Gavron sets out to give form to the mist of a lifetime's emotions and barely understood certainties. . . . A brave reckoning with family secrets."—Jewish Chronicle

"A haunting book. . . . Gavron, a first-rate writer and novelist, unfolds the story at the same fragmented, hesitant pace at which he made his discoveries, and it is a gripping formula. . . . Jeremy discovers how funny Hannah was, and how much he likes her despite her fallibilities."—Oldie

"[A Woman on the Edge of Time] has the heartstopping thrill of a page-turning detective novel; it's rich with thought-provoking observations about families, particularly mothers, negotiating the narrow straits of the late '50s/early '60s; and it is underpinned with profound, though never sentimental, personal emotional tumult. Intelligent, skilful, and terrifically moving, it remains in the heart long after it goes back on the shelf."—Big Issue

"Wrenching and beautifully written."—Bookseller

"A remarkable memoir."—Intelligent Life

"Compelling . . . a fascinating and beautiful read."—Irish News

"A rare book, careful and clear-eyed, but at the same time heartfelt and tender. . . . Its emotional force is all the more powerful because of the restraint of its writing."—ABC Books and Arts

"A book of exemplary research . . . deeply courageous. . . . It may not obviate the pain of his mother's final act, but in documenting her life he honours it. It is a restorative gesture of filial devotion."—Australian

"[Gavron's] book is an act of piety, a memorial and a tribute to a mother who found life too difficult to continue with. . . . It is certainly a record of failure, of waste, but also of great love, and that is what moves us."—Sydney Morning Herald

"A Woman on the Edge of Time isn't just a portrait of the mother Gavron barely knew and a revealing insight into the place of women in the 1960s. What sets it apart, is that Gavron takes the reader on the journey of discovery with him. . . . You sense his excitement as clues slowly come together to sketch . . . a moving and astonishingly honest portrait of a woman in trouble and a time in which mothers were beginning to discover the freedom to do everything, and discovering also the compromises and costs 'freedom brings.'"—Dominion Post, New Zealand

"The story is deeply affecting in itself but it is Gavron's sensibility and vulnerability that makes this book so special, and so stunning. A Woman on the Edge of Time is a love letter to a remarkable woman."—The Saturday Paper, Australia

"This very moving book recreates a personality and life trajectory that seems both representative and exceptional: a woman living in a time when more seemed possible but the resistance was still fierce."—Melbourne Age
 
"An amazing memoir by a son who is obsessively devoted . . . recommended."—ABC Nightlife, Australia
The Experiment, 9781615193387, 272pp.
Publication Date: September 20, 2016
About the Author
Jeremy Gavron is the author of The Book of Israel, winner of the Encore Award, and An Acre of Barren Ground. A former foreign correspondent in Africa and Asia, he lives in London, and teaches in the MFA program at Warren Wilson College in North Carolina.
1. Joyce Carol Oates calls this book an "elegy/memoir that is also a kind of detective story." Which passages in this book read most like mystery? Do you think the book reveals more about Hannah or Jeremy? Why?
2. In the book, a fellow sociologist of Hannah's says that "to succeed in those days women had to give up something—children, work, femininity—whereas Hannah wanted and appeared able to have everything" (3). To what extent did Hannah have "everything"? Do you think children, work, and femininity constituted everything for her? If not, what else might she have prized, and what might she have considered missing from her life?
3. Woven into the book are excerpts of Hannah's letters. How does hearing from Hannah herself affect how you view her?
4. Reading through Hannah's early report cards, Jeremy writes: "I don't doubt that she was assertive, boisterous, noisy, but I wonder if there would have been so much concern about these characteristics if she had been a boy" (73). How, if at all, would these gender perceptions have changed today? Do any of the men in Hannah's life treat her as an equal? Would Hannah's life have turned out differently if she lived even a few years later? If so, how? What if she were a young woman today?
5. "For as long as I can remember," Jeremy writes, "my father's gaze has been directed at what lies ahead. He doesn't believe in worrying about the past, or lingering over problems that can't be solved" (158). In what ways has Jeremy's father's disinclination to revisit the past shaped the way this story unfolds?
6. "Guilt is one of the most devastating legacies of suicide," Jeremy writes (166). What legacies did Hannah leave behind?
7. The epigraph of this book comes from the writer Amos Oz, and reads: "Have I betrayed them all again by telling the story? Or is it the other way round: would I have betrayed them if I had not told it?" Do you find Jeremy's story, in which he writes so intimately about his mother's life, at all a betrayal? Why or why not?
or
Not Currently Available for Direct Purchase