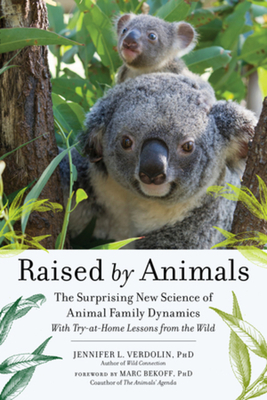 Raised by Animals
The Surprising New Science of Animal Family Dynamics
Paperback

* Individual store prices may vary.
Description
When it comes to family matters, do humans know best? Leading animal behaviorist Dr. Jennifer Verdolin argues otherwise in this eye-opening book. Welcome to the wild world of raising a family in the animal kingdom . . . sometimes shocking, often ingenious!

Every species can surprise us: Chimps have a knack for minimizing temper tantrums, and owl chicks have a remarkable gift for sharing. A prairie vole knows exactly when his stressed-out partner needs a massage. And anyone who considers reptiles "cold-blooded" should consider the caecilian, a snakelike animal from Kenya: After laying eggs, the mother grows a fatty layer of skin, which her babies eat after hatching (not one of the book's many lessons from the wild to be tried at home!).

Along the way Verdolin challenges our often counterproductive beliefs about what families ought to be like and how we should feel. By finding common ground with our furry, feathered, and even slimy cousins, we can gain new insight on what "natural" parenting really means—and perhaps do a better job of forgiving ourselves for those days when we're "only human"!
Praise For Raised by Animals: The Surprising New Science of Animal Family Dynamics…
"Fascinating observations. . . . [Verdolin] compares animal behavior to human behavior and explains how we can use this information to be better parents."—Washington Post

"A stunningly informative guide to child rearing."—HuffPost

"[Verdolin] blends memoir, self-help, and popular science, and readers get a taste of hard science with her extensive references to the research literature. . . . Moms and dads—those open to different perspectives on bringing up baby—will find this an enlightening read, as will those who enjoy popular science."—Library Journal

"A rich source of anecdotes that are scattered over the animal kingdom."—Choice

"I've read A LOT about animals, but rarely have I encountered science presented so invitingly—and so brimming with fresh insight. I learned something new on almost every page. It's an especially perfect book for expecting parents and those of young children."—Jeffrey Masson, New York Times–bestselling author of When Elephants Weep

"In this terrific read, Verdolin beautifully weaves the science and stories of our own family lives with those of animals we once saw as 'other,' reminding us that we aren't the only species for whom family is everything."
—Jennifer S. Holland, New York Times–bestselling author of the Unlikely Friendships series

"Combining a sumptuous array of examples from nature with personal experiences, Jennifer Verdolin delivers a lively tour through the rich landscape of raising young. The take-home lesson for me was clear: human-animal parallels abound in child-rearing styles, and we are by no means the gold standard."—Jonathan Balcombe, author of What a Fish Knows
The Experiment, 9781615193448, 304pp.
Publication Date: May 2, 2017
About the Author
Jennifer L. Verdolin, PhD, is an animal behavior researcher specializing in social and mating behavior and a scholar in residence at Duke University. Her work has been featured on NPR and in Wired, Scientific American, and many other media outlets. Her weekly radio segment, "Think Like a Human, Act Like an Animal" is a regular feature on the nationally syndicated D.L. Hughley Show (broadcast on 43 stations in 17 states). Dr. Verdolin also writes a Psychology Today blog. Her first book, Wild Connection, explores what animal mating can teach us about human relationships.
Marc Bekoff, PhD, is an animal behavior expert specializing in animal minds and compassionate conservation. He has written numerous books including The Emotional Lives of Animals, Why Dogs Hump and Bees Get Depressed, and Rewilding Our Hearts. A professor emeritus of ecology and evolutionary biology at the University of Colorado–Boulder, he writes a Psychology Today blog called Animal Emotions and his work has been featured in The New York Times, Scientific American, and more.
or
Not Currently Available for Direct Purchase