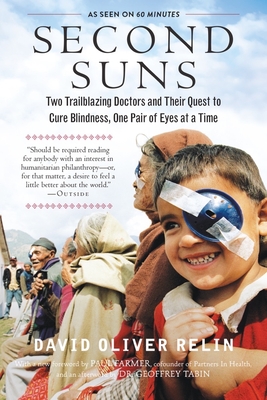 Second Suns
Two Trailblazing Doctors and Their Quest to Cure Blindness, One Pair of Eyes at a Time
Paperback

* Individual store prices may vary.
Other Editions of This Title:
Digital Audiobook (6/17/2013)
Hardcover (6/18/2013)
Compact Disc (6/1/2013)
Description
The extraordinary chronicle of two doctors "bringing light to those in darkness" (Time)—the "miracle workers" whose story is featured on 60 Minutes

Second Suns is the unforgettable true story of two very different doctors with a common mission: to rid the world of preventable blindness. Dr. Geoffrey Tabin was the high-achieving "bad boy" of his class at Harvard Medical School. Dr. Sanduk Ruit grew up in a remote village in the Himalayas, where cataract blindness—easily curable in modern hospitals—amounts to an epidemic. Together, they pioneered a new surgical method, by which they have helped restore sight to over 4 million people—all for about $20 per operation.
 
#1 New York Times–bestselling author David Oliver Relin brings the doctors' work to vivid life through poignant portraits of their patients, from old men who can once again walk treacherous mountain trails, to children who can finally see their mothers' faces. The Himalayan Cataract Project is changing the world—one pair of eyes at a time.
Praise For Second Suns: Two Trailblazing Doctors and Their Quest to Cure Blindness, One Pair of Eyes at a Time…
"As miracles go, it's hard to beat making the blind see. Yet that's exactly what the eye surgeon Dr. Geoffrey Tabin can do. He services poor people in the developing world who have developed cataracts—a clouding of the lens of the eye that is the world's leading cause of blindness. . . . Second Suns is a hopeful work, a profile of two doctors who have dedicated their lives to bringing light to those in darkness."—Time
 
"A compelling and inspiring book . . . Second Suns portrays heroic health care delivered under harrowing conditions: Ruit and his teams carry their equipment on multi-day treks up steep mountain trails, sometimes hiking at night with flashlights or head lamps, to reach settlements where they typically spend several days operating on hundreds of villagers in makeshift surgical theaters."—Washington Post
 
"Second Suns should be required reading for anybody with an interest in humanitarian philanthropy—or, for that matter, a desire to feel a little better about the world."—Outside
 
"A detailed, heartfelt account of the work of [two] dedicated pioneers."—Kirkus Reviews

"I found myself completely captivated and fascinated by the story of two doctors, [Tabin and Ruit] who, through a series of mountaineering expeditions (among many other exploits) made it their life's mission to eradicate curable and preventable blindness in the underdeveloped world within their lifetimes."—Vail Daily
 
The Experiment, 9781615193622, 432pp.
Publication Date: September 20, 2016
About the Author
Journalist David Oliver Relin (1962–2012) was a recipient of the Kiriyama Prize and a James A. Michener Fellowship. He coauthored the #1 New York Times bestseller Three Cups of Tea.

Paul Farmer is the UN Deputy Special Envoy for Haiti and Chair of the Department of Global Health and Social Medicine at Harvard Medical School. He is also Chief of the Division of Global Health Equity at Boston's Brigham and Women's Hospital, and cofounder of Partners In Health. Among his numerous awards and honors is the John D. and Catherine T. MacArthur Foundation's "genius award."