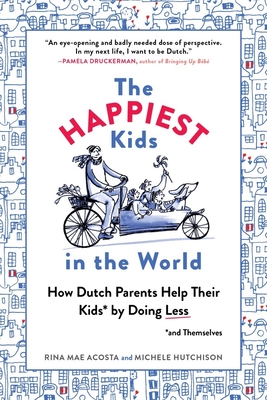 The Happiest Kids in the World
How Dutch Parents Help Their Kids (and Themselves) by Doing Less
Paperback

* Individual store prices may vary.
Description
Discover how Dutch parents raise The Happiest Kids in the World!

Calling all stressed-out parents: Relax! Imagine a place where young children play unsupervised, don't do homework, have few scheduled "activities" . . . and rank #1 worldwide in happiness and education. It's not a fantasy—it's the Netherlands!

Rina Mae Acosta and Michele Hutchison—an American and a Brit, both married to Dutchmen and raising their kids in the Netherlands—report back on what makes Dutch kids so happy and well adjusted. Is it that dads take workdays off to help out? Chocolate sprinkles for breakfast? Bicycling everywhere?

Whatever the secret, entire Dutch families reap the benefits, from babies (who sleep 15 hours a day) to parents (who enjoy a work-life balance most Americans only dream of). As Acosta and Hutchison borrow ever-more wisdom from their Dutch neighbors, this much becomes clear: Sometimes the best thing we can do as parents is . . . less!
Praise For The Happiest Kids in the World: How Dutch Parents Help Their Kids (and Themselves) by Doing Less…
★ 2017 Foreword INDIES Honorable Mention

"Stressing less and relaxing more as the recipe for happy children? It might be time we all 'go Dutch.'"—Today.com

"The key to raising happy kids? . . . Do as the Dutch do."—Washington Post

"Are you already frantically looking up immigration information, and figuring out how soon you can get a plane ticket to The Netherlands to look at houses? Me too. . . . The spirit of Dutch living is something we can certainly all look to for inspiration."—Babble

"Besides, who can compete with this Dutch title?"—The Wall Street Journal

"A must-read for all parents looking to adopt a more relaxed parenting style and create a less stressful environment for their children."—Library Journal

"American parents exhausted by the pressures and expectations of parenting will appreciate this refreshing look at how another culture handles the same issues."—Publishers Weekly

"Clear and concise . . . this is one of the most convincing parenting books to come across my desk in the last year."—Sunday Times

"What parents actually need to do is relax: less worrying and supervision, and fewer activities, yield happier kids—and happier parents."—Shelf Awareness 

"An eye-opening and badly-needed dose of perspective. In my next life, I want to be Dutch."—Pamela Druckerman, author of Bringing Up Bébé (French Children Don't Throw Food)

"I'm done having babies, but this book made me (almost) want to have one more, just so I can raise it the Dutch way!"—Jen Mann, New York Times–bestselling author of People I Want to Punch in the Throat

"A fascinating book—one I wish I had read sooner! In fact, the more I read the more I became tempted to move our entire family to the Netherlands . . ."—Sarah Turner, author of The Unmumsy Mum

"What a joy to discover that the eternal secret to happy kids just might stem from routine, family time, independence, reasonable expectations—and chocolate sprinkles."—New York Post
The Experiment, 9781615193905, 256pp.
Publication Date: April 4, 2017
About the Author
Rina Mae Acosta is a writer from California currently living in the Netherlands with her Dutch husband and two young sons. She founded the successful parenting blog Finding Dutchland.

Michele Hutchison is the 2020 International Booker Prize–winning translator of The Discomfort of Evening. She lived and worked in Britain before moving to Amsterdam in 2004 where she now lives with her husband and two children.