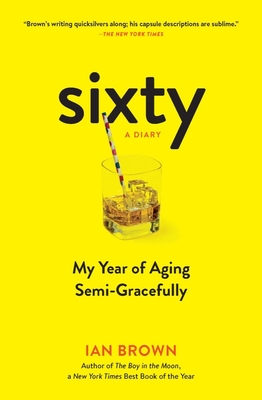 Sixty
A Diary: My Year of Aging Semi-Gracefully
Paperback

* Individual store prices may vary.
Description
"This is the thing, you see: I am on my way to being an old man. But at sixty, I am still the youngest of old men."

As acclaimed journalist and author Ian Brown's sixtieth birthday loomed, every moment seemed to present a choice: Confront, or deny, the biological fact that the end was now closer than the beginning. Brown chose instead to notice every moment—to try to capture precisely what he was experiencing, without panicking. Sixty is the result: an uncensored, seriocomic report, a slalom of day-to-day dramas (as husband, father, brother, friend, and neighbor), inquisitive reporting, and acute insights from the line between middle-aged and soon-to-be-elderly.
Praise For Sixty: A Diary: My Year of Aging Semi-Gracefully…
Shortlisted for the 2016 RBC Taylor Prize for Literary Non-Fiction

A CBC Best Book of the Year

A Globe and Mail Best Book [2015]

"Mr. Brown is charming, thoughtful and edifying company. There's loads to identify with in Sixty. More than that: There's loads to flat-out adore. . . . Brown's reflections on friendship are soulful and worth committing to heart. So are his meditations on marriage and parenthood."—The New York Times

"A compelling take on the joys and agonies of growing older. . . . Brown peppers this memoir with crisp, self-deprecating asides, and a wry point of view that holds up to the very end. Where Brown really reels you in is with his sincerity. His insights, quips and candid assessments of aging are to be enjoyed by any Boomer nearing or having passed the big 6-0."—Los Angeles Times

"A rich new book . . . Brown can't help but turn some of the absurdities he faces into humor . . . The laugh-out-loud passages are tempered by a poignant theme Brown comes back to time and time again: regret."—Forbes

"Brown asks all the right questions in Sixty, an account that is by turns witty and poignant. I laughed aloud."—The Wall Street Journal

"A spark of humor shines through even these serious topics, which he handles gracefully. Well considered and illuminating, Sixty allows readers to delve deeply into the real meaning of maturity."—Booklist

"Brown's humor is pointed inward as often as outward, and he neither glosses over nor languishes on the fact that he has fewer years ahead of him than behind."—Kirkus

"Provides readers, baby boomers in particular, with examples of how to live thoughtfully and observantly."—Library Journal

"Those turning 60 will appreciate and find resonance with Brown's honest grappling with his aging."—Publishers Weekly

"I would read anything Ian Brown writes. This is a particular pleasure: Humane, funny, dark, wry, and utterly engrossing."—Susan Orlean, author of The Orchid Thief

"Finding out Ian Brown has turned sixty is like finding out my bad little brother has turned sixty: I'd expect him to have a disarming, slightly disreputable take on this least interesting of birthdays (long now in my rearview mirror). And with Sixty, I'm certainly not disappointed. Ever the witty, ever the mischievous, observant and likable, Ian Brown has written a book that other sixty-year-olds can keep on their breakfast table, to dip into with their Ovaltine. It's a splendid companion book to aging—a condition when ordinary companionship is, frankly, not always that agreeable."—Richard Ford

"I've been reading Ian Brown since before I needed reading glasses. He's wise—poetic even—and willing to be unabashedly petty, which is what makes this book so funny and almost too true."—Sarah Vowell, New York Times–bestselling author of seven books, most recently Lafayette in the Somewhat United States
 
"Ian Brown is so wise and insightful and funny about the indignities of turning sixty that he makes those of us who haven't yet reached that harrowing birthday believe that maybe it won't be so bad. Surely, once we get there, we'll all be as wise and insightful and funny as Ian is. We won't, of course: This book, like its author, is one of a kind. A wonderful, inspiring, occasionally cringe-inducing chronicle of a very human year."—Paul Tough, author of Helping Children Succeed: What Works and Why

"Growing old has its burdens and pleasures. Ian Brown captures them both so beautifully that he almost makes the reader wish for sixty. There is a lot of wisdom in these pages."—Ari L. Goldman, author of The Late Starters Orchestra

"Sixty may find [Brown's] biggest audience yet; there are so many of us in the same creaky boat. Written with [Brown's] trademark gutsy candour, and full of self-deprecating wit. . . . Edifying . . . accessible."—Plum Johnson, award-winning author of They Left Us Everything, in the Globe and Mail

"Thoughtful, heartfelt, fearless, impossible to put down . . . Brown manages to be both hilarious and serious . . . His ultimate message—to pay attention, to keep our eyes open, to look at 'what is coming down the road'—is vital."—Quill & Quire (starred review)
The Experiment, 9781615193967, 320pp.
Publication Date: September 5, 2017
About the Author
An acclaimed feature reporter for the Globe and Mail, Ian Brown is also the award-winning author of The Boy in the Moon: A Father's Search for His Disabled Son, one of The New York Times' 10 best books of the year. He lives in Toronto.
or
Not Currently Available for Direct Purchase