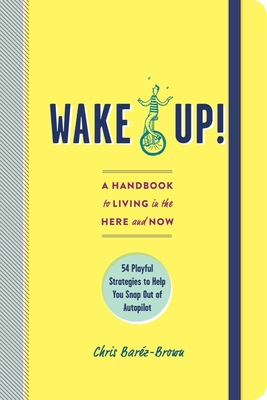 Wake Up!
A Handbook to Living in the Here and Now—54 Playful Strategies to Help You Snap Out of Autopilot
Paperback

* Individual store prices may vary.
Other Editions of This Title:
Compact Disc (9/19/2017)
MP3 CD (9/19/2017)
Compact Disc (9/19/2017)
Description
Don't waste a minute of your extraordinary life!

You have an unlimited capacity to have fun, meet amazing people, and feel truly awake every single day. But do you? When you're living on autopilot (and most people are—80 percent of the time), those opportunities pass you by.

Snap out of it! Any one of the 54 playful strategies in Wake Up! will bring your brain back to life. Chris Baréz-Brown spells out the Insight, Plan, and Payoff of every strategy. For example, Steal Back Time:

The Insight: If you're not in control of your time, you are not in control of your life.

The Plan: Steal some back! Schedule a meeting that doesn't exist, or skip a commitment that fills you with dread and instead do something that fills you with joy.

The Payoff: When we act more consciously to decide how we spend our time, we naturally create space to wake up more and more every day.

Stop sleepwalking through life and make every day count!
Praise For Wake Up!: A Handbook to Living in the Here and Now—54 Playful Strategies to Help You Snap Out of Autopilot…
"Tons of ideas to enjoy the little things and be present for the world around you."—Health

"This fun book stimulates the imagination and will definitely add spice to readers' lives."—Library Journal

"Wake Up! is a fantastic book."—BBC

"Author and TEDx inspirational speaker Chris Baréz-Brown explains how you can be a happier person through quick routine breaks, such as simply standing up."—GQ (UK)
 
"A series of balanced, playful and interesting experiences that will capture your attention, engage your imagination and stimulate your senses."—Cosmopolitan Magazine(UK)
 
"Nutty resolutions that'll get you out of a rut: Pig out, refuse to look after the grandkids, and pretend to be someone completely different."—Daily Mail
 
"Wake Up! is a fantastic book and a great intro into making it a Happy New Year!"—Steve Wright, BBC Radio 2
 
"Another year has gone by and you haven't managed to achieve what you want to, Chris Baréz-Brown is here to help us escape our autopilot . . . everyone is smiling here thinking that it's true, we all need to do that."—Kate Silverton, BBC Radio 4 Saturday Live
 
"Some self-help books fail to stay with you. Chris Baréz-Brown, however, grabs you by the scruff of the neck and slaps you across the face via a series of experiments and challenges, all with a view to waking you up. You'll watch no TV for a week, walk through a wood, make a paper airplane and generally be a bit more awake."—Balance Magazine (UK)
 
"[This book] reminds us that to make the most out of this extraordinary life, we need to wake up."—Red Magazine
 
"Baréz-Brown is asking us to take a look at our lives and ourselves, and to make active choices rather than drifting along and doing what's simply expected of us. As he says in the book: 'Time is limited. Let's not waste it.' Words to live by."—Get the Gloss
The Experiment, 9781615194100, 304pp.
Publication Date: September 19, 2017
About the Author
Chris Baréz-Brown is a renowned speaker and bestselling author in the world of creative thinking and well-being. He founded his consultancy, Upping Your Elvis, to challenge businesses to embed a dynamic creative culture within their company ethos. Brands such as Nike, Coca-Cola, Diageo, Unilever, Sony and WPP come back time and again for his unique, energetic, yet laid-back approach. Described as "a long-haired, twinkly-eyed cross between Richard Branson and a wizard" (Guardian), Chris is a master of transformation and brings out the potential in everybody. His work has been featured in media such as the Harvard Business Review, Fast Company and the BBC. Chris has a monthly column in GQ and lives in Dorset, England, with his family, a sea view, his beloved thirty-five-year-old Land Rover and a selection of paddleboards and guitars.
or
Not Currently Available for Direct Purchase