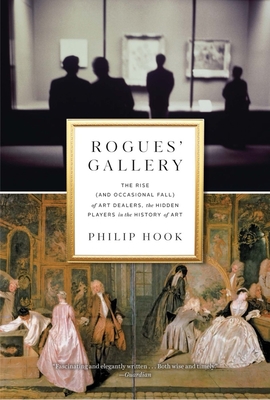 Rogues' Gallery (Hardcover)
The Rise (and Occasional Fall) of Art Dealers, the Hidden Players in the History of Art
The Experiment, 9781615194162, 320pp.
Publication Date: October 31, 2017
Other Editions of This Title:
Paperback (12/10/2020)
MP3 CD (10/31/2017)
* Individual store prices may vary.
Description
Here for the first time is the history of art dealers, those extraordinary men and woman who, over centuries (and almost entirely out of the public eye), built their profession on a singular skill: identifying the intangible but infinitely desirable qualities that characterize the greatest works of art—and finding clients for whom those qualities are irresistible.

Philip Hook's riveting narrative takes us from the early days of art dealing in Antwerp, where paintings were sold by weight, to the unassailable hauteur of contemporary galleries in New York, London, Paris, and beyond. Along the way, we meet a surprisingly wide-ranging cast of characters—from tailors, spies, and the occasional anarchist to scholars, aristocrats, and connoisseurs, some compelled by greed, some by their own vision of art—and some by the art of the deal.

Among them are Joseph Duveen, who almost single-handedly brought the Old Masters to America; Paul Durand-Ruel, the Impressionists' champion; Daniel-Henry Kahnweiler, high priest of Cubism; Leo Castelli, dealer-midwife to Abstract Expressionism and Pop Art; and Peter Wilson, the charismatic Sotheby's chairman who made a theater of the auction room.

Rogues' Gallery bursts with unforgettable anecdotes and astute judgments about art and artists, honed by Hook's more than forty years in the art market—making it essential reading for anyone interested in the hidden history of art.
About the Author
Philip Hook joined Sotheby's Impressionist & Modern Art Department in 1994. He is currently a board member and senior director of Impressionist & Modern art in London, and has over forty years' expertise as an art dealer and auctioneer. He joined Christie's in 1973 with a degree in the history of art from Cambridge University, and headed Christie's Nineteenth Century Paintings Department from 1980 to 1987. He is the author of Popular Nineteenth Century Paintings (1986); five successful novels set in the art world; The Ultimate Trophy (2009), a history of the Impressionist market and one of the Financial Times' Books of the Year; and Breakfast at Sotheby's: An A?Z of the Art World (2013), which was a book of the year in the Sunday Times, Spectator, Financial Times, Guardian, and Mail on Sunday.
Praise For Rogues' Gallery: The Rise (and Occasional Fall) of Art Dealers, the Hidden Players in the History of Art…
"Rogues' Gallery is consistently light, engaging and fluently assembled."—The Wall Street Journal

"Noteworthy, enlightening, well informed, and readable, this masterly book by an expert art dealer and auctioneer belongs in many large, public, academic, and special library visual arts collections."—Library Journal, starred review

"A lively exploration of the history of art and the tastemakers and dealers whose influence in shaping it is often overlooked."—Kirkus

"[An] entertaining and perceptive look at the workings of the fine-art trade . . . that will interest even the most casual of art lovers."—Booklist

Praise from the UK for Rogues' Gallery

"This expert and elegant history of art dealers provides background to today's art world, funded by 'idiots with pretensions'. . . . Fascinating and elegantly written. . . . He guides us expertly through . . . dealership. . . . Excellent overview of the history of art dealing. . . . The whole of Rogues' Gallery is richly seeded with his expertise and insider knowledge. . . . Both wise and timely: There never was a moment when the old adage 'caveat emptor' seemed more apt."—William Boyd, Guardian

"Hook knows what he is talking about. . . . the book catches fire. . . . [Hook] writes suavely and racily. . . . has a fabulous ear for anecdotes. . . . and his entertaining book has a Wodehousian tone that makes even the most heinous act it describes glint with comedy.&rdquo—Waldemar Januszczak, Sunday Times

"Wonderfully entertaining. . . . full of cracking stories and preposterous characters. . . . Philip Hook . . . has a front-row seat and a backstage pass to this arcane and obsessively secretive profession."—Hannah Rothschild, Mail on Sunday

"Read like a roll call of rakes and eccentrics. . . . This all reads like an entertaining yarn overheard in the nook of a Mayfair bar. . . . Hook has a Jeeves-like talent for understatement. . . . Illuminating. . . . combines expertise with irreverence."—Christian House, Observer

"Full of colorful characters, a pleasure to read. . . . [He] turns his wry eye on dealers. . . . and the dealers' personality, as he shows in his short biographies of the leading historical exponents, Hook incorporates every trait from cunning and charisma to scholarliness and subterfuge."—Michael Prodger, Times

"A parade of charlatans, crooks, and visionaries in this lively 2,000-year history of art dealing . . . fascinating. . . . Hook writes with honesty and wry detachment. . . . almost no character escapes Hook unmauled."—Robert Eustace, Saturday Telegraph

"Fascinating. . . . Refreshing."—Roger Lewis, Daily Mail
 
"Hook is not a curmudgeon. . . . he is a writer of wit and offers anecdotes generously. . . . There are overt and covert cynical reflections throughout. . . . Hook bares teeth at art-world euphemisms."—Josh Spero, Financial Times
 
"Fascinating. . . . candid. . . . very relevant. . . . Philip Hook is extremely well qualified to deal with his chosen subject."—Edward Lucie-Smith, Artlyst

"He writes better about the physical nature and impact of painting than anyone I have read for years."—Grey Gowrie, Daily Telegraph
 
"A cultured, witty, clear-eyed, worldly teacher with a fully functioning sense of humor."—William Boyd, Spectator