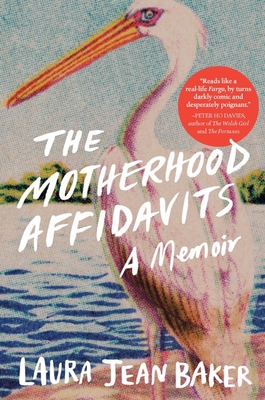 The Motherhood Affidavits
A Memoir
Hardcover

* Individual store prices may vary.
Other Editions of This Title:
MP3 CD (6/19/2018)
Description
"Laura Jean Baker has written a beautiful and brave memoir of motherhood and its discontents, which are indistinguishable from its joys. This is a warmly intimate yet intellectually provocative personal document of originality and considerable charm."
—Joyce Carol Oates

With the birth of her first child, soon-to-be professor Laura Jean Baker finds herself electrified by oxytocin, the "love hormone"—the first effective antidote to her lifelong depression. Over the next eight years, her "oxy" cravings, and her family, only grow—to the dismay of her husband, Ryan, a freelance public defender. As her reckless baby–making threatens her family's middle–class existence, Baker identifies more and more with Ryan's legal clients, often drug–addled fellow citizens of Oshkosh, Wisconsin. Is she any less desperate for her next fix?

Baker is in an impossible bind: The same drive that sustains her endangers her family; the cure is also the disease. She explores this all–too–human paradox by threading her story through those of her local counterparts who've run afoul of the law—like Rob McNally, the lovable junkie who keeps resurfacing in Ryan's life. As Baker vividly reports on their alleged crimes—theft, kidnapping, opioid abuse, and even murder—she unerringly conjures tenderness for the accused, yet increasingly questions her own innocence.

Baker's ruthless self–interrogation makes this her personal affidavit—her sworn statement, made for public record if not a court of law. With a wrenching ending that compels us to ask whether Baker has fallen from maternal grace, this is an extraordinary addition to the literature of motherhood.
Praise For The Motherhood Affidavits: A Memoir…
Winner of the 2018 Norbert Blei/August Derleth Nonfiction Book Award, from the Council for Wisconsin Writers

"Motherhood, complicated and personal."—The New York Times

"In a work that veers from confessional to cautionary tale to small-town crime blotter, Baker offers a harrowing account of her childbearing years at the center of the Midwestern methamphetamine crisis. . . . The author writes with an imaginative, studied complexity . . . [in a memoir] which readers may find themselves unable to put down or soon forget."—Kirkus Reviews

"Emotionally engrossing reading . . . A feminist's perspective on prolific procreating; the unusual premise of linking addiction and crime with motherhood and birth will keep most readers on the line."—Library Journal

"The Motherhood Affidavits is a gripping blend of family memoir and true crime, bound together by an acute awareness of class and economic hardship in small-town America. Baker's frank account of her Midwestern family life and her husband's work as a public defender reads like a real-life Fargo, by turns darkly comic and desperately poignant."—Peter Ho Davies, author of The Welsh Girl and The Fortunes

"The Motherhood Affidavits is the most compelling and original memoir I've read in years. In her profound exploration of marriage, parenthood, baby-lust, and crime, Laura Jean Baker takes a compassionate yet unsentimental look at the ways in which the poor and unlucky are driven to act in ways that might seem unforgivable . . . until we realize how close we, too, have come to committing the same horrifying mistakes."—Eileen Pollack, author of A Perfect Life

"Who's more desperate, the young wife and mother of five, or the petty (or not so petty) criminal? Laura Jean Baker doesn't ask this question directly, but it's always right below the surface in The Motherhood Affidavits. With humor, grace, and compassion, Baker connects her own vulnerabilities with those of the driftless and often clueless clients her attorney-husband takes on. What comes of this hard-sought, hard-won wisdom is sublime."—Peter Geye, author of Wintering

"Sometimes tender, often harrowing, always a page-turner, The Motherhood Affidavits examines Laura Jean Baker's own impulse to parent—as well as the full scope and expression of human desire, whether for love, passion, comfort, power, or just plain survival. Stunning and memorable—and definitely not just for mothers."—Judith Claire Mitchell, author of A Reunion of Ghosts

"In this trenchant, frank, compelling memoir, hope and invention crash into hardscrabble economics, and Baker lights up the fractured lines between legality and criminality. The Motherhood Affidavits smartly explores Baker's own pull to the chemical transformations of childbearing and the shifting realities of her marriage, then vaults beyond as she chronicles the lives of fellow city residents who've landed on the other side of the law."—Nancy Reisman, author of Trompe l'Oeil

"Brilliantly conceived and deftly written, The Motherhood Affidavits is a uniquely powerful—and memorable—book. Simply calling it a 'memoir' really doesn't do it justice, as it vividly weaves together Laura Jean Baker's experiences with those of her husband's hardscrabble legal clients. A read that is as gripping as it is provocative."—Shawn Francis Peters, author of Judging Jehovah's Witnesses and The Catonsville Nine

"Like an Olympic ice skater nailing a triple axel, Laura Jean Baker makes it look easy. This unflinching and elegant memoir glides between tales of childbearing, parenting, and true crime. Ambitious in its scope, harrowing in its subject matter, and dazzling in its execution, The Motherhood Affidavits asks necessary questions about the intersections between the body and the state and between addiction and empathy."—Shelley Puhak author of Guinevere in Baltimore

"Laura Jean Baker's memoir is the perfect combination of rollicking narrative, whip-smart prose, and searing self-reflection. Here is a writer in whom we find the steely beauty of a defiantly original voice."—Thomas Larson, author of The Memoir and The Memoirist

"This book goes where few mothering memoirs dare, tossing aside over-idealized images of the Mother. Baker's story is of a woman unafraid to honestly examine her own parenting through the lens of all humanity. Her writing is lucid and utterly original. And her tales of mothering gone wrong—both her own and rural America's—are visceral, compassionate, and unflinching."—Melodie Edwards, reporter and anchor, Wyoming Public Radio

"This memoir of motherhood—and much more—mines, in the best way, the material of the maternal memory, an excavation that renders gold filigree out of the spoils of the past. The Motherhood Affidavits addresses, witnesses, and testifies to the nature of our scuttled and sutured-back-together lives."—Michael Martone, professor of creative writing at The University of Alabama and co-editor of The Scribner Anthology of Contemporary Short Fiction
The Experiment, 9781615194391, 288pp.
Publication Date: April 3, 2018
About the Author
Laura Jean Baker teaches at the University of Wisconsin Oshkosh, specializing in memoir, women's stories, crime narratives, and literature for children. She earned her MFA in creative writing from the University of Michigan, where she was a Colby Fellow. Her poetry and essays have appeared in Alaska Quarterly Review, War, Literature, and the Arts: An International Journal of the Humanities, and Calyx, among others, and she has been twice nominated for a Pushcart Prize. Her essay "The Year of the Tiger" was named a Notable Essay in Best American Essays 2013. She lives in Oshkosh, Wisconsin.
1. Joyce Carol Oates writes, "Laura Jean Baker has written a beautiful and brave memoir of motherhood and its discontents, which are indistinguishable from its joys." What unexpected or "brave" decisions has Baker made in her portrayals of her children, her family life, and motherhood in general?
2. Baker writes: "Babies had rewired the pleasure center of my brain." Addiction is a driving force in this book—and not just in the drug-addled lives of Ryan's clients. Do you accept the author's assertion that she was addicted? How has addiction, in any form, touched your own life, or the lives of those you know?
3. In what ways does Baker, a highly educated university professor married to an attorney, find herself estranged from her own socioeconomic group—and more aligned with the criminal underbelly of her community? In what ways have you perceived or experienced the blurring of traditional demographic lines in your own social circles?
4. In many ways, this book is about shame and humility, emotions to which most of us (not just the guilty) are vulnerable. Have any life stresses—familial, marital, romantic, financial, or professional—ever driven you to behave in shameful ways? Does this make this book's characters more relatable?
5. Rob McNally, "the quintessential junkie," and Tina Last, whom Baker describes as "my evil twin," are among the most vividly drawn characters in the book. What range of feelings do they elicit in you? Do you understand Baker's affinities for them?
6. Baker, the daughter of a self-described feminist, seems acutely aware of how her feminist colleagues perceive her. In the last chapter, Baker writes, "I'd become a caricature of what feminists I knew rallied against, a woman defined by reproductive function . . ." What do you suppose feminism means to Baker?
7. Many of the criminal defendants portrayed are mothers, and Baker frequently quotes from their sworn statements. To the extent that the book itself can be read as Baker's own affidavit, what "crimes" of motherhood is Baker guilty of, and is the purpose of her "statement" to plead guilty or seek exoneration?
or
Not Currently Available for Direct Purchase