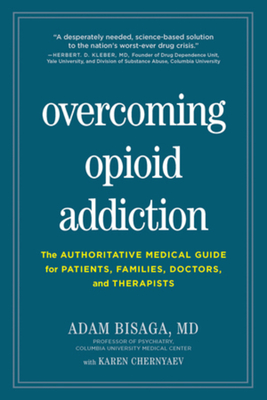 Overcoming Opioid Addiction (Paperback)
The Authoritative Medical Guide for Patients, Families, Doctors, and Therapists
The Experiment, 9781615194582, 304pp.
Publication Date: May 1, 2018
Other Editions of This Title:
Compact Disc (5/22/2018)
MP3 CD (5/22/2018)
* Individual store prices may vary.
Description
From a leading addiction expert, a desperately needed medical guide to understanding, treating, and finally defeating opioid use disorder
Drug overdoses are now the leading cause of death for Americans under the age of 50, claiming more lives than the AIDs epidemic did at its peak. Opioid abuse accounts for two-thirds of these overdoses, with over 100 Americans dying from opioid overdoses every day.
Now
Overcoming Opioid Addiction
provides a comprehensive medical guide for opioid use disorder (OUD) sufferers, their loved ones, clinicians, and other professionals. Here is expertly presented, urgently needed information and guidance, including:
Why treating OUD is unlike treating any other form of drug dependency
The science that underlies addiction to opioids, and a clear analysis of why this epidemic has become so deadly
The different stages and effective methods of treatment, including detoxification vs. maintenance medications, as well as behavioral therapies
How to deal with relapses and how to thrive despite OUD
Plus a chapter tailored to families with crucial, potentially life-saving information, such as how to select the best treatment program, manage medications, and reverse an overdose.
About the Author
Adam Bisaga, MD, is an addiction psychiatrist, clinician, researcher, and professor of psychiatry at Columbia University. He conducts research on new treatments for opioid addiction and oversees a national program that mentors physicians treating opioid addictions. He is a UN expert involved in international addiction training and program development, and he recently co-edited the UN/WHO "International Standards for the Treatment of Drug Use Disorders."
Karen Chernyaev has written or edited numerous bestselling books on health and wellness.
Praise For Overcoming Opioid Addiction: The Authoritative Medical Guide for Patients, Families, Doctors, and Therapists…
"[This] practical guide details how "the medical model" is the only evidence-based method that can effectively help overcome opioid addiction."—Library Journal, starred review

"Outlines a commonsense solution to opioid dependency . . . a worthy read in a time when the stakes of opioid addiction are high."—Booklist

"A valuable resource for undergraduates and the lay public. Highly recommended."—Choice

"A desperately needed, science-based solution to the nation's worst–ever drug crisis."—Herbert D. Kleber, MD, founder of Drug Dependence Unit, Yale University, and Division of Substance Abuse, Columbia University

"A must-read. Compassionate, readable, and scientifically sound, this is the first book I've seen that covers opioid addiction comprehensively and accurately. Dr. Bisaga masterfully reviews what caused the epidemic, the latest research on how to treat opioid use disorders, and how families and loved ones can effectively support those who are suffering. In the chaotic confusion in the media and elsewhere about how to solve this crisis, Overcoming Opioid Addiction presents both a clear path forward and the evidence to support it."—Omar Manejwala, MD, Chief Medical Officer, Catasys, and author of Craving: Why We Can't Seem to Get Enough

"Overcoming Opioid Addiction is an accessible, practical, comprehensive guide for health care providers, patients, and families. A great go-to source of information on all things opioids—I'm recommending it to my patients!"—Anna Lembke, MD, Chief of Addiction Medicine at Stanford University School of Medicine and author of Drug Dealer, MD: How Doctors Were Duped, Patients Got Hooked, and Why It's So Hard to Stop

"Overcoming Opioid Addiction is the definitive, science–based guide to treating opioid use disorder. Those suffering from this life–threatening illness, their families, and clinicians seeking a primer will find it indispensable."—Christopher B. Smithers, Director of #StoptheSpiral, a project of the Christopher D. Smithers Foundation and Columbia University Medical Center

"A consequential, long-overdue look at opioid addiction and treatment. An important read for anyone who treats opioid addiction and anyone who loves a person addicted to opioids."—Harry Haroutunian, MD, Recovery and Wellness Network and former physician director, Betty Ford Center

"Dr. Adam Bisaga brings the insight and perspective developed as a practicing physician treating opioid addicted patients to the fight against this disease. A necessary guide for all people involved in this epidemic—families, individuals battling addiction, therapists, and all of us grappling with opioid use disorder—Overcoming Opioid Addiction provides science–based solutions and hope for recovery."—Erica Spiegelman, author of Rewired: A Bold New Approach to Addiction and Recovery

"In this clear-headed guide for everyone affected by the opioid crisis, Dr. Adam Bisaga moves opioid treatment in a new and necessary direction. Here is a much-needed new paradigm that will be invaluable to families of opioid–addicted patients."—Robert J. Meyers, PhD, Emeritus Associate Professor of Psychology, University of New Mexico, and director of Robert J. Meyers PhD & Associates