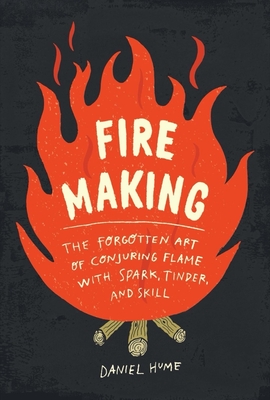 Fire Making
The Forgotten Art of Conjuring Flame with Spark, Tinder, and Skill
Hardcover

* Individual store prices may vary.
Description
A Richly Illustrated Guide to Making Fire Without a Lighter
If you ask outdoorsman Daniel Hume for the fastest, most practical way to start a fire, he'll tell you: Use a match. But he probably won't stop there. For Hume, conjuring flame is an art form, and seeking out the old ways is a passion that has led him the world over.
Fire Making
is your guide to techniques Hume has learned firsthand—from the San people in Namibia, the Mangyan of the Philippines, and other masters. You'll fall in love with the craft of coaxing spark into flame using only handmade tools. Learn about:  
The bow drill, the fire plow, and other traditional fire–starters
Every type of tinder, from birch bark to fungus
Overcoming strong winds, freezing cold, and other challenges
Plus modern fire–making hacks, such as using foil and a battery.
Hume's crystal clear steps, all helpfully illustrated, make it easy to start and maintain the perfect fire for any need—from quickly boiling a pot of water, to setting up camp . . . to the sheer joy of seeing your efforts rewarded with a blaze of warmth and light.
Praise For Fire Making: The Forgotten Art of Conjuring Flame with Spark, Tinder, and Skill…
"It's clear that [Hume] knows his subject. . . . fun for anyone with pyromaniacal tendencies."—The Wall Street Journal

"A practical and globe-trotting account of fire making around the world. This elegantly illustrated . . . book conjures the joy of tinder, spark, and ember."—National Geographic Traveler

"Covers everything from varieties of tinder to fire-starting techniques such as Myanmar's fire thong, and the Democratic Republic of Congo's fire plough."—The Guardian

"Beautiful book . . . cracking photos . . . Daniel Hume's book is part manual, part art, part spiritual movement."—Trail Magazine

"Enthusiastic exploration of fire."—Compass Magazine

"Hume takes readers step by step through fire-making (hand drills, striking flint and steel, fire plows, sun power!), and offers pointers on the volume of tinder around us."—Minneapolis Star Tribune

"Exquisitely produced."—Saga Magazine
The Experiment, 9781615194674, 192pp.
Publication Date: May 15, 2018
About the Author
Naturalist and wilderness adventurer Daniel Hume has traveled to the world's remotest corners to learn fire making from the living masters of time–honored techniques—some of them nearly forgotten. Hume is also an instructor at Ray Mears, the Woodlore School of Wilderness Buschcraft, a premier outdoor survival school in his native England.