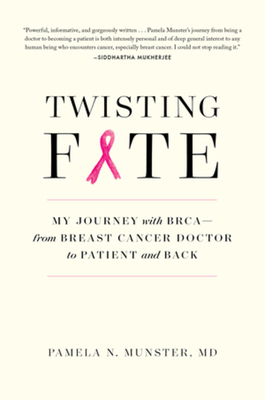 Twisting Fate
My Journey with BRCA—from Breast Cancer Doctor to Patient and Back
Hardcover

* Individual store prices may vary.
Description
From a woman who's made her living researching breast cancer—and who lived through it herself—a personal yet practical guide to the medical and emotional facets of this life-changing diagnosis

A leading oncologist at the University of California San Francisco, Dr. Pamela Munster has advised thousands of women on how to cope with the realities of breast cancer, from diagnosis through treatment and recovery. But her world turned upside down when, at forty-eight years old and in otherwise perfect health, she got a call saying that her own mammogram showed "irregularities." That single word thrust her into a wholly new role—as patient, and not only that of cancer but of the feared BRCA gene mutation as well. Suddenly, she realized that being a true "expert" in a disease was far beyond the scope of her medical training, and that she had a lot to learn if she wanted to hold onto her precious life.

Weaving together her personal story with groundbreaking research on BRCA—responsible for breast cancer and many other inherited cancers affecting both women and men—Twisting Fate is an inspiring guide to living with the uncertainties of cancer. With authority, insight, and compassion, Dr. Munster uses her voice to create a safe space for genuine healing and honesty in a world otherwise too-often dominated by fear—and she is living proof of how important it is to embrace all the twists and turns of fate.
Praise For Twisting Fate: My Journey with BRCA—from Breast Cancer Doctor to Patient and Back…
"Utterly engrossing . . . This intense and informative memoir [is] told from the unique perspective of a compassionate physician being treated for the very disease she has spent her life treating."
—
Publishers Weekly, starred review
"Munster provides an excellent grounding in the science of breast cancer, as well as case histories of the patients she treated before and during this difficult year. A valuable guide for women."
—The Toronto Star
"An empowering and informative memoir."—
Bustle
"This book combines [Dr. Pamela Munster's] personal experience with the BRCA gene mutation along with her academic research around breast cancer and other inherited cancers. That combination seems particularly powerful for a memoir on this topic."—Book Riot
"Powerful, informative and gorgeously written,
Twisting Fate
describes Pamela Munster's journey from being a doctor to becoming a patient. Along the way, we learn about the inherited risk that she carries, and we begin to grapple with the meaning of that risk. With an unhesitating and clear-eyed instinct, Munster tackles some of the thorniest questions in cancer and medicine: our understanding of genetics and risk, the controversies and questions around screening and early detection, and the borderless kingdom of uncertainty and suffering that patients must enter in a world replete, and perhaps over-replete, with information. Munster's account is, at once, both intensely personal and of deep general interest to any human being who encounters cancer, especially breast cancer. I could not stop reading this important and beautifully rendered book."—
Siddhartha Mukherjee
"Dr. Pamela Munster has written an inspirational book that is an honest, moving and personal account of her experience with breast cancer. This book provides the kind of information every woman facing breast cancer needs. She expresses herself thoughtfully, with words that provide knowledge and hope. A moving story of courage and personal triumph."—
Joanne Horning
, Founder and CEO, Susan G. Komen San Francisco Bay Area
 "
Twisting Fate
is an unwaveringly honest account of what it's like to be on both sides of a breast cancer diagnosis—Dr. Pamela Munster isn't just a breast cancer oncologist, she's a breast cancer survivor. She explains her journey medically as she reveals what she's going through emotionally. Told with great compassion and tremendous empathy for the human spirit, this is a story of one woman who fights for her life while she fights for the lives of her patients and loved ones."—
Marisa Acocella
,
New York Times
best-selling author of
Ann Tenna
and
Cancer Vixen
  "
Twisting Fate
is a truly thought–provoking and educational book. Dr. Munster demystifies the complex issues of genetic testing for BRCA and provides thoughtful justifications as to why one may (or may not) want to pursue such testing. As an oncologist and cancer patient, she answers common questions in and compiles new research evidence from the literature and from her own lab in an easy–to–understand manner. This book will be useful to both females and males, with or without cancer or known risks of cancer. Dr. Munster's stories are both touching and real, and teach us the importance of living fully in all states of health."—
Ai Kubo
, PhD, research scientist and cancer epidemiologist at Kaiser Permanente Division of Research, certified yoga instructor, wellness coach, and the founder of The Mindful Cleanse
  "In
Twisting Fate
, Pamela Munster shares her deep and personal insight into BRCA–related odysseys across generations, geographies, science, and, importantly, eras of medical progress. Her unique perspective as both patient and physician scientist allows her to thoughtfully capture the multi–faceted and life–altering impact of BRCA gene mutations—and the quiet heroism unveiling in so many when facing some of the utmost challenges. This book goes far beyond reflection and education—it is empowering and a testament to optimism and personal advancement. A true resource for learning how to step up and protect yourself and your loved ones even facing some of the utmost challenges." —
Thomas A. Bock
, MD, Founder CEO, HeritX
"The discoveries of the BRCA genes and the subsequent integration of genetic testing and medical interventions into clinical practice have literally been lifesaving. In
Twisting Fate
, Pamela Munster describes how knowing about gene mutations can save entire families." —
Sue Friedman
, DVM, Founder and Executive Director of FORCE and co-author of
Confronting Hereditary Breast and Ovarian Cancer
The Experiment, 9781615194780, 272pp.
Publication Date: September 25, 2018
About the Author
Pamela N. Munster, MD, is a professor of medicine at the University of California San Francisco, where she is leader of the Developmental Therapeutics Program/Helen Diller Family Comprehensive Cancer Center, director of Early Phase Clinical Trials Unit, and coleader of the Center for BRCA Research. In addition to her laboratory research, she focuses on developing novel strategies to treat patients with incurable cancers as an oncologist. She serves on multiple local, national, and international committees focused on developing new treatments for cancer, authored textbooks, and is a frequent lecturer. A native of Switzerland, she leads breast awareness campaigns in the US, UAE, and India.