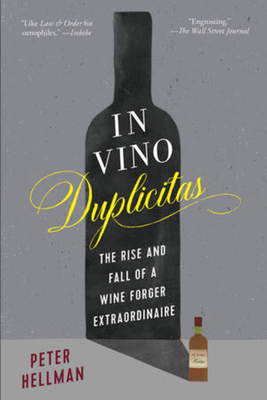 In Vino Duplicitas
The Rise and Fall of a Wine Forger Extraordinaire
Paperback

* Individual store prices may vary.
Other Editions of This Title:
Digital Audiobook (8/14/2017)
MP3 CD (8/15/2017)
Compact Disc (8/15/2017)
Hardcover (7/31/2017)
Description
As seen on ABC's The Con, the "engrossing" (Wall Street Journal) story of the biggest con in wine history

In 2002, Rudy Kurniawan, an unknown twentysomething, burst into the privileged world of ultrafine wines. Blessed with a virtuoso palate, and with a seemingly limitless supply of coveted bottles, Kurniawan quickly became the leading purveyor of rare wines to the American elite. But in April 2008, at a New York auction house, dozens of Kurniawan's trophy bottles were abruptly pulled from sale. Journalist Peter Hellman was there, and he began to investigate: Were the bottles fake? Were there others? And was Kurniawan himself a dupe . . . or had he ensnared the world's top winemakers, sellers, and drinkers in a web of deceit?
Praise For In Vino Duplicitas: The Rise and Fall of a Wine Forger Extraordinaire…
? 2017 Foreword INDIES Gold Winner

"An engrossing account of wine fraud and forgery . . . Hellman clearly knows his stuff."—The Wall Street Journal

"Heady, intoxicating . . . shines a light on the esoteric and intriguing world of ultrarare, ultrafine wines."—Foreword Reviews, starred review

"In Vino Duplicitas is a cautionary tale of how we can let the romance of wine get the better of us. Kurniawan preyed on rich collectors, but most vinophiliacs have experienced the seductive lure of a rare or expensive bottle of wine. None of us are immune."—Washington Post

"Hellman, a veteran journalist who covered [Kurniawan's] case, allows the story to unfold with spare prose. He presents, without overt judgment, the macho, competitive, one-upmanship world of the collectors, an atmosphere that perhaps contributed to their gullibility in the high-rolling economy of the early 2000s."—The New York Times

"[A] compelling mix of wine devotion (journalist Hellman's included) and true crime (complete with avenging furies, from a bloody-minded Koch brother to a passionate French vintner)."—Maclean's

"A deep dive into the culture that nurtured Kurniawan, and the forces that destroyed him."—Wine Spectator

"Like Law Order for oenophiles, In Vino Duplicitas is a true crime account set among the cognoscenti of the wine world."—Imbibe

"Journalist Peter Hellman spent years following the strange saga of Rudy Kurniawan, who in 2013 was sentenced to 10 years in prison for selling untold millions of dollars in fake rare vintages. Hellman tells the phenomenal story of the mysterious fraudster in In Vino Duplicitas."—Wine Enthusiast

"A captivating story . . . Hellman's voice is that of the amused but compassionate observer. He saves his disdain for those who seemed to have colluded in the scam, the auctioneers and rich collectors so eager for economic gain and status that they willfully ignored the evidence in front of them. By definition, rare wines are in finite supply. It is perhaps this underlying matter of motivation that does most to deepen the satisfaction of this well-told story."—Times Literary Supplement

"In Vino Duplicitas is a fast-paced and suspenseful real-life thriller brimming with rich, vivid detail."—Apple's iBooks Best Book of July

"[An] absorbing account of true crime in high society."—Publishers Weekly

"Well written and carefully researched."—The Journal of Wine Economics

"Peter Hellman led the way in reporting on Rudy Kurniawan's monumental fraud, and he has written the book it deserves: tenaciously researched, propulsively told, and infused with earned wisdom about the wine world. I found it hard to put In Vino Duplicitas down and, like one of the authentically magical bottles the book describes, it will linger in your mind."—Benjamin Wallace, author of The Billionaire's Vinegar

"A page-turning cautionary tale about the elite world of wine, and a gripping and disturbing read. You won't be able to put it down."—Frances Dinkelspiel, author of Tangled Vines

"The best account of fraudster Rudy Kurniawan to date. Riveting, deftly-researched, entertaining, it's a page-turner that reveals all sorts of new details about the largest wine fraud in history."
—Mark Oldman, author of How to Drink Like a Billionaire

"An exciting page-turner."—George Taber, author of Judgment of Paris

"Well-researched and enjoyable."—World of Fine Wine

"Hellman is an excellent storyteller. He is also a meticulous journalist. In a story which has been covered so many times by so many different people. . . Hellman has managed to sift through the swirling nebulae of rumor, conjecture, evidence and facts and pull together a compelling and systematic account of how this mind-boggling fraud took place."—JancisRobinson.com
The Experiment, 9781615194957, 272pp.
Publication Date: August 21, 2018
About the Author
Peter Hellman, a New York–based journalist and author for more than 40 years, has been a contributor to Wine Spectator for more than a decade. His work has also appeared in The New York Times, The Wall Street Journal, New York magazine, and many others. His books include When Courage Was Stronger than Fear, Chief!, and Fifty Years After Kitty Genovese. He and his wife, Susan, live in New York City.