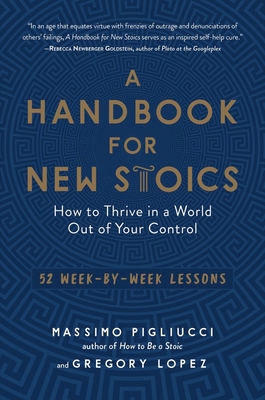 A Handbook for New Stoics (Paperback)
How to Thrive in a World Out of Your Control—52 Week-by-Week Lessons
The Experiment, 9781615195336, 336pp.
Publication Date: May 14, 2019
* Individual store prices may vary.
Description
A pragmatic philosophy more popular than ever—here are 52 ancient lessons to help you overcome adversity and find tranquility in the modern world

An ancient belief system made new, Stoicism teaches us how to accept the things we cannot change and how to live a good life. It helps us improve our outlook, increase our wellbeing, and thrive in the face of adversity. But how does one live like a Stoic? 

In A Handbook for New Stoics, renowned philosopher Massimo Pigliucci and practitioner Gregory Lopez guide readers through 52 weekly lessons, each based on a common obstacle. Stressing out about a meeting at work? Try listing the things you can control and those you can't. Epictetus writes: "In our power are thought, impulse, will to get, and will to avoid"—in other words, our own attitudes. Discover what you can control, and quickly achieve peace of mind.

Featuring quotes from philosophers, analysis by the authors, and journaling activities, these lessons enable readers to reframe their perceptions and be happier.
About the Author
Massimo Pigliucci is the K. D. Irani Professor of Philosophy at the City College of New York. His most recent book is How to Be a Stoic.
Gregory Lopez is the founder of the New York City Stoics Meetup and cofounder of The Stoic Fellowship. He lives in New York City.


Praise For A Handbook for New Stoics: How to Thrive in a World Out of Your Control—52 Week-by-Week Lessons…
"A wonderful and potentially life-altering way to encounter the wisdom of the Stoics, A Handbook for New Stoics provides readers with structured lessons and exercises to explore Stoic philosophy alongside the lives they, themselves, are living."—Professor William B. Irvine, author of A Guide to the Good Life

"A wonderfully simple approach to the core concepts and techniques of Stoicism, A Handbook for New Stoics gives readers an easy way to train themselves in Stoic practices, broken down into weekly exercises spanning a whole year. Through this book, Massimo and Greg have managed to make Stoicism accessible to anyone." —Donald Robertson, cognitive-behavioral psychotherapist and author of How to Think Like a Roman Emperor