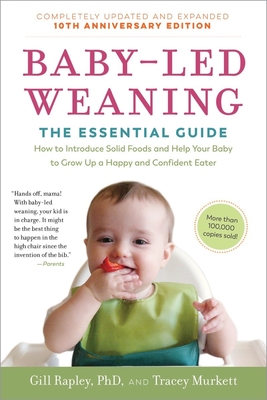 Baby-Led Weaning, Completely Updated and Expanded Tenth Anniversary Edition
The Essential Guide—How to Introduce Solid Foods and Help Your Baby to Grow Up a Happy and Confident Eater
Paperback

* Individual store prices may vary.
Other Editions of This Title:
Compact Disc (7/23/2019)
Compact Disc (7/23/2019)
MP3 CD (7/23/2019)
MP3 CD (7/23/2019)
Compact Disc (7/23/2019)
Description
Baby-led weaning is the healthy, natural way to start your baby on solid foods—no stress, no fuss, no mush!
Ten years ago,
Baby-Led Weaning
ended the myth that babies need to be spoon-fed purées. In fact, at about six months, most babies are ready to discover solid food for themselves. Today, baby-led weaning (BLW) is a global phenomenon—and this tenth anniversary edition of the definitive guide explains all its benefits:
Baby participates in family meals right from the start, and learns to love a variety of foods.
Nutritious milk feedings continue while Baby transitions to solids at his or her own pace.
By self-feeding, Baby develops hand-eye coordination, chewing skills—and confidence!
Plus, this edition is updated with the latest research on allergy prevention and feeding Baby safely, a guide to using BLW at daycare, and much more. Here is everything you need to know about teaching your child healthy eating habits that will last a lifetime.
Praise For Baby-Led Weaning, Completely Updated and Expanded Tenth Anniversary Edition: The Essential Guide—How to Introduce Solid Foods and Help Your Baby to Grow Up a Happy and Confident Eater…
Winner of the National Parenting Publications Awards (NAPPA) Honors Award, 2011
 
"Baby-led weaning . . . might be the best thing to happen in the high chair since the invention of the bib."—Parents

"[Rapley and Murkett] encourage parents to forgo the usual baby puree and move straight to whole foods while continuing to breastfeed primarily after a baby is six months old. Their arguments are scientifically sound, especially when it comes to muscle development in the mouth, and they address the anticipated counterarguments. . . . If mine were little again, I would definitely try this. As long as mom is nursing, who says baby can't eat lamb chops?"—Library Journal
 
"It sounds like common sense: After all, would you want to be strapped into a high chair and force-fed spoon after spoon of bland vegetables? It's surely much more exciting to be able to exercise a bit of control over your diet."—Guardian
 
"I've been telling mothers for years that when babies start grabbing food from the table, they are ready for solids. I had the pleasure of observing this with my own children. What I love about this book is the joy and zest the authors put into parenting, their commonsense approach, and their faith that babies will do the right things for themselves when the time is right. Baby-led weaning is easy, and it makes parenting fun!"—Nikki Lee, RN, MS, IBCLC
 
"Watching [baby Mirah] respond to the pleasures of ripe tomatoes, curried rice noodles, and all kinds of meats and vegetables has made mealtime a much more enjoyable experience for all three of us. We can tell she is learning through all of her senses. . . . and since we are generally sharing the same meal, I am more likely to make us all something healthy."—Aimee Pohl, Babble.com
 
"No purees, no ice cube trays, no food processor, no potato masher . . . just you and your child, eating food that you enjoy . . . [My baby] adored feeding herself while her parents ate their own meals. I can't even begin to tell you how pleasant it is to eat in a restaurant with your Baby Led Weaning child chomping on a piece of bread and butter or a chunk of cucumber from your salad beside you."—Aitch, founder of Babyledweaning.com
 
The Experiment, 9781615195589, 256pp.
Publication Date: July 23, 2019
About the Author
Gill Rapley, PhD, has studied infant feeding and child development for many years. She worked as a public health nurse for over twenty years and has also been a midwife and a voluntary breastfeeding counselor. She developed the theory of baby-led weaning while studying babies' developmental readiness for solids as part of her master's degree and has since been awarded a PhD for research comparing spoon-feeding with self-feeding. Gill lives in Kent, England, with her husband and has three grown children, all of whom tried their best to show her that they didn't need any help with solid foods.

Tracey Murkett is a writer, journalist, and breastfeeding peer supporter. After following baby-led weaning with her own daughter, she wanted to let other parents know how enjoyable and stress-free mealtimes with babies and young children can be. She lives in London with her partner and their daughter.