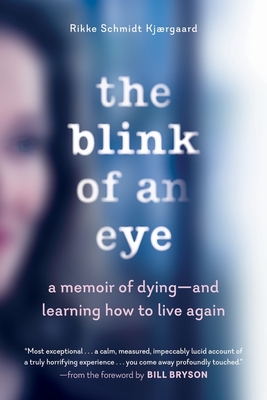 The Blink of an Eye (Paperback)
A Memoir of Dying—and Learning How to Live Again
The Experiment, 9781615195718, 240pp.
Publication Date: May 14, 2019
* Individual store prices may vary.
Description
"A highly personal, deeply affecting account of what it is to be yanked from a happy, well-ordered life and thrust into a sudden, unimaginable, terrifying darkness. Rikke Schmidt Kjærgaard has done the impossible of putting into words an experience that would seem to be beyond expressing."—from the foreword by Bill Bryson

It was New Year's Day. Rikke Schmidt Kjærgaard, a young mother and scientist, was celebrating with family and friends when she was struck down with a sudden fever. Within hours, she'd suffered multiple organ failure and was clinically dead.

Then, brought back to the edge of life—trapped in a near-death coma—she was given a 5 percent chance of survival. She awoke to find herself completely paralyzed, with blinking as her sole means of communicating with the outside world.

The Blink of an Eye is Rikke's gripping account of being locked inside her own body, and what it took to painstakingly relearn every basic life skill—from breathing and swallowing, speaking and walking, to truly living again. Much more than an account of recovery against all odds—this is, at its heart, a celebration of love, family, and every little thing that matters when life hangs in the balance.
About the Author
Rikke Schmidt Kjærgaard is a scientist, mother of three, and cofounder of Graphicure, a start-up company developing software solutions that empower patients to better understand their disease and manage treatment. She is also cofounder and CEO of the Danish Science Club, a mentorship network for children and young adults. Prior to her illness, she was an associate professor at Aarhus University. She holds a PhD in science communication, with past positions as a postdoctoral fellow at MRC Mitochondrial Biology Unit in Cambridge, UK, and at Harvard Medical School. In 2012, she was elected Member of The Young Academy under the Royal Danish Academy of Sciences and Letters.
Praise For The Blink of an Eye: A Memoir of Dying—and Learning How to Live Again…
A Summer 2019 B&N Discover Great New Writers selection

"After a sudden, mysterious, and near-fatal illness, Rikke Schmidt Kjærgaard feared she'd live out the rest of her days completely paralyzed and mute. Nearly seven years later, she's able to talk about her journey back."—O, The Oprah Magazine

"A true stunner, unbearably sad yet full of hope."—Booklist starred review

"A rich reading experience . . . . an inspirational story of beating the odds."—Kirkus Reviews

"The author of The Blink of an Eye will tell you what it is like to be conscious in a body that cannot respond to the outside world. It will help you understand what conscious is."—Temple Grandin, author of Thinking in Pictures and The Autistic Brain

"Rikke Schmidt Kjaergaard's personal journey back from suspected brain death through paralysis and into the land of the sentient is truly awe inspiring. . . . Families with loved ones who are in comas or are struggling to recover from the long-term effects of one, will find The Blink of an Eye jet fuel for inspiration."—New York Journal of Books

"Told with clear and unsparing detail . . . a touching reminder that love and human contact are important for healing. Above all, The Blink of an Eye stresses the miracle and fragility of life."—Foreword Reviews

"[The Blink of an Eye] is a reminder that our lives can change in an instant."—The Toronto Star

"When Dr. Rikke Schmidt Kjaergaard was hit with an acute form of bacterial meningitis, her life became the stuff of horror films."—People.com

"The most spellbinding and harrowing story I believe I have ever heard . . . A highly personal, deeply affecting account of what it is to be yanked from a happy, well-ordered life and thrust into a sudden, unimaginable, terrifying darkness. Rikke Schmidt Kjærgaard has done the impossible of putting into words an experience that would seem to be beyond expressing."—from the foreword by Bill Bryson

Praise from the UK for The Blink of an Eye
 
"Powerful . . . As gripping as a thriller, The Blink of an Eye compels you to appreciate everything you daily take for granted."—Sunday Express
 
"A frightening, and powerful piece of work."—Sunday Post (rating 9/10)
 
"Her fighting spirit emerges on every page of the book."—Sunday Herald Magazine

"It's a wonderful meditation on the human condition and a testament to the power of love. It was heartbreaking and life-affirming in equal measure. An extraordinary story and a joy to read."—Max Pemberton, columnist and author of Trust Me, I'm a (Junior) Doctor