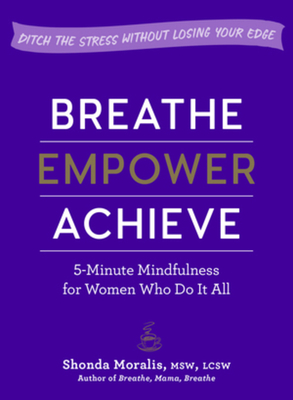 Breathe, Empower, Achieve (Paperback)
5-Minute Mindfulness for Women Who Do It All—Ditch the Stress Without Losing Your Edge
The Experiment, 9781615195848, 288pp.
Publication Date: October 1, 2019
* Individual store prices may vary.
Description
Mindfulness for women who don't have time for mindfulness—reset, refocus, and find your work–life balance
The modern woman is more overwhelmed than ever. Between pursuing a career, maintaining a personal life, and curating the perfect image, she finds herself asking:
What
work–life balance? But we
can
find balance—by building simple mindfulness techniques right into our hectic schedules. Now, psychotherapist Shonda Moralis coaches readers through her five-minute "mindful breaks"—each prompted by an everyday situation—and shares how to:
Breathe to promote calm and awareness with meditation.
Empower yourself with assertiveness and self-confidence.
Achieve your dreams by setting—and conquering—goals.
Armed with these fifty mindfulness techniques, plus advice from original interviews with empowered women,
anyone
can achieve balance in just five minutes a day!
About the Author
Shonda Moralis, MSW, LCSW, is a psychotherapist in private practice specializing in stress-related disorders and mindfulness-based therapy. She writes the Psychology Today blog Breathe, Mama, Breathe and her own blog at ShondaMoralis.net. Shonda has developed and taught mindfulness courses and workshops for children, parents, teachers, and students.
Praise For Breathe, Empower, Achieve: 5-Minute Mindfulness for Women Who Do It All—Ditch the Stress Without Losing Your Edge…
"Breathe, Empower, Achieve, reminded me of my dad's advice: Steer into the skid. Shonda Moralis is amazing. She knows that balance doesn't come from a magic eraser that leaves you ohming in some silent, gardenia-scented space; it comes from paying attention to the chaos and clutter, to what's happening, to what matters. Plus, she lets you meditate while you're drinking coffee, so there's that, too."—Catherine Newman, author of Waiting for Birdy and Catastrophic Happiness

"This book is what we all need. Apply these practices and start being present in your busy life—and find joy."—Lisa Druxman, founder of FIT4MOM

"We all need that friend who believes in us and stands with us as we pursue our dreams. In Breathe, Empower, Achieve Shonda is that priceless friend. With powerful, yet gentle words she reminds us of the necessity of balance, helps us examine our dreams, and inspires us to breathe in the midst of life."—Rachel Marie Martin, author of The Brave Art of Motherhood

"Breathe, Empower, Achieve beautifully captures the importance of self-compassion for all women. Rather than adding one more thing to our to do lists­, Moralis helps us cultivate a wise and powerful way of being as we move through each moment of our day."—Shauna Shapiro, PhD, professor of counseling psychology and author of Good Morning, I Love You