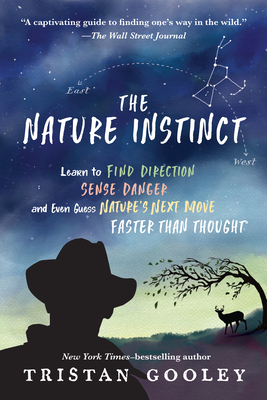 The Nature Instinct
Learn to Find Direction, Sense Danger, and Even Guess Nature's Next Move—Faster Than Thought (Natural Navigation)
Paperback

* Individual store prices may vary.
Other Editions of This Title:
Hardcover (11/20/2018)
MP3 CD (11/26/2019)
Compact Disc (11/26/2019)
Description
From the New York Times-bestselling author of The Secret World of Weather and The Lost Art of Reading Nature's Signs, learn to notice nature's hidden clues all around you

"A captivating guide to finding one's way in the wild."—The Wall Street Journal

Publisher's note: The Nature Instinct was published in the UK under the title Wild Signs and Star Paths.

Master outdoorsman Tristan Gooley was just about to make camp when he sensed danger—but couldn't say why. After sheltering elsewhere, Gooley returned to investigate: What had set off his subconscious alarm?

Suddenly, he understood: All of the tree trunks were slightly bent. The ground had already shifted once and could easily become treacherous in a storm.

The Nature Instinct shows how we, too, can unlock this intuitive understanding of our surroundings. Learn to sense the forest's edge from deep in the woods, or whether a wild animal might pose danger—before you even know how you know.
Praise For The Nature Instinct: Learn to Find Direction, Sense Danger, and Even Guess Nature's Next Move—Faster Than Thought (Natural Navigation)…
An Amazon Most Anticipated Fall Book for Nonfiction

"A captivating guide to finding one's way in the wild."—The Wall Street Journal

"[A] beautifully written almanac of tricks and tips that we've lost along the way, with the intention of helping us regain what he calls the 'sixth sense': our innate ability to scan the landscape and anticipate what might happen next . . . Long story short, I now trust Tristan Gooley with my life."—Guardian

"Gooley offers the reader a chance to recover the outdoorsman's natural sense through 52 'keys,' to exchange slow, analytic thinking for the fast thinking that makes connections with nature in a way that few now experience. I recommend turning those keys and seeing what happens."—Field Magazine

"With the promise of fostering a level of awareness so rarefied as to be a 'sixth sense,' Gooley takes readers on a journey to acquaint them with the sounds and signs of nature. . . . The rewards are there for those willing to learn the lessons provided in this detailed and lovely book."—Publishers Weekly

"An imperative book for outdoors enthusiasts but also contains important information for anyone who spends time outside. Gooley's book is a comprehensive guide to gaining back what was lost; it will help its audience appreciate nature and animals with a new set of eyes."—Foreword

"The most powerful parts of The Nature Instinct are its many examples of how to correct our present-day nature deficit. By undertaking the exercises he describes—using Orion to tell direction and time, creating maps from the wind, or identifying trees by their sounds—the book 'gently' hammers our brains 'into a new pattern of thought.'"—Undark

"Gooley writes affectingly of how to recapture our ability to live in the real world with senses 'almost forgotten and steamrollered by our modern lifestyle.' . . . A welcome read for the outdoor inclined."—Kirkus Reviews

"An artful yet practical guide to better understanding nature."—Choice

"Most of us have lost our way in nature at one time or another.. . . Gooley can you lead you back to nature if you're willing to invest the time."—National Parks Traveler

"[A] fascinating look at immersing oneself in nature and understanding what one sees."—Library Journal

"What's wonderful about this book is not just that it is full of helpful instructions for decoding the numerous clues the Earth provides to its workings—from the flick of a lizard's tail to a flutter in a bramble hedge—Gooley also communicates and inspires a joyful awe in the countless daily occurrences which offer observant travelers a key to the planet's miraculous system."—Big Issue

"A paean to the beauty and majesty of nature, especially the nature we overlook in our back gardens and local parks. . . . And like all the best books, it makes the world around you a lot more interesting."—Spectator

"Beautifully written. . . . I promise you will feel more in tune with the world around after reading only one chapter."—Royal Institute of Navigation
The Experiment, 9781615195916, 384pp.
Publication Date: August 20, 2019
About the Author
New York Times–bestselling author Tristan Gooley has led expeditions on five continents, climbed mountains in three, and is the only living person to have both flown and sailed solo across the Atlantic. His more than two decades of pioneering outdoor experience include research among tribal peoples in some of the remotest regions on Earth.