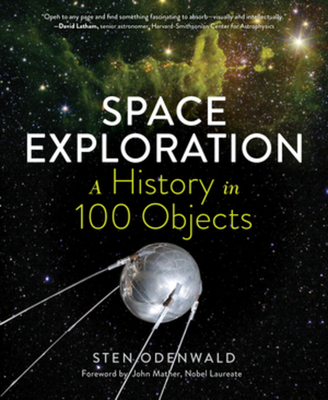 Space Exploration—A History in 100 Objects
Hardcover

* Individual store prices may vary.
Description
This is no ordinary space book.
Within the pages of this eclectic pop-history, scientist and educator Sten Odenwald at NASA examines 100 objects that forever altered what we know and how we think about the cosmos. From Sputnik to Skylab and Galileo's telescope to the
Curiosity
rover, some objects are iconic and some obscure—but all are utterly important.
The Nebra sky disk (1600 BCE) features the first realistic depiction of the Sun, Moon, and stars.
The Lunar Laser Ranging RetroReflector finally showed us how far we are from the Moon in 1969.
In 1986, it was the humble, rubber O-ring that doomed the space shuttle Challenger.
The Event Horizon Telescope gave us our first glimpse of a black hole in 2019.
These 100 objects, as Odenwald puts it, showcase "the workhorse tools and game-changing technologies that have altered the course of space history . . . the tools and devices that, taken together, represent the major scientific discoveries—and celebrate the human ingenuity—of space technology, showing the ways physics and engineering have brought about our greatest leaps in understanding the way our universe works. . . . They make it clear that we have made giant strides in our quest to search ever more deeply into the farthest reaches of the universe—and behind each new discovery is an object that expands our appreciation of space as well as the boundless imagination and resourcefulness we carry within us."
Praise For Space Exploration—A History in 100 Objects…
A Junior Library Guild Selection

"Captivating . . . fun as well as informative, this lightweight encyclopedia of intriguing objects will fascinate readers of any age."—Publishers Weekly starred review

"This engaging trek through the annals of human invention considers 100 physical artifacts that directly or indirectly advanced space exploration. . . . Whether read straight through or referenced by artifact, [Odenwald's] collection of brief but enlightening entries is addictive and should appeal to a wide audience. . . . This diverse assortment of STEM milestones provides science, technology, and space enthusiasts plenty to ponder – and even debate."—Booklist

"Odenwald includes details about more familiar historical objects that may yet be unknown to many readers, but also includes essays about many less well known objects that reveal how much many traditional cultures knew about the Moon, planets, and stars."—Choice

"Open to any page and find something fascinating to absorb—visually and intellectually."—David Latham, senior astronomer, Harvard-Smithsonian Center for Astrophysics

"Space Exploration presents a fascinating and unusual new way of viewing more than 70,000 years of space history in 100 objects that each brought us one step forward in our understanding of the cosmos. The result is a new perspective of how the human race went from the first step in comprehending space to the first glimpse of a black hole. A most enjoyable and mind-changing book!"—Dr. Giovanni G. Fazio, senior physicist, Harvard-Smithsonian Center for Astrophysics

"From ancient tablets to the Tesla roadster orbiting the Sun, from the earliest rockets to the rovers on Mars, this intriguing book traces humanity's involvement in space through the machines and equipment that made it possible. With the assurance of a veteran space author, Odenwald explains and illuminates the steps in our exploration of the realms beyond Earth."—Andrew Fraknoi, author of Voyages through the Universe

"An insightful collection of human achievements. After reading this book, I am overwhelmed at how far we've come, from chipping figures on a piece of stone to sending a man to the moon to having a computer on my lap that allows me to get information about almost anything, including the first-ever image of a black hole taken this year."—Dr. Art Poland, affiliate professor, Department of Physics and Astronomy, George Mason University
The Experiment, 9781615196142, 224pp.
Publication Date: November 1, 2019
About the Author
Dr. Sten Odenwald is an award-winning astrophysicist and prolific science popularizer who has been involved with science education for the COBE, IMAGE, Hinode, and InSight missions, as well as NASA's Sun-Earth Connection Education Forum. He is currently the director of citizen science for the NASA Space Science Education Consortium at the NASA Goddard Space Flight Center.

John Mather won the 2006 Nobel Prize in Physics for measuring the Big Bang. He is the senior project scientist at the James Webb Space Telescope, which is the successor to the Hubble Space Telescope.