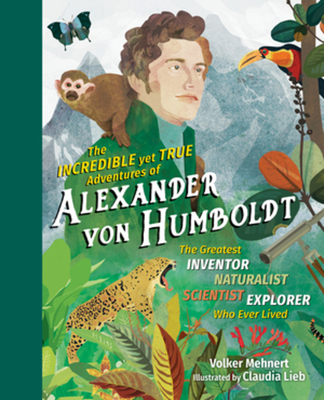 The Incredible yet True Adventures of Alexander von Humboldt
The Greatest Inventor-Naturalist-Scientist-Explorer Who Ever Lived
Hardcover

* Individual store prices may vary.
Description
Before Darwin . . . before Lewis and Clark . . . there was Alexander von Humboldt.

Explorer. Naturalist. All-around genius. Lost hero of science. In his time, Alexander von Humboldt (1769–1859) was world-famous. Why? He led one of the first major scientific expeditions into the South American rain forest and another into the wilds of Siberia. Carrying fragile instruments, he navigated perilous rapids and climbed the volcano of Tenerife. He observed animals, plants, and cultures that no one in Europe had ever dreamed of, and his books about them inspired a whole generation of scientists—including Charles Darwin. But before he did any of that, he was a little boy who was curious about everything (especially bugs)!

The Incredible yet True Adventures of Alexander von Humboldt will whisk you away to another time and place. Meet the young man who, defying his mother's wishes, became a daring explorer-scientist—and follow along as he makes his amazing discoveries. Lavish illustrations bring Humboldt's untamed world to life. See nature through the eyes of a great early scientist. Wonder awaits!
Praise For The Incredible yet True Adventures of Alexander von Humboldt: The Greatest Inventor-Naturalist-Scientist-Explorer Who Ever Lived…
"[A] lively, detailed narrative . . . the beautiful, mixed-media illustrations aptly give the volume the feel of a scientist's sketchbook. . . . The overall effect is an attractive resource for studying early scientific inquiry and discovery."—Booklist

"On the occasion of his 250th birthday, [Mehnert] offers an account of the life and exploits of the 19th century's most renowned celebrity scientist. . . . Hats off for a now-unconscionably little-known hero of science."—Kirkus Reviews

Praise from Germany

"So much more than the biography of a great man . . . it shows the diversity of the world, in all its facets, and how that needs to be protected."—German Academy for Children's and Young Adult Literature

"Great illustrations. A work for the whole family."—Ute Wegmann, Deutschlandfunk, The Best 7

"Claudia Lieb is unbelievable in condensing atmospheres. When she shows Humboldt in the tropical rainforest, he runs through the picture with his giant telescope on a tripod in his hand, and is surrounded by an overgrowing green . . . Beautifully done."—Susanne Billig, Deutschlandfunk Kultur

"You will be drawn into this reading adventure from place to place, and you will inevitably consider yourself Humboldt's personal traveling companion, and like to start your own journey to new shores."—Frankfurter Allgemeine Zeitung
The Experiment, 9781615196319, 112pp.
Publication Date: September 3, 2019
About the Author
Volker Mehnert has worked for many years as a freelance journalist, travel writer, and author, and he has lived in Latin America, eastern Europe, and the US, where he has often followed in the footsteps of Alexander von Humboldt. His books about Mexico, California, Portugal, and the South Seas range from topics of tourism and culture to history.

Claudia Lieb studied communication design in Münster and at the University of Applied Sciences in Hamburg. She lives in Munich, where she works in a studio cooperative as an illustrator and graphic artist.