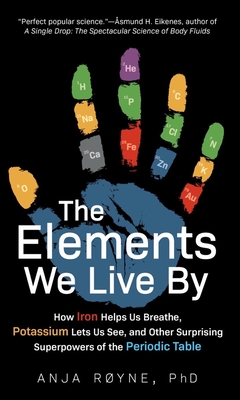 The Elements We Live By
How Iron Helps Us Breathe, Potassium Lets Us See, and Other Surprising Superpowers of the Periodic Table
Hardcover

* Individual store prices may vary.
Other Editions of This Title:
MP3 CD (6/9/2020)
Compact Disc (6/9/2020)
Description
The periodic table as you've never seen it before—starring the elements that power our bodies and our way of life

Some elements get all the attention: glittering gold, radioactive uranium—materials we call "precious" because they are so rare. But what could be more precious than the building blocks of life—from the oxygen in our air to the carbon in all living things?

In The Elements We Live By, physicist and award-winning author Anja Røyne reminds us that we'd be lost without the quiet heroes of the periodic table. Our bodies need phosphorous to hold our DNA together, potassium to power our optic nerves, and many more elements—in just the right amounts—to function. Other fundamental elements keep our technology (and society) running: Our phones contain arsenic, boron, and gallium to control signals and store information; indium and tin for the touch screen; and lithium for the battery.

Everything is made of elements—every galaxy, star, and planet—from the iron in Earth's core to the silicon in its sand. But that doesn't mean the elements we rely on will never run out; for example, about half of the lithium we need is extracted from rocks in Australia, and the other half is from saltwater in Argentina and Chile. As Røyne travels the world to find where these elements exist (some in ever-shrinking amounts), she shows how vitally urgent it is for us to protect them—the elements of our very existence.
Praise For The Elements We Live By: How Iron Helps Us Breathe, Potassium Lets Us See, and Other Surprising Superpowers of the Periodic Table…
2020 Foreword INDIES Finalist

"Physicist Røyne explains the role played by different elements within the human body, and visits various sites around the world where these elements can be found."—Publishers Weekly

"Not just a discussion of basic chemistry, this is a volume that looks at the human impact on the planet and what we can learn from nature. . . . Useful for science or sociology courses that address the various impacts of natural resource development or for popular science readers."—School Library Journal

Praise from Norway

"What makes this book the perfect popular science title is the way Røyne places new knowledge in a greater context and in ongoing debates on society and our common future. It is not just a well-written story about the elements, but a book about being a human being in the world of today."—Åsmund H. Eikenes, Ph.D., author, lecturer, and member of the Brage Prize jury
 
"An excellent book about the elements . . . Physicist Anja Røyne has achieved the feat of producing a popular science heavyweight that wears its knowledge lightly."—Mari Grydeland, Aftenposten
 
"Popular science par excellence . . . An extremely good book that deals with the big social challenges by starting out with the small . . . Many fields of study probably offer a more promising starting point than the building blocks that form all matter, but Røyne brings gold, copper, calcium, and carbon alive in a way that makes her book exciting, entertaining, and—not least—enlightening."—Kjetil Vikene, Forskerforum
The Experiment, 9781615196456, 224pp.
Publication Date: June 9, 2020
About the Author
Anja Røyne, PhD, is a scientist and lecturer in the department of physics at the University of Oslo. A physicist with a background in solar energy, Røyne has also researched geological and geochemical processes and is now working on creating materials with biotechnology. In addition, she runs her own science blog, has shared her expertise in newspaper and radio programs, and frequently gives popular science talks.