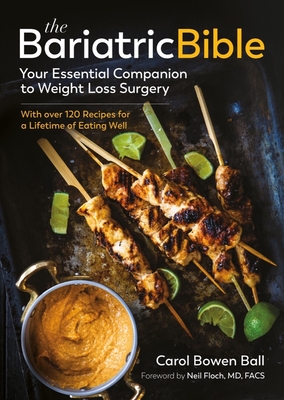 The Bariatric Bible
Your Essential Companion to Weight Loss Surgery—with Over 120 Recipes for a Lifetime of Eating Well
Paperback

* Individual store prices may vary.
Description
The ultimate one-stop guide to living and eating well, before and after weight loss surgery
If you've had—or are considering—weight loss surgery, this is the book for you. Chef and food writer Carol Bowen Ball has lost one hundred pounds since her own bariatric surgery, and in
The Bariatric Bible
, she gives you the keys to lifelong post-surgery success.
Everything you need to know beforehand: what to look for in a surgeon, what the options are (from lapband to bypass), how to prepare, and what to pack
How to manage your new diet: from cardinal rules ("protein first!") to common pitfalls (beware of "slider foods")—and which snacks to keep in your Emergency Kit
Essential lifestyle tips: how to buy clothes for your changing body, craft an exercise plan, troubleshoot dining out, and more
Over 120 healthy recipes, such as Quinoa, Nectarine, and Sizzled Halloumi Salad, Breakfast Protein Pancakes, and Lemon and Chive Hummus—color-coded by recovery stage and labeled with their protein, carbohydrate, fat, and calorie counts
The bariatric lifestyle is about more than just cooking—it requires new, healthier habits around exercise, relationships, eating out, and much more. With this book, you can unlock the secrets to lifelong health and happiness, from pre- to post-op and beyond.
Praise For The Bariatric Bible: Your Essential Companion to Weight Loss Surgery—with Over 120 Recipes for a Lifetime of Eating Well…
"A cookbook filled with incredibly delicious bariatric-friendly goodness and a guide for joyful living through every step of the bariatric process, The Bariatric Bible is a masterpiece! Carol Bowen Ball is herself a bariatric patient and knows what it takes to live fully and eat exquisitely after weight loss surgery. Carol is a food artist! She's also a down-to-earth, loving woman who wants to share her secrets for living a fabulous life!"—bariatric psychologist Connie Stapleton, PhD

"Carol writes from the frontline of living life well after bariatric surgery. Her comprehensive reference covers all aspects of a bariatric lifestyle in linear fashion, as only one who has been through it could write. Keep this on your nightstand—it will be a much needed companion in mastering the many changes to unfold!"—Cheryl Ann Borne, publisher, MyBariatricLife.org

"WOW!! This is so much more than a bariatric cookbook! The Bariatric Bible is an easy to read, comprehensive guide to life before and after surgery that will benefit thousands of patients looking for trustworthy advice. Fans of Carol's work will not be disappointed."—Lisa Kaouk MPH, RD Monica Bashaw MScA, RD, cofounders of bariatricsurgerynutrition.com

"This book is a must if you're considering weight loss surgery. Carol leaves no corner unturned and provides step by step guidance on how to navigate life after bariatric surgery. From her delicious recipes to her candid advice, you're sure to find valuable information in this well researched book."—Kristin Willard, Bariatric Dietitian Founder of Bariatric Meal Prep
The Experiment, 9781615196517, 304pp.
Publication Date: March 31, 2020
About the Author
Carol Bowen Ball is a professional bariatric cook, having undergone weight loss surgery ten years ago. She helps those who have had (or are considering) weight loss surgery to achieve long-lasting success with flavorful recipes and expert lifestyle advice. She has written over ninety cookbooks on a variety of subjects, from barbecue to range-style cooking. She lives in Camberley, England.
Neil Floch, MD, FACS, is director of bariatric surgery at Norwalk Hospital and Danbury Hospital, Nuvance Health, Connecticut, and associate clinical professor of surgery at the Robert Larner College of Medicine at the University of Vermont.