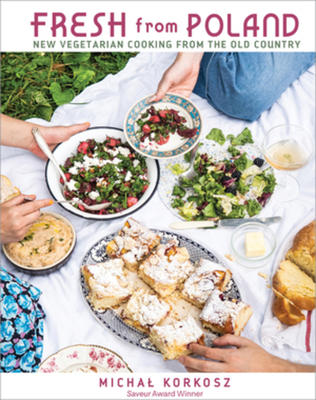 Fresh from Poland
New Vegetarian Cooking from the Old Country
Paperback

* Individual store prices may vary.
Description
An Indie Bestseller
A Booklist Top 10 Cookbook of 2020
A San Francisco Chronicle Best Cookbook of 2020A one-of-a-kind vegetarian Polish cookbook, featuring over 80 creative, modern, and comforting recipes that showcase the abundant vegetable-forward recipes of Poland
"If your knowledge of Polish food stops at kielbasas and pierogi, definitely check out this exciting vegetarian cookbook written and shot by Polish food blogger Michał Korkosz."
—San Francisco Chronicle
In
Fresh from Poland
,
Saveur
award winner Michał Korkosz celebrates recipes from his mother and grandmother—with modern, personal touches and gorgeous photos that capture his passion for cooking. Vegetables are his stars, but Michał doesn't shy away from butter, flour, and sugar; the ingredients that make food—and life—more
rozkoszny
(delightful)! The result? Over eighty comforting dishes for every occasion.
Indulgent breakfasts: Brown Butter Scrambled Eggs; Apple Fritters; Buckwheat Blini with Sour Cream and Pickled Red Onion
Hearty vegetarian mains: Barley Risotto with Asparagus, Cider, and Goat Cheese; Potato Fritters with Rosemary and Horseradish Sauce; Stuffed Tomatoes with Millet, Cinnamon, and Almonds
Breathtaking baked goods: Sourdough Rye Bread; Sweet Blueberry Buns with Streusel; Honey Cake with Prunes and Sour Cream
Pierogi of all kinds: From savory Spinach, Goat Cheese, and Salted Almonds to sweet Plums and Cinnamon-Honey Butter
These satisfying recipes will make you feel right at home—wherever you're from!
Praise For Fresh from Poland: New Vegetarian Cooking from the Old Country…
An Indie Bestseller
A Booklist Top 10 Cookbook of 2020
A San Francisco Chronicle Best Cookbook of 2020

"Lovely."—Washington Post

"If your knowledge of Polish food stops at kielbasas and pierogi, definitely check out this exciting vegetarian cookbook written and shot by Polish food blogger Michał Korkosz. There are easy recipes that you can knock out while your morning coffee brews, like plump cheese curd dumplings made with farmer cheese, and bigger projects like the Barbie-pink chilled beet soup garnished with chopped potatoes and plenty of dill. As a guide, Korkosz makes ample space for readers to customize his ingredients; he's all about adjusting for seasonality and whatever you've got on hand."—San Francisco Chronicle

"For those who think of Polish cuisine as merely potato pancakes and cabbage rolls, this charming collection will be an eye opener and a treat to the palate."—The Rusa Book Media Awards (ALA)

"A light and delicious take on a cuisine often underrepresented in cooking collections. Vegetarian or not, most cooks will find something to savor." —Library Journal

"Korkosz's photographic talent and his inventive ways with Polish cuisine make his first book (he's just 22!) a real standout…Rounding out the 87 recipes are Korkosz's very personal introductions to each chapter and each dish…and that top-notch photography, of course, evokes all thoughts of home and ties together his emphasis on family and food."—Booklist, starred review

"Korkosz has created a gorgeous paean to the cooking of his home country. . . . Full of recipes that will engage everyone from beginning home cooks to experienced chefs. . . . A truly beautiful cookbook."—Shelf Awareness

"Home cooks, whether vegetarian or not, will appreciate this creative take on what is traditionally meat-heavy fare."—Publishers Weekly 

"As an award-winning photographer and food blogger, Korkosz has written a beautiful cookbook with gorgeous photographs that will inspire home cooks. This book tweaks old favorites, from an ancient land, to make them healthful, plant-based, and relevant for today's home cook."—New York Journal of Books

"Despite its (unjustified) reputation as meat-heavy, Polish cuisine is traditionally naturally rich with vegetarian dishes, and it makes me so happy that Michał Korkosz is bringing them to us in all their glory, with subtle modern touches and beautiful photography."—Olia Hercules, author of Mamushka

"This book contains so many memories from my childhood, that just going through the list of dishes puts a smile on my face. Open sandwiches, pancakes with cheese, jagodzianki, and gzik take me back in time to my mom's morning table and me, a small girl waiting for something delicious to be served. Ogórkowa and pomidorowa are must-tries, as these soups will make you feel the love of all the Polish mothers preparing these for their children coming back from school. I'm so excited for people outside of Poland to learn about oscypek and bryndza, and my favorite twaróg, which is so unique in flavor and consistency that it has no competition in its category. But mostly, I love Michał's stories. He shares a piece of his talent and his life with us. After reading this book, I want to visit him, sit at his table, and share secrets over something delicious, preferably his Polish cheesecake."—Marta Greber, creator of What Should I Eat For Breakfast Today

"This book is, like the author's beloved creamy sauerkraut soup, a 'one of a kind' pleasure. An ideal and spirited guide to the sweet, sour, satisfying tastes of his native Poland, Michał Korkosz is funny, encouraging ('Making pierogi is so relaxing') and joyously indulgent ('Tons of butter!') An enjoyable, transporting and inspiring read and a modern view of soulful food that's firmly rooted in tradition."—Adam Sachs, former editor-in-chief of Saveur

"It's rare to find a cook and writer who is equally talented at making stunning savory dishes and pulling off perfect baked goods. Through the fluffy pancakes, soulful soups, and delicate pierogis of his past and present, Michał Korkosz gives readers everywhere a beautiful and eye-opening introduction to the bounties of Polish cuisine, plus a few inspiring twists of his own. The colors alone—of golden morning buns and magenta beets—are enough to pull you in to his recipes."—Stacy Adimando, James Beard Award-winning cookbook author
The Experiment, 9781615196555, 240pp.
Publication Date: March 17, 2020
About the Author
Michal Korkosz won the 2017 Saveur Blog Award for best food photography (both Editors' and Readers' Choice). He is a food journalist, cake lover, and croissant gourmand. On his blog, Rozkoszny (which means "delightful"), he connects this love of cooking with another hobby—photography that captures both his delicious dishes and the loved ones he shares them with. He was born and raised in Poland.