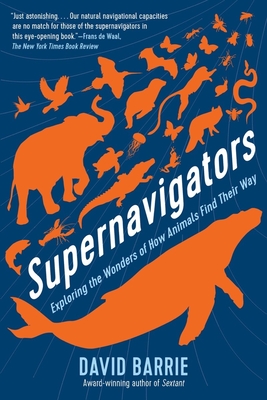 Supernavigators
Exploring the Wonders of How Animals Find Their Way
Paperback

* Individual store prices may vary.
Other Editions of This Title:
Digital Audiobook (5/27/2019)
Hardcover (5/28/2019)
Compact Disc (5/28/2019)
Compact Disc (5/28/2019)
MP3 CD (5/28/2019)
Description
"Just astonishing . . . Our natural navigational capacities are no match for those of the supernavigators in this eye-opening book."—Frans de Waal, The New York Times Book Review

Publisher's note: Supernavigators was published in the UK under the title Incredible Journeys.

Animals plainly know where they're going, but how they know has remained a stubborn mystery—until now. Supernavigators is a globe-trotting voyage of discovery alongside astounding animals of every stripe: dung beetles that steer by the Milky Way, box jellyfish that can see above the water (with a few of their twenty-four eyes), sea turtles that sense Earth's magnetic field, and many more. David Barrie consults animal behaviorists and Nobel Prize–winning scientists to catch us up on the cutting edge of animal intelligence—revealing these wonders in a whole new light.
Praise For Supernavigators: Exploring the Wonders of How Animals Find Their Way…
A 2019 Nautilus Gold Award Winner, Animals & Nature
A Sunday Times Best Nature Book of the Year

"We meet some animals that use sense of smell, others that navigate based on polarized light, others on magnetism. It seems that there are as many ways to find your way as there are species [Barrie writes] about."—Ari Shapiro, All Things Considered

"[Barrie] is passionate about navigation and describes in delightful detail the myriad ways in which animals get around. . . . The number of animals traveling long distance, from insects to sea turtles, and from eels to whales, is just astonishing, as are the many ways in which they find their way. . . . Whenever our smartphone lacks satellite service, we still need to tap into our natural navigational capacities even if they are no match for those of the supernavigators in this eye-opening book."—Frans de Waal, The New York Times Book Review

"A must-read for anyone fascinated with the wonders of nature."—Publishers Weekly, starred review

"Well written and accessible, this book will lead readers to conclude that animals are amazing, as is researchers' ingenuity."—Choice

"Barrie's passion makes him an engaging guide, flitting from fact to anecdote like a butterfly hunting for nectar."—New Scientist

"In this exhilarating popular study, David Barrie reveals the roots of navigational prowess."—Nature
 
"David Barrie is an engaging explorer, enthusiastically celebrating the skill of creatures as fascinating as they are enterprising."—Sunday Express

"Many . . . exceptional navigators . . . are humble and unsung, and learning about them is one of the pleasures of Supernavigators."—The New Yorker

"Barrie tells astounding tales of how various animals navigate the world and the equally intriguing stories of the scientists who study them."—Science

"Very enjoyable. Barrie is a charming guide as he leads us through the science to the wonder."—Tristan Gooley, author of The Natural Navigator

"Supernavigators is filled with marvels. . . . Understanding the wonders of animal navigation may help us appreciate the small and large miracles that surround us."—Foreword Reviews, starred review

"[Barrie's] book about remarkable feats of migration by animals explores the front lines of research into how they do it."—The Scientist

"Readers interested in natural history or biology will find this stimulating."—Library Journal

"Only a sailor could relate the navigational powers of both humans and animals with such appreciation, excitement, and precision. Thank you, David Barrie, for taking us along on these riveting voyages by sail and wing, hoof and flipper. We arrive surprised, delighted, and awed."—Sy Montgomery, author of How to Be a Good Creature

"Immensely entertaining . . . What is engrossing about Barrie's book is not just the remarkable behavior of the individual animals—the blind Mexican cave fish that uses the pressure waves from its own motion to detect different objects; the spiny lobsters that form long, straight conga lines of up to 200 meters as they trudge nose-to-tail into the deep—but the often painstaking detective work undertaken by the scientists . . . all you can do is gasp in amazement."—The Sunday Times
 
"A wonderfully refreshing read."—Navigation News magazine
 
"A compelling investigation of navigation in the animal kingdom. Dung beetles steer by the stars. Dragonflies hitch a lift on monsoon winds. And it seems that ants might measure how far they've travelled by counting their steps. Who knew?"—Mail on Sunday Top 100 Summer Reads
The Experiment, 9781615196692, 320pp.
Publication Date: June 9, 2020
About the Author
David Barrie, a Fellow of the Royal Institute of Navigation, has sailed all over the world and made many long passages. After studying experimental psychology and philosophy at Oxford University, he served in the British Diplomatic Service, then worked in the arts and as a law-reform campaigner. His book Sextant was shortlisted for the Mountbatten Literary Award and won the Royal Institute of Navigation's Certificate of Achievement. The great-great-nephew of J. M. Barrie, he is married with two daughters. Learn more at davidbarrieauthor.org.