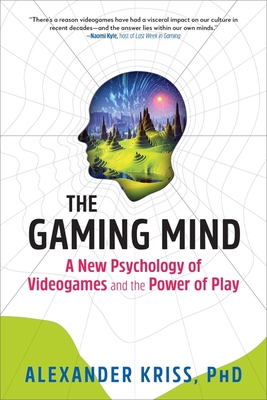 The Gaming Mind
A New Psychology of Videogames and the Power of Play
Paperback

* Individual store prices may vary.
Other Editions of This Title:
Digital Audiobook (3/30/2020)
MP3 CD (3/31/2020)
Compact Disc (3/31/2020)
Description
Are videogames bad for us?

It's the question on everyone's mind, given teenagers' captive attention to videogames and the media's tendency to scapegoat them. It's also—if you ask clinical psychologist Alexander Kriss—the wrong question.

In his therapy office, Kriss looks at videogames as a window into the mind. Is his patient Liz really "addicted" to Candy Crush—or is she evading a deeper problem? Why would aspiring model Patricia craft a hideous avatar named "Pat"? And when Jack immerses himself in Mass Effect, is he eroding his social skills—or honing them via relationship-building gameplay?

Weaving together Kriss's personal history, patients' experiences, and professional insight—and without shying away from complex subjects, such as online harassment—The Gaming Mind disrupts our assumptions about "gamers" and explores how gaming can be good for us. It offers guidance for parents, clinicians, and the rest of us to better understand the gaming mind. Like any mode of play, at their best, videogames reveal who we are—and what we want from our lives.
Praise For The Gaming Mind: A New Psychology of Videogames and the Power of Play…
"The Gaming Mind seeks in part to dismantle the stigma that surrounds videogames and the archetypal 'gamer kid.' . . . Kriss is certainly right to highlight the emotional space that games occupy in the lives of those who play them and to take seriously the feelings that emerge there."—The Wall Street Journal

"Psychotherapist Kriss debuts with an unusual case for the benefits of playing video games . . . draw[ing] on personal and patient experiences to explore the 'nuance and complexity' of video games. . . . A thoughtful contribution to an ongoing debate."—Kirkus Reviews

"Gaming is an undeniable growing phenomenon, and The Gaming Mind puts it under a magnifying glass. Alexander Kriss sheds light on long-overlooked deeper questions: Why do we rage quit? Why did we create videogames in the first place? And what do they trigger in us? There's a reason videogames have had a visceral impact on our culture in recent decades—and the answer lies within our own minds."—Naomi Kyle, actor, producer, and host of Last Week in Gaming

"I'm a gamer and have been my whole life from my first Apple 2+ when I was six. Alexander Kriss's work is not only a nostalgic tour de force, but it also powerfully explains the positive impact of gaming on our minds and psyches."—Governor Jared Polis, Colorado

"This is a much-needed, nuanced, and informed analysis of gaming. We've gotten the public narrative on videogames all wrong, which creates a lot of undue worry about the impact they can have on us. Kriss takes us on a heartfelt personal and professional journey, showing how, with careful and empathetic thinking, we can start to get it right."—Dr. Pete Etchells, psychologist and author of Lost In A Good Game

"As a physician, I have seen gaming do good for the soul and mind. The stereotypes that society holds about gamers have never been true, and they're starting to completely change. The Gaming Mind explores this paradigm shift: clearly showing us that gaming can foster social and communication skills—as well as supportive and inclusive global communities."—Dr. Levi Harrison, gaming and E-sports doctor, and founder of The Try-Angle
The Experiment, 9781615196814, 272pp.
Publication Date: March 31, 2020
About the Author
Alexander Kriss, PhD, is a clinical psychologist and author. He received his doctorate from The New School for Social Research and completed internship training at Columbia University Medical Center. In 2015, Dr. Kriss opened a private practice in New York City, where he provides psychoanalytic and existential psychotherapy to adolescents and adults dealing with a wide range of issues. He currently serves as an adjunct professor of psychology at the City College of New York and Fordham University, and as a clinical associate at the Safran Center for Psychological Services. Dr. Kriss's writing has appeared in Kill Screen, Logic, and numerous academic books and journals. He is the recipient of a University in Exile Fellowship from The New School and a Scholar Award from the Society for Psychoanalysis and Psychoanalytic Psychology. The Gaming Mind is his first book.
or
Not Currently Available for Direct Purchase