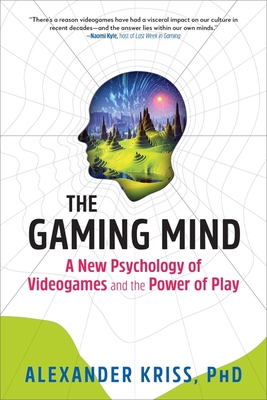 The Gaming Mind (Paperback)
A New Psychology of Videogames and the Power of Play
The Experiment, 9781615196814, 288pp.
Publication Date: March 31, 2020
* Individual store prices may vary.
Description
A therapist reveals the role of videogames in the lives of his patients, writing in the tradition of Oliver Sacks

Society has come to malign videogames and their players, suggesting that videogames promote violence or indulge antisocial behavior. The Gaming Mind is the antidote to this rhetoric.

Drawing us into his therapy office, clinical psychologist Alexander Kriss explores the positive impact of playing videogames and how they connect us with our humanity. Kriss sees videogames as a window into the mind, and he weaves together case studies, professional insight, and his personal history in a gripping narrative that disrupts our assumptions about gaming and "gamers." We meet his patients: Jack struggles to decode emotions yet relishes the relationship-building dynamics of Mass Effect; while Patricia, a former aspiring model, finds solace in the wake of trauma by crafting a hideous avatar, "Pat." Kriss also recounts how even he experienced Silent Hill 2 as a virtual landscape, in which to process the death of a friend.

Without shying away from potentially risky subjects like addiction and online harassment, Kriss advances a balanced, scientifically supported view of videogames. Sometimes the way we play reveals who we are—and what we want from our lives.
About the Author
Alexander Kriss, PhD, runs a psychotherapy practice in New York City, where he treats patients with anxiety, depression, and videogame "addiction" (a term he disputes). He has a psychology degree from The New School and a playwriting BFA from NYU. Kriss's writing on mental health and technology has appeared in Logic, Kill Screen, and numerous academic publications.