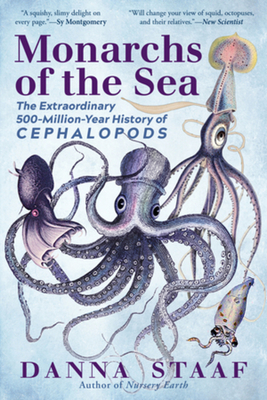 Monarchs of the Sea
The Extraordinary 500-Million-Year History of Cephalopods
Paperback

* Individual store prices may vary.
Description
Before mammals, there were dinosaurs. And before dinosaurs, there were cephalopods.

Publisher's Note: Monarchs of the Sea was previously published in hardcover as Squid Empire.

Cephalopods, Earth's first truly substantial animals, are still among us: Their fascinating family tree features squid, octopuses, nautiluses, and more. The inventors of swimming, cephs presided over the sea for millions of years. But when fish evolved jaws, cephs had to step up their game (or end up on the menu). Some evolved defensive spines. Others abandoned their shells entirely, opening the floodgates for a tidal wave of innovation: masterful camouflage, fin-supplemented jet propulsion, and intelligence we've yet to fully measure. In Monarchs of the Sea, marine biologist Danna Staaf unspools how these otherworldly creatures once ruled the deep—and why they still captivate us today.
 
Praise For Monarchs of the Sea: The Extraordinary 500-Million-Year History of Cephalopods…
"Cephs rule! [Monarchs of the Sea], like its protagonists, is nimble, fast, surprising, smart, and weird in the very coolest sense of the word. What could be more fun than jetting back in time to primordial seas with the monsters who really ruled our planet? In these pages, Danna Staaf makes every dino-lover and every undersea adventurer's dream come true. It's a fabulous read with squishy, slimy delight on every page."—Sy Montgomery, New York Times–bestselling author of The Soul of an Octopus

"This crystal-clear book will open your world to wider horizons and much deeper times. . . . Long before vertebrates evolved anything like higher intelligence, squids and octopuses were on a separate track to versatility, problem-solving, individual recognition, and deceit. Before we can know who we are, we must know who we are here with, and who has come before us."—Carl Safina, New York Times–bestselling author of Beyond Words: What Animals Think and Feel

"I loved this book. . . . Staaf's approach is short and sweet, well-illustrated and strong on playful narrative."—Nature

"It is a treat to come across a writer with such specialized training who is able to turn esoteric knowledge into a page-turning read for all audiences. . . . Staaf captures what is rarely seen outside the ivory tower: scientists talking among themselves with a touch of irreverence. Researchers everywhere will surely relate."—Science

"This engaging book may do for early cephalopods what paleontologists did for dinosaurs in the 1960s: spark a public renaissance of appreciation for these magnificent creatures who once ruled the seas."—Jennifer Ouellette, author of Me, Myself, and Why and The Calculus Diaries

"Intriguing . . . This in-depth coverage of an often neglected but ecologically vital group will change your view of squid, octopuses, and their relatives."—New Scientist

"A book like [Monarchs of the Sea] is a reminder that in any scientific narrative, there are always two stories at play. There is the history of the subject you're studying, and then there is the history of its discovery."—New Republic

"Fiendishly readable."—The Inquisitive Biologist

"Fresh and fascinating."—The Times Literary Supplement
The Experiment, 9781615197408, 256pp.
Publication Date: September 15, 2020
About the Author
Danna Staaf earned a PhD in invertebrate biology from Stanford University and has been studying cephalopods for decades. Her writing on marine life has appeared in Science, Atlas Obscura, and many other outlets, while her research has appeared in the Journal of Experimental Biology, Aquaculture, and others, as well as in numerous textbooks. She lives with her family in Northern California.