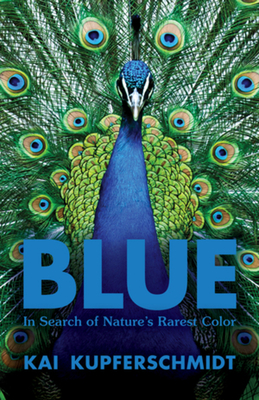 Blue
In Search of Nature's Rarest Color
Hardcover

* Individual store prices may vary.
Other Editions of This Title:
Digital Audiobook (7/19/2021)
Description
A globe-trotting quest to find blue in the natural world—and to understand our collective obsession with this captivating color

Search human history and you'll quickly conclude that we've been enamored of blue at least since the pharaohs. So, it's startling to turn to the realms of nature and discover that "true" blue is truly rare. From the rain forest's morpho butterfly to the blue jay flitting past your window, few living things are blue—and most that appear so are performing sleight of hand with physics or chemistry. Cornflowers use the pigment found in red roses to achieve their blue hue. Even the blue sky above us is a trick of the light.

Science journalist Kai Kupferschmidt has been fascinated by blue since childhood. In Blue, his quest to understand the science and nature of his favorite color takes him from a biotech laboratory in Japan and a volcanic lake in Oregon to Brandenburg, Germany— home of the last surviving blue-feathered Spix's macaws. Whether it's deep underground where blue crystals grow or miles overhead where astronauts gaze down at our "blue marble" planet, wherever we do find Earth's rarest color, it always has a story to tell.
 
Praise For Blue: In Search of Nature's Rarest Color…
A Junior Library Guild Gold Standard Selection
"In readily accessible prose, Kupferschmidt, an experienced science reporter, walks readers through intricate material in chapters that describe blue in stones, vision, plants, language, and animals. . . . The complexities are laid out with wonderful diagrams and illustrations in an engaging and approachable manner. . . . 
Blue
 is charming and readable."
—Booklist
"A comprehensive history of the color blue [that] deftly bridges mineralogy, botany, and art history to explore humanity's quest for the perfect blue pigment. With equal ease, [Kupferschmidt] describes Picasso's Blue Period palette and the microstructures that blue jays use to 'cheat' their way to a dazzling cerulean."
—Science

"
Fascinating and well-researched. . . . Kupferschmidt travels the world to understand the history and many origins of the color blue. . . . The book also features striking illustrations of pigments, flowers, and stones that underscore its message that the experience of blue is both universal and deeply personal."—
Shelf Awareness
"Human beings have been obsessed with the color blue for thousands of years, and in 
Blue
, science journalist Kai Kupferschmidt travels the globe to discover why it has always been so special. . . .[His] global quest follows his lifelong obsession with blue, taking him to the core of what it means to be human."
—Foreword Reviews
"This fascinating book delves into art, chemistry, biology, physics, geology, history, and literature in order to elucidate the beautiful mysterious color blue. Richly illustrated with gorgeous colors and helpful diagrams, as well as quotes from poetry and prose, the book also contains a surprising personal revelation at the end."—Seattle Book Review
Praise from Germany
"Using anecdotes, reportage fragments and research stories, Kupferschmidt succeeds in explaining the science of blue in an entertaining and vivid manner."—
Frankfurter Allgemeine Sonntagszeitung
"With such dedication and clarity that one is astonished to see what aesthetic pleasure natural science can bring. How does beauty come into the world? As a book."—
Sonntag Kultur
"Poets, painters, psychologists—what fascinates them about the color blue? This book shows it in word and design."—
Die Zeit
"A hymn to the color blue that makes you want to immerse yourself in the world of research, culture, and wonder."—
Deutschlandfunk Kultur
"The book is beautifully equipped, with the blue book cut and a beautiful blue in the cover."—
NDR Kultur, The Mixed Double
"Praise for perhaps the most beautiful color in the world in one of the most beautiful books in recent years."—
ZEIT Wissen
"Kupferschmidt succeeds in presenting facts concisely and with humor."—
Frankfurter Allgemeine Zeitung
"Even if you are not a scientist, you get an uncanny desire to understand such connections."—
Deutschlandfunk Kultur
"Everything you need to know about blue."—
BR Fernsehen
The Experiment, 9781615197521, 224pp.
Publication Date: July 20, 2021
About the Author
Kai Kupferschmidt is a contributing correspondent for Science magazine, where he writes about infectious diseases as well as drug development, biotechnology, evolution, and science policy, and where his intrepid coverage of the coronavirus pandemic has gained international attention. He also writes for the German newspapers Frankfurter Allgemeine Sonntagszeitung and Die Zeit. When not doing these things, he is usually thinking about the color blue. He holds a degree in molecular biomedicine from the University of Bonn and lives in Berlin.