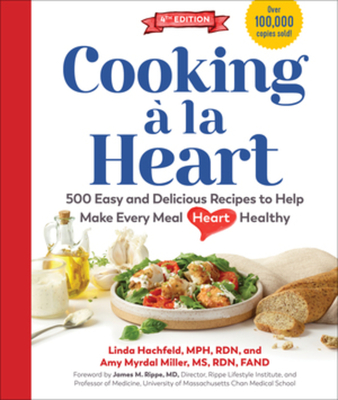 Cooking à la Heart, Fourth Edition
425 Easy and Delicious Recipes to Make Every Meal Heart Healthy
Paperback

* Individual store prices may vary.
Description
Reduce risk of heart disease and stroke with this Mayo Clinic–trusted cookbook packed with heart-healthy tips and 425 recipes for every occasion
Heart disease is the leading cause of death in the US, with nearly half of American adults at risk. But lifestyle changes can lower this risk by as much as 82 percent!
Cooking à la Heart
is here to help readers ward off heart disease, stroke, and diabetes with:
425 delicious, healthy recipes, from Savory Stuffed Mushrooms to Chicken Tandoori and Spicy Pumpkin Bars
nutrient analysis for every heart-smart recipe (calories, carbs, protein, fat, and more), plus diabetic exchanges
MIND, DASH (Dietary Approaches to Stop Hypertension), and Mediterranean diet guidelines
tips on exercise, weight control, and meal planning.
With
Cooking à la Heart,
eating healthier isn't difficult or boring— it's an investment that will keep you enjoying good food for many years to come.  
Praise For Cooking à la Heart, Fourth Edition: 425 Easy and Delicious Recipes to Make Every Meal Heart Healthy…
A Midwest Book Award Winner (MiPA)

"Eating healthfully is neither difficult nor boring. Nor is it a life of deprivation and self-denial. Rather, as diners who follow the guidelines, recipes, and menu plans of Cooking à la Heart are destined to discover, healthful eating is a stimulating trip into new and familiar taste sensations that can help to keep you enjoying good food for many more years than you otherwise might."—from the foreword by Jane Brody, Personal Health Columnist, The New York Times
 
"Practical and on target!"—Runner's World Magazine
 
"Cooking à la Heart presents unified dietary guidelines that are clearly explained in an eye-catching format. The recipes are carefully written with complete directions and many interesting serving ideas. The broad range of enticing recipes will appeal to a variety of clients. It is visually attractive and presents scientifically accurate material in an enthusiastic, positive manner that motivates and supports heart-healthy food selection and preparation behaviors."—Journal of Nutrition Education
 
"Cooking à la Heart offers a practical, hands-on guide to healthy eating. Up-to-date nutrition information and a wide variety of recipes with nutrient breakdown will surely help the reader translate scientific information into day-to-day menus for the family." —Liz Weiss, MS, RD, former Producer CNN Nutrition News Atlanta, Georgia
 
"Cooking à la Heart offers recipes your heart will love!"—Joyce Nettleton, PhD, RD, Nutrition Consultant & Lecturer, Tufts University
The Experiment, 9781615197583, 480pp.
Publication Date: June 8, 2021
About the Author
Linda Hachfeld, MPH, RD, is the former nutrition coordinator for the Mankato Heart Health Program and has volunteered with the American Heart Association for 35 years. She holds a master's degree in public health and has been a member of the Academy of Nutrition and Dietetics for 40 years. She lives in Minnesota.
Jane Brody is the Personal Health columnist for The New York Times, a position she has held since 1976. Ms. Brody's widely read and quoted column, which appears in the Times's Science Times section and in scores of other newspapers around the country, earned her the title of "High Priestess of Health" from Time magazine. She lives in Brooklyn, New York.