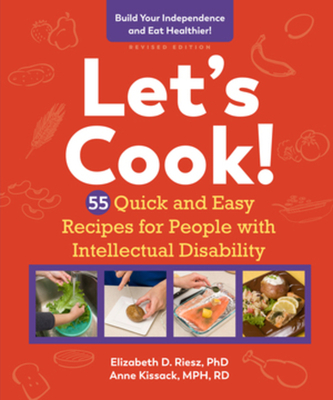 Let's Cook!, Revised Edition
55 Quick and Easy Recipes for People with Intellectual Disability
Spiral bound

* Individual store prices may vary.
Description
Prepare your own healthy meals with success!
In
Let's Cook!
you'll learn how to cook simple and nutritious meals—with recipes using all the MyPlate food groups. Gain confidence in the kitchen and build self-worth! Designed by and for adults with intellectual disability,
Let's Cook!
promotes and reinforces life skills for independent living.
Let's Cook!
can help you:
Create healthy meals.
Control carbs, calories, and salt.
Follow food and kitchen safety.
Eat well, today and every day!
Inside
Let's Cook!
you'll find:
More than 50 healthy "I can cook" recipes in large print are written at an early elementary reading level.
An easy-to-follow recipe style sets forth What I Need, What I Use, What I Do.
Color photos showcase each recipe.
Step-by-step preparations take the guesswork out of cooking.
Complete nutrient information is included for each recipe.
Praise For Let's Cook!, Revised Edition: 55 Quick and Easy Recipes for People with Intellectual Disability…
Midwest Book Achievement Award for Best Cookbook of the Year
 
"We all like the colorful pictures, the large print, and the step by step direction. This book is so easy to follow. My clients like going into the kitchen to cook."—Renee Day, DSP, Habilitative Sciences
 
"This book is very helpful to those I assist. The recipes are simple and clear. Together we use Let's Cook to plan meals, cook tasty recipes, and achieve healthy living."—Beth Winter, ILSS, SMILES Independent Living Center
 
"Yummy recipes! Let's Cook is a valuable book for individuals with intellectual and developmental disabilities who love to cook. It's user friendly and healthy too!"—Sarah Tompson DiPaolo, MS, RD, CDN, WNY Nutrition
 
"These recipes are broken into easy to follow instructions that make cooking simple, fun, and rewarding. The healthy meal tips inspire you to plan well balanced meals."—Nicole Sheldon, Case Manager, Johnson County Mental Health/Disability Services
 
"I love this cookbook! The combination of food preparation, meal planning, food safety, and nutrition information is seamlessly organized in one book. It supports individuals living independently and caregivers in making delicious and healthy food choices."—Anne Tabor, MPH, RD, Center for Disabilities & Development, University of Iowa
The Experiment, 9781615197668, 144pp.
Publication Date: August 3, 2021
About the Author
Elizabeth D. Riesz, PhD, (1937–2019) was the mother of Sarah—a young adult with Down syndrome—and the original mastermind behind this book. Elizabeth enjoyed a long career in education, including public school curriculum development, teacher education, and university program administration.

Anne Kissack, MPH, RD, is a public health practitioner in chronic disease prevention and management. She has always had a passion for cooking and for sharing this love with others. She resides in Wisconsin with her husband and two children.