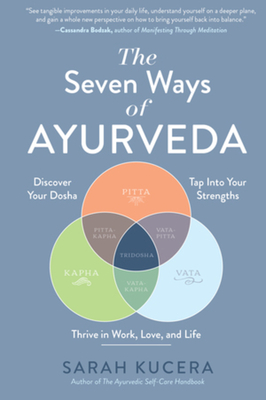 The Seven Ways of Ayurveda
Discover Your Dosha, Tap Into Your Strengths—and Thrive in Work, Love, and Life
Hardcover

* Individual store prices may vary.
Description
A guide to the Ayurvedic personality types, or doshas, with psychology-based advice on cultivating balance
The Ayurvedic concept of dosha is a road map to the body and mind. So knowing and understanding your dosha is key to unlocking the secrets of all areas of life, from aging and family dynamics to career paths, interactions in the workplace, and relationships.
The Seven Ways of Ayurveda takes you on a journey of discovery, exploring all seven dosha combinations to help you discover which fits best:
Vata: spontaneous, creative, open to change
Pitta: intellectual, confident, passionate
Kapha: protective, loving, compassionate
Vata-Pitta: creative, agile, extreme
Pitta-Kapha: strong, determined, healthy
Vata-Kapha: changeable, anxious, conflicted
Tri-Dosha: poised, harmonious, happy
Then, it helps you develop an action plan for personal evolution based on your unique needs. After all, self-awareness isn't just important for self-care—it's also a path of learning about yourself to better know and care for others.
The Experiment, 9781615198009, 256pp.
Publication Date: April 12, 2022
About the Author
Sarah Kucera, DC, CAP, has been championing healthy practices professionally for over a decade and personally for her whole life. A licensed chiropractor, certified Ayurvedic practitioner, registered yoga teacher and yoga therapist, and entrepreneur, she is the founder of Sage, a healing arts center and herbal apothecary in Kansas City, Missouri, where she combines these methods to help others find well-being. Sarah is the author of The Ayurvedic Self-Care Handbook and The Seven Ways of Ayurveda.