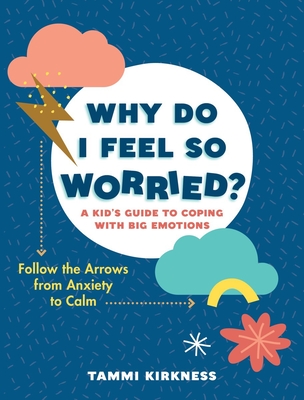 Why Do I Feel So Worried?
A Kid's Guide to Coping with Big Emotions—Follow the Arrows from Anxiety to Calm
Paperback

* Individual store prices may vary.
Description
An illustrated flowchart guides kids to the right calming activity for every kind of anxiety
Children aren't exempt from the effects of today's stressful world. They need resources for anxiety—and Why Do I Feel So Worried? is here to help. It's full of simple, evidence-based practices presented in a decision-tree format, with directions kids can follow to:
Name the emotion they're struggling with (like stress)
Figure out its source (for instance, homework problems)
Calm down with an easy activity (such as a soothing script)
Throughout, there are grown-up notes explaining the psychology behind different activities, so caretakers can choose how much they participate based on their child's needs. Kids might not always be able to solve what's worrying them—but with Why Do I Feel So Worried?, they can learn to respond positively and build strong lifelong coping skills for better mental health.
Praise For Why Do I Feel So Worried?: A Kid's Guide to Coping with Big Emotions—Follow the Arrows from Anxiety to Calm…
"A wonderful way to teach kids about anxiety and how to manage it."—Jo Lamble, clinical psychologist

"A thoughtful and thoroughly useful guide for parents and carers to use with kids who experience anxiety, to help them process and master their fears and emotions."—Dr. Tatiana Menick, psychiatrist, Center for Discovery, Residential Treatment Center for Children and Adolescents
 
"A book that's compassionate, gentle, and reassuring, pointing the way forward through the very real fears and uncertainties children face."—Maggie Hamilton, author of What's Happening to Our Girls? and What's Happening to Our Boys?
 
"This book is so good for anxious kids! My nine-year-old uses it all the time."—Melissa Wilson, editor at kidspot.com.au
 
The Experiment, 9781615198733, 144pp.
Publication Date: March 29, 2022
About the Author
Tammi Kirkness is a life coach, corporate wellness speaker, and former clinician at a center for kids with learning difficulties. She is also the author of The Panic Button Book (for adults), which has been published in more than eight countries since its release in October 2020. She lives in Sydney, Australia.