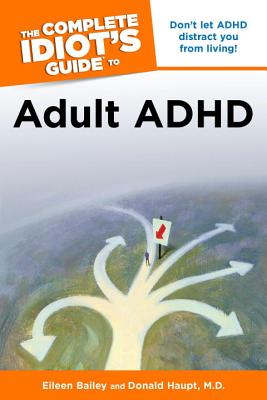 The Complete Idiot's Guide to Adult ADHD
Paperback

* Individual store prices may vary.
Description
A thorough examination of a misunderstood condition.

Though it's traditionally thought of as a childhood disorder, a growing body of research is bringing awareness to the fact that ADHD often contin­ues into adulthood, though its symptoms often take on a different form and make the disorder more difficult to diagnose.

•Covers what ADHD looks like in adults, how symptoms can vary greatly from one person to the next, and how it often gets misdiagnosed

•Includes information on related conditions that often coexist with adult ADHD, including depression and anxiety

•Discusses various treatment options-pharmaceutical, behavioral, lifestyle, and alternative approaches
Alpha, 9781615640065, 336pp.
Publication Date: May 4, 2010
About the Author
Eileen Bailey is a freelance writer specializing in writing about ADHD, anxiety, learning disabilities, and other health topics, and has been writing on education, health, and parenting topics for more than 15 years. She is the author of The Complete Idiot's Guide to Adult ADHD and was was previously the guide to ADD at About.com. More recently, she has written for a number of health and education sites, including sites focusing on learning disabilities in teens and young adults. She lives in Pottstown, Pennsylvania.

Donald Haupt, MD, is a psychiatrist who has been in private practice since 1991. Before that, he worked as an assistant director in the Hahnemann University Department of Mental Health Sciences and then as the director of inpatient psychiatry at Bryn Mawr Hospital. Dr. Haupt specializes in the treatment of adult ADHD and related mental health issues.
or
Not Currently Available for Direct Purchase